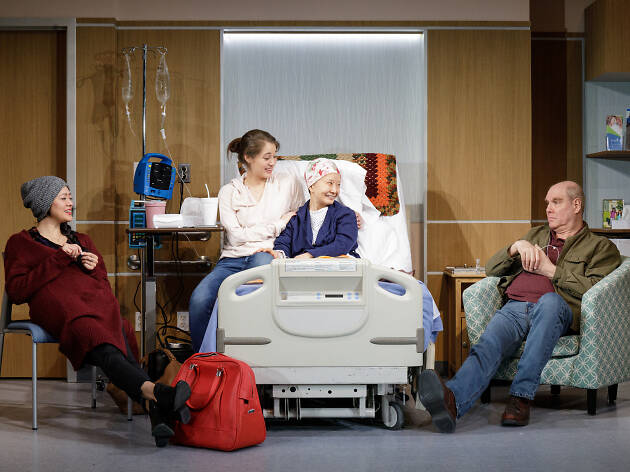 Time Out says
Theater review by Raven Snook
The dysfunctional family at the center of Leah Nanako Winkler's God Said This doesn't look like the ones we're accustomed to seeing on New York stages. Recovering alcoholic James (Jay Patterson), a tyrant turned teddy bear, is struggling to care for his cancer-stricken wife, Masako (the lovable Ako), with help from his two adult daughters: Sophie (Emma Kikue), a high-strung born-again Christian, and Hiro (Satomi Blair), a self-absorbed cynic. Long estranged from her abusive father, Hiro fled to New York City years ago, but she agrees to fly back to their lower-class homestead in Lexington, Kentucky, to lend a hand (and occasionally to agitate). Attempting to coexist at this complex intersection of race, class and faith during a crisis is a recipe for drama, as the playwright—a Japanese-American woman raised primarily in the Bluegrass State—presumably knows.
Winkler's characters overflow with unexpected contradictions and loaded repartee that make them seem to exist beyond the confines of this story. In fact, they do: God Said This is an unofficial sequel to Kentucky, which focused on the same family seven years earlier (and whose 2016 Off Broadway production featured many of the same actors and the same director, Morgan Gould). That verisimilitude, bolstered by solid performances from the entire cast, is the finest attribute of this vivid character study. But although God Said This grapples with compelling themes of forgiveness, redemption, loneliness and legacy, the narrative isn't particularly cohesive or convincing. While parts of the play are insightful and entertaining—such as James's hilariously raw AA speeches and the profanity-filled hangout sessions between Hiro and John (a very droll Tom Coiner), a businessman and dad who shatters redneck stereotypes—other scenes are tainted with bathos, especially as the story winds to its obvious, albeit moving, conclusion. Winkler brings a singular voice and important perspective to the stage, but her Hiro's journey wanders all over the dramaturgical map.
Cherry Lane Theatre (Off Broadway). By Leah Nanako Winkler. Directed by Morgan Gould. With ensemble cast. Running time: 1hr 45mins. No intermission.
Follow Raven Snook on Twitter: @ravensnook
Follow Time Out Theater on Twitter: @TimeOutTheater
Keep up with the latest news and reviews on our Time Out Theater Facebook page
Details
Best selling Time Out Offers