The Fringe Festival NYC guide
Looking for info on Fringe Festival NYC? Here are details on shows and tickets at the biggest Off-Off Broadway event.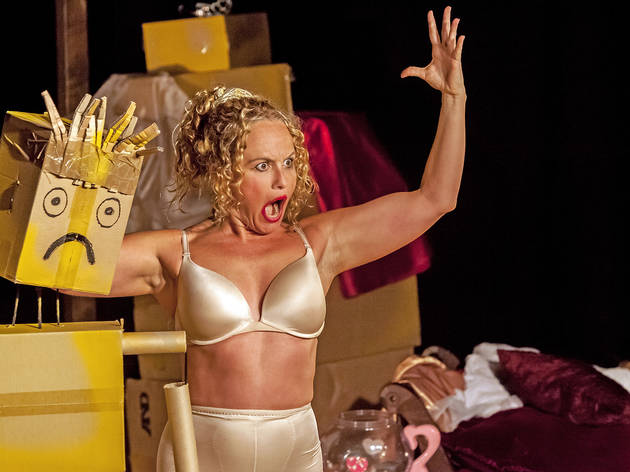 As Broadway and Off Broadway take breathers before the fall, August means just one thing for New York theater: Fringe Festival NYC. More than 75,000 people swarm annually through this hive of theater and dance, making the Fringe Festival NYC theatergoers' prime thing to do in summer. Each year's festival includes roughly 200 offerings by various theater and dance companies, each of which gets just five or six chances to show its stuff. Many of the city's best Off-Off Broadway venues participate.
Of course, quantity doesn't always equal quality—and that's where we come in. The wide variety of Fringe offerings includes musicals, experimental pieces, classical revivals and ramshackle new works. Some may go on to glory (Fringe Festival alumnus Urinetown become one of the best Broadway musicals), while others will fade into well-deserved obscurity. We pick and choose what we review, so check this page once the festival gets underway.
What is the Fringe Festival NYC?
The Fringe Festival is a sprawling annual showcase for theater and dance, staged in multiple venues in downtown Manhattan. It was founded in 1997.
When is the Fringe Festival NYC?
The Fringe Festival is taking a hiatus in 2017.
Where is the Fringe Festival NYC?
Fringe shows are staged at numerous different venues, most of them in the East Village and Lower East Side.
How do I buy tickets for the Fringe Festival NYC?
Tickets are $18 per show, and some shows sell out fast. A full list of the productions—and where and when they're playing—can be found at the official Fringe Festival website. And if you can't get tickets to a particular show, don't give up hope: Some of the most popular Fringe plays return in September and October as part of the Fringe Encore Series.