Heads up! We're working hard to be accurate – but these are unusual times, so please always check before heading out.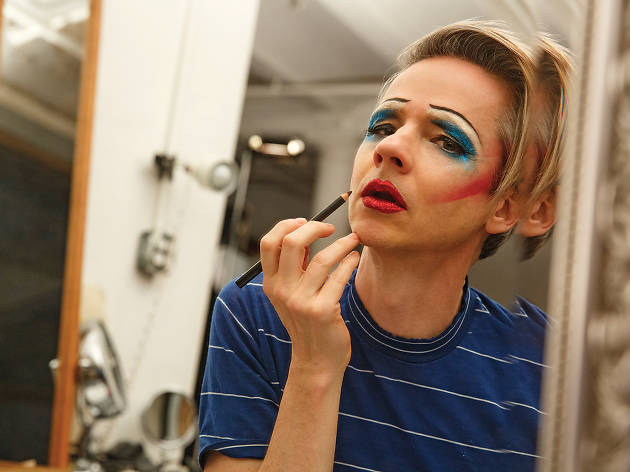 John Cameron Mitchell on bringing Hedwig to Broadway
Here's Johnny! John Cameron Mitchell returns to the stage to star in his rockin', madcap musical opus, Hedwig and the Angry Inch
When John Cameron Mitchell, the co-creator and original star of Hedwig and the Angry Inch, decided to step back into the high heels of the character that made him cult-famous, edge-seeking theatergoers hailed it as the second coming. Hedwig, the crotch-botched (hence the titular "angry inch"), joke-cracking East German glam rocker first caught the public's attention Off Broadway at the Jane Street Theater in 1998. And everyone from rock & roll royalty (Lou Reed, David Bowie) to theater icons (Bea Arthur, Patti LuPone, Glenn Close) to disaffected goths, gays and drama queens fell for it hard. The show was revived for the Great White Way last spring, with Neil Patrick Harris filling in the as the lead. Now the eternally impish 51-year-old Mitchell (who, save a recent stint on Lena Dunham's Girls, pretty much quit acting years ago) is back with a bang.

Is this as big a deal, your being Hedwig, as some fans are making it out to be?
Certainly it's really important to some people. I meet people with the tattoo and it's very emotional to see that. But probably more people in the world would be delighted to know I was the voice of Dunk-a-Roos cookies.

What initially inspired you to consider reviving Hedwig?
It started out that Stephen [Trask, songwriter for Hedwig] and I did a [Hedwig] concert in Korea for 8,000 screaming girls. There was even a reality show to cast it. Famous people do it there and they're all very attractive, fit, young, straight men and they're really into it. I suddenly was Justin Bieber there—not quite—but I was met at the airport by a group of fans and chased down the street. We had a blast and we were like, We should do it in some way again.

Were you the only one starring in the concert?
I was singing with 12 of the guys who played Hedwig there, 12 boy-band Hedwigs, and it was very exciting. I was in full Korean drag at one point, doing the songs in Korean, because I always try to sing in the language wherever I'm performing.

Why didn't you go for the lead role yourself in the Broadway revival?
I really didn't want to do a full run because I had kind of quit acting after the movie. And I couldn't imagine [doing it]—it was so hard. It was very rewarding, but it was so physically and emotionally hard, and very isolating. The whole day is recovering from it, or preparing for it mentally. [I thought] I'll have to do it for too long to pay back a Broadway investment. Neil Patrick Harris is a superman of entertainment. It's like he thrived on the adversity of it and made it harder for himself and more exciting, like a magician. Higher heels, more intensity, more fun things to do. And I was always trying to reduce the height of the heels. Like, Can I just do less, you know?

But in the end, you decided to go for it.
It's a young man's game this Hedwig, and I was like, Why am I doing this? There are very big shoes to fill with Neil and Michael [C. Hall] and Andrew [Rannells]. The template is much larger than it was Off Broadway. Then emotionally there's a huge reservoir of stuff that's bubbling up. And I'm like, Oh, I think I'm doing this. There's something I need to learn from doing this run that's going to serve me for the rest of my life. I don't know what it is, but I feel scar tissue breaking up in my body, in my voice and in my heart.

If you could cast your dream Hedwig, who would it be?
I would love to see Justin Timberlake do it. He's such a good actor and obviously he's an incredible entertainer musically. I originally thought Robert Downey Jr. would be amazing because he's a really good singer and looks great in makeup. Even a woman—I'm open to whatever works. I think it was right to open with a man but it might be interesting to do it with the right woman. Androgyny—I mean, Tilda Swinton would be amazing if she can sing rock & roll.

The world has changed a lot since you originally created Hedwig.
It's surprising but the words mean different things. It's 17 years since I started it Off Broadway. People have died who were very important to me, people have changed, my relationship to my family has changed. As you get older you treasure the beautiful things of the past, but also see things more clearly. So it was weirdly a wonderful release.

So how did Hedwig originally come about?
Hedwig was pretty much all the things I wanted to do that other people said I probably shouldn't do: drag, punk rock, stand-up comedy… You know, combine them all in a thing that's supremely uncommercial from the objective point of view. I was like, Whatever. I'm glad it didn't happen in the digital age, when every fucking reading and rehearsal is documented and thrown on YouTube, and user-commented to death.

So many famous theater divas came to see you in Hedwig when it played Off Broadway: Bea Arthur, Glenn Close, Patti LuPone. It must have been such a thrill.
I saw Patti's last show on a half a pot cookie, and I saw an earlier one, Gypsy, on the other half. I was just, Oh my God, I think Hedwig was the love child of Patti Lupone and Patti Smith. The two Pattis.

You mentioned that after the movie you quit acting. What happened exactly?
I was just burnt. I think you can always write, direct and act but being an actor for a long time you don't have a lot of creative freedom and control in your life, and I had some wonderful theater and film acting experiences.

I read that you and Stephen are working on a sequel to Hedwig. Is it a show?
I sort of see it like Olive Kitteridge, like a long miniseries, four to six hours. It's still a musical; it's very much about her. It's kind of on indefinite hold now because of other projects, but it's been developed a good deal. It's darker. It's about the second half of her life, which is the antithesis of "It Gets Better" videos—for her, it gets worse. My favorite playwright is probably Samuel Beckett and; he was always laughing at the abyss. When Hedwig returns, it will definitely be about the limitation of life and how absurd that is.
See photos of John Cameron Mitchell's makeover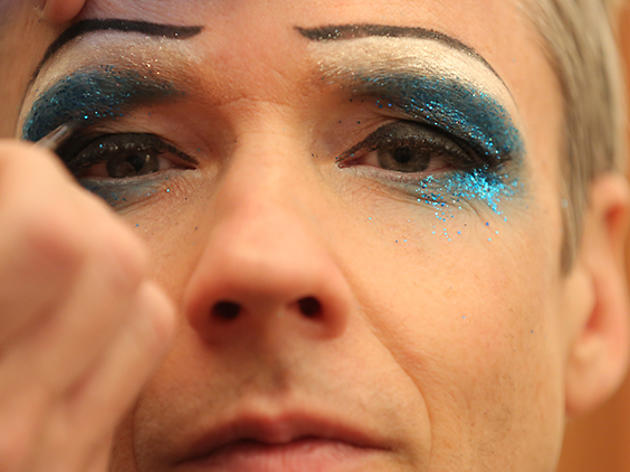 Now, after 15 years away from the New York stage, the actor-director-writer is back to throw on the wig and reprise the role. Read our revealing interview with John Cameron Mitchell, and take a peek at these photos of his makeup transformation into the original Hedwig.