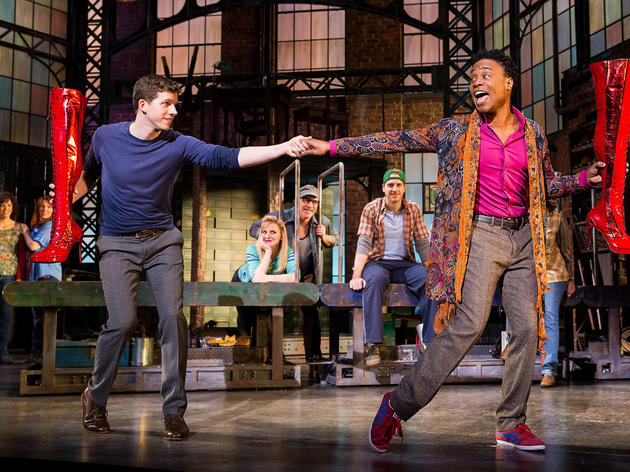 1/6
Kinky Boots (original Broadway cast)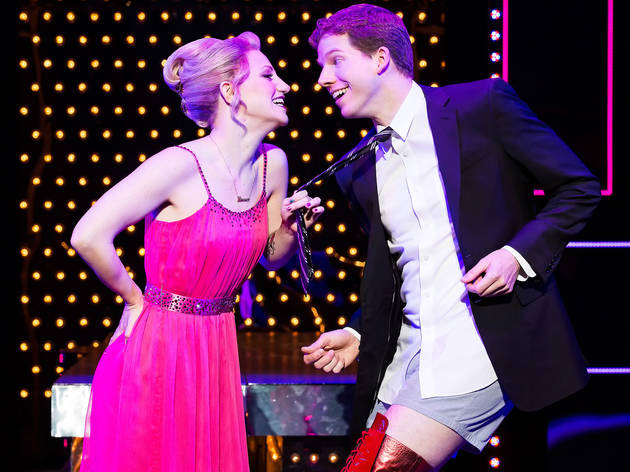 2/6
Photograph: Matthew Murphy
Kinky Boots (original Broadway cast)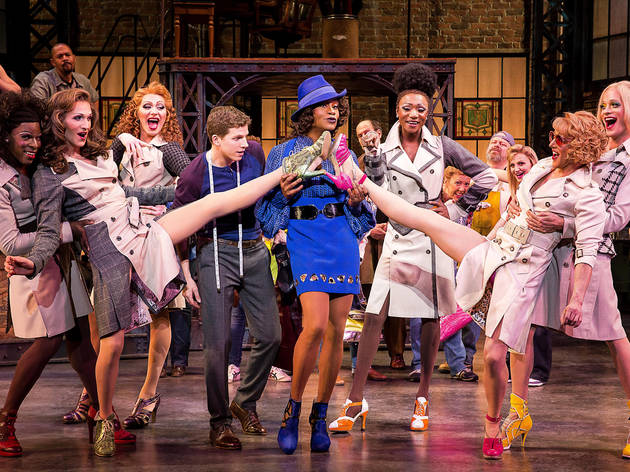 3/6
Photograph: Matthew Murphy
Kinky Boots (original Broadway cast)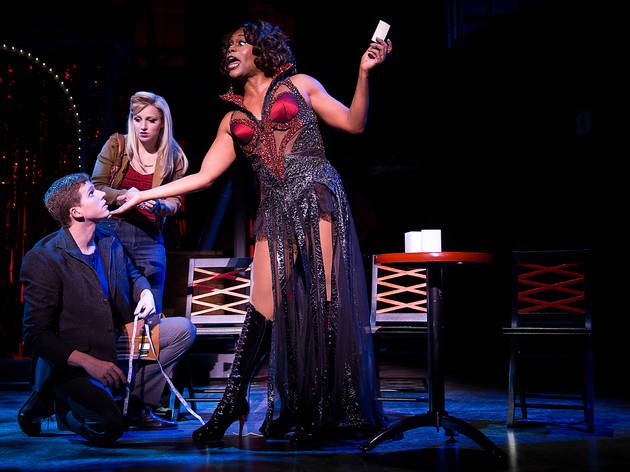 4/6
Photograph: Matthew Murphy
Kinky Boots (original Broadway cast)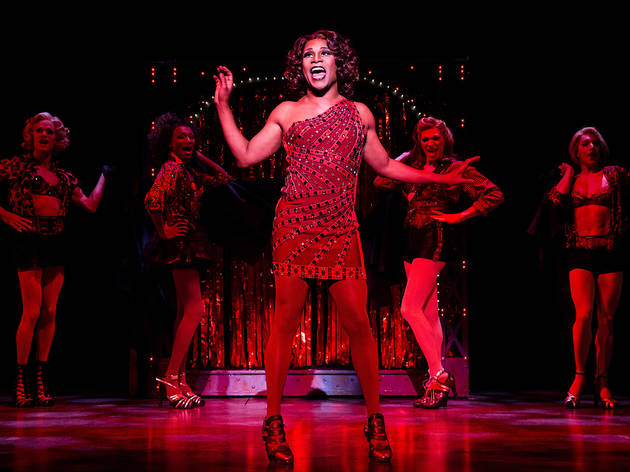 5/6
Photograph: Matthew Murphy
Kinky Boots (original Broadway cast)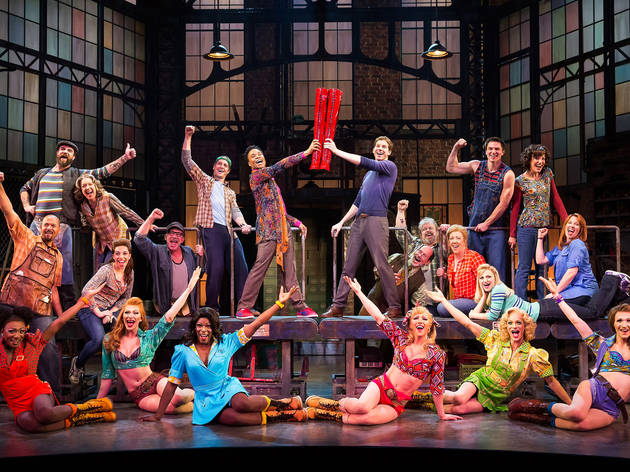 6/6
Photograph: Matthew Murphy
Kinky Boots (original Broadway cast)
Theater review by Adam Feldman. The Al Hirschfeld Theatre (Broadway). Book by Harvey Fierstein. Music and lyrics by Cyndi Lauper. Dir. Jerry Mitchell. With Stark Sands, Billy Porter, Annaleigh Ashford. 2hrs 20mins. One intermission.
[Note: The cast of Kinky Boots has changed since this review was first published. Currently, American Idol winner David Cook plays straight man to Wayne Brady's high-heeled Lola.]
The kicky crowd-pleaser Kinky Boots is the very model of a modern major musical. Adapted from a 2005 English indie film, Harvey Fierstein and Cyndi Lauper's fizzy pop tuner tells of Charlie (the capable Sands) and his Northampton footwear factory, Price & Son—a family business in danger of closing down. Hope arrives in the unlikely form of Lola (Porter), a self-possessed drag queen with ideas for a niche product line: knee-high, skin-tight, stiletto-heeled sheaths of ostentatious color, strong enough for a man who's made up like a woman. (Gay style and consumer dollars to the rescue! The shoe must go on!) Directed with verve by Jerry Mitchell, Kinky Boots feels familiar at every step, down to its messages about individuality, community, pride and acceptance; it could have been cobbled together from parts of The Full Monty, Billy Elliot and Fierstein's La Cage aux Folles, and it culminates in a feel-good finale so similar to Hairspray's (which Mitchell choreographed) that it might as well be called "You Can't Stop the Boot."
Yet the musical holds up for the same reason Price & Son's products do: solid craftsmanship and care. Lauper is a musical-theater natural, combining bright, infectious melodies with simple but effective lyrics. As each act progresses, the energy rises palpably, boosted by a heart-strong cast. Porter brings tough sass, wounded dignity and husky vocal authority to a part he has seemingly been training all his life to play; and as Charlie's lovelorn underling, the sweetly tart Annaleigh Ashford—she of the perfectly timed comic take—adds another stolen show to her rap sheet. The overall effect is nigh irresistible; if you've been low about this season's musicals, Kinky Boots may be just the thing to get you back on your feet.

Follow Adam Feldman on Twitter: @FeldmanAdam
RECOMMENDED: Most stylish New Yorkers: Cyndi Lauper
2013 Tony Award nominee. See our guide to the 2013 Tony Awards
Average User Rating
3.8 / 5
Rating Breakdown
5 star:

4

4 star:

5

3 star:

1

2 star:

0

1 star:

2
Amazing energy from the whole cast and just a fantastic show. The current pairing of Brendon Urie and J. Harrison Ghee is wonderful!
Take a fun story , some awesome tunes and add seven drag queens - you know something's going to happen.
Well it did tonight. The first birthday performance of Kinky Boots had the audience on their feet roaring approval.The show has lost none of its energy, sparkle or exuberance. I had forgotten just what a tonic it is. This high-octane energy-boost deserves to be on everybody's wish list. I loved it !
Kinky Boots is a fun filled, high-energy play that masterfully weaves the theme of acceptance, both of yourself and others, into a 2 hour time span.
The acting is phenomenal, with special shout out to Lola. While the music isn't a masterpiece by any means, its quick tempo, especially when combined with the set pieces (I really dig the costume designs) and dancing, serves to add another layer of fun.
While the plot may seem a bit contrived, the humor and acting is more than enough to make up for it. If you're looking for a good time out, then the uplifting, feel-good Kinky Boots is the perfect musical for you!
This show is very funny. The queens and factory crew really make the show, but Lola is definitely the star! The music isn't as good as other musicals, but the show is definitely a feel good show that will have laughing out loud. All the cast had funny moments and not one character seemed out of place. I have seen it twice and throughly enjoyed myself both times!
I really enjoyed the show featuring Wayne Brady. A great score calls for a phenomenal singer that can belt the music, this was not the case for Wayne. Although I have to admit that he executed the choreography flawlessly.
I had heard great things about this show so I had my hopes up, but unfortunately was not impressed. Lackluster plot, and the music was bad. I wanted to walk out mid show. Ranked among my least favorite Broadway shows right by Spiderman.
THe music was forgettable, the plot derived. I found it boring.
The creators, cast, and crew have a winner. We laughed and cried-there are poignant moments. It's a great show. The only disappointment is when the show ends. We wanted more.
Saw Kinky Boots with a bunch of friends while it was still in previews and we all adored this musical. The audience loved it, went quite wild in fact. Porter and Sands do a great job carrying the show, and Annaleigh Ashford is indeed a standout -- completely charming with great comedic timing. All-around entertaining, with crowd-pleasing music, energetic song-and-dance numbers, and a lovely message to boot. (no pun intended, no really)
Great show. I saw it last night and had a ball!