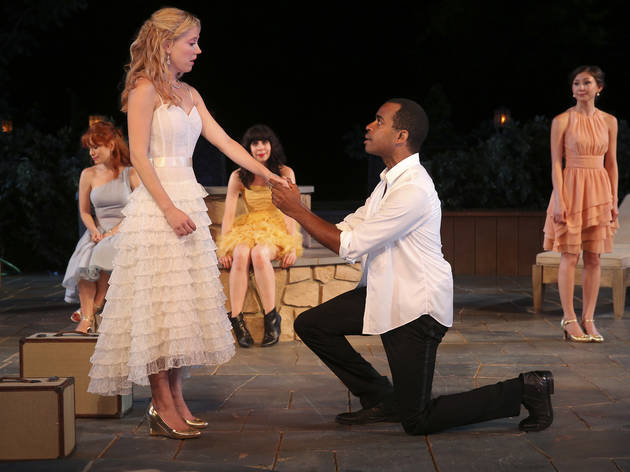 1/6
Photograph: Joan Marcus
Love's Labour's Lost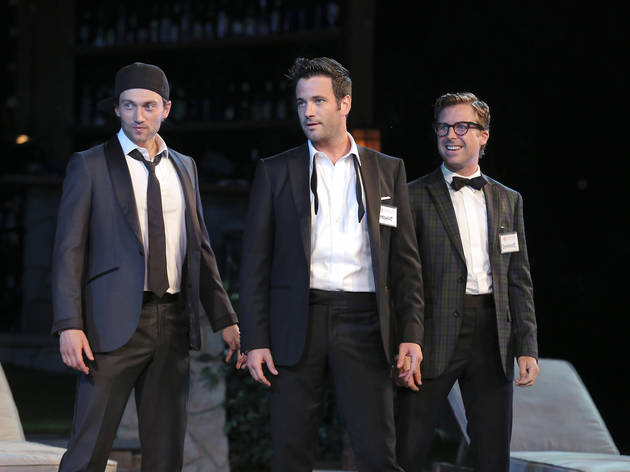 2/6
Photograph: Joan Marcus
Love's Labour's Lost
3/6
Photograph: Joan Marcus
Love's Labour's Lost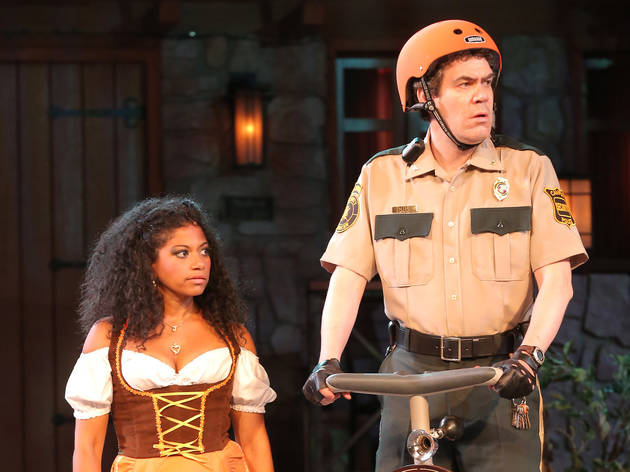 4/6
Photograph: Joan Marcus
Love's Labour's Lost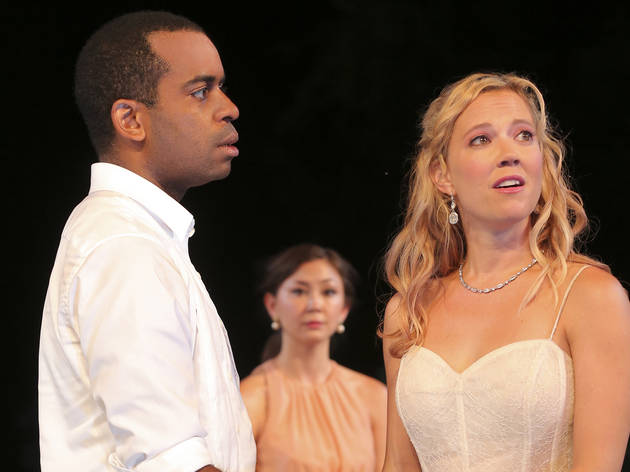 5/6
Photograph: Joan Marcus
Love's Labour's Lost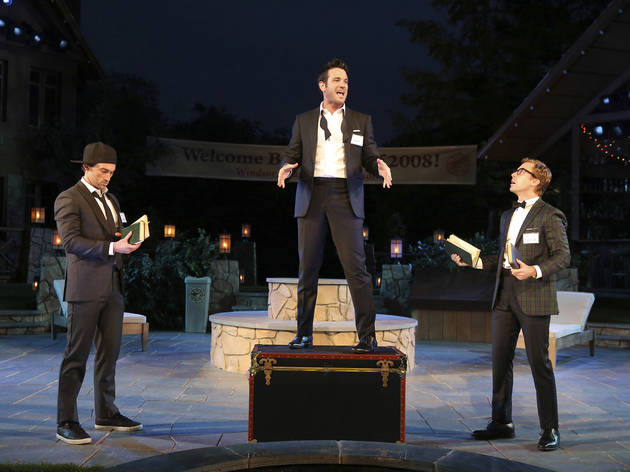 6/6
Photograph: Joan Marcus
Love's Labour's Lost
Love's Labour's Lost. Delacorte Theater (see Off Broadway). Based on the play by William Shakespeare. Adapted by Alex Timbers. Songs by Michael Friedman. Directed by Timbers. With ensemble cast. Running time: 1hr 40mins. No intermission.
Love's Labour's Lost: in brief
Tickets are free (two per person) and may be picked up only on the day of performance after noon at the Delacorte Theater. A limited number of tickets are also distributed via online lottery; see website for details. Alex Timbers and Michael Friedman, the team behind the historical mindblower Bloody Bloody Andrew Jackson, reunite for a zany musical version of Shakespeare's comedy, in which a king and his lords try to give up the company of women. Colin Donnell, Daniel Breaker, Patti Murin, Rebecca Naomi Jones and Lucas Near-Verbrugghe are among the merry players in this free offering from the Public Theater's Shakespeare in the Park.
Love's Labour's Lost: theater review by David Cote
For some, college was a time of quiet contemplation and growth. For far more, it was a continuation of high-school hedonism—only with more sex and booze. The four young elites at the center of Love's Labour's Lost belong to the latter, hungover camp. Led by the dour king (Daniel Breaker) and comprising everydude Berowne (Colin Donnell), puppyish Longaville (Bryce Pinkham) and uptight Dumaine (Lucas Near-Verbrugghe), these fellows gather at a five-year reunion to renounce worldly temptation (read: women) and immerse themselves in philosophy. When a princess (Patti Murin) and her giggly girl posse arrive, bookish isolation must withstand the allure of summer romance.
RECOMMENDED: Complete coverage of the Public Theater's Shakespeare in the Park
Freely but fondly adapted by Alex Timbers, and scored with more than a dozen superb tunes by Michael Friedman, this gleeful riff on Shakespeare is a tall, fruity drink of intoxicating delight. Friedman finds the sweet spot between giddy pop grooves and bruised, ruminating lyrics, creating a dual sensation of silliness and heartache. Timbers's gag-stuffed staging completes the festive vibe, while also giving the material's grimmer side its due. It may be hard to visualize this limited-run alfresco party heading indoors, but I dearly hope no one hollers, "Last call!"—Theater review by David Cote
Follow David Cote on Twitter: @davidcote
Ticket Offers from Time Out New York
Looking for tickets to a Broadway or Off Broadway show? Time Out Offers brings you terrific discounts on tickets to the latest New York theater. Want even more ideas? Check out Time Out New York's complete listings of Broadway, Off Broadway and Off-Off Broadway shows, and browse all available tickets.
Rating Breakdown
5 star:

0

4 star:

0

3 star:

0

2 star:

0

1 star:

1
You have GOT to be kidding me with this review. The show made zero sense--grabbing some of the least beautiful chunks of the original Shakespeare, adding songs that were largely irrelevant and barely, if ever advanced the plot or even commented on it very originally, and then thrown together in a production with so many bells and whistles that every single idea was robbed of its meaning, coming along in a cavalcade of noise and nonsense. It felt like no idea was passed on and every decision was arrived at with a simple, "Why not?" Someone in a Cats costume? why not? A full marching band? Why not? Sequined hot pants? Why not? But in the rush to thrill with SO MUCH TO LOOK AT, the director lost sight of trying to do things like tell a story or develop characters. The absurdly talented cast got screwed by the metric ton of bullshit thrown at them. One of the worst things I've seen this year by a mile.