Heads up! We're working hard to be accurate – but these are unusual times, so please always check before heading out.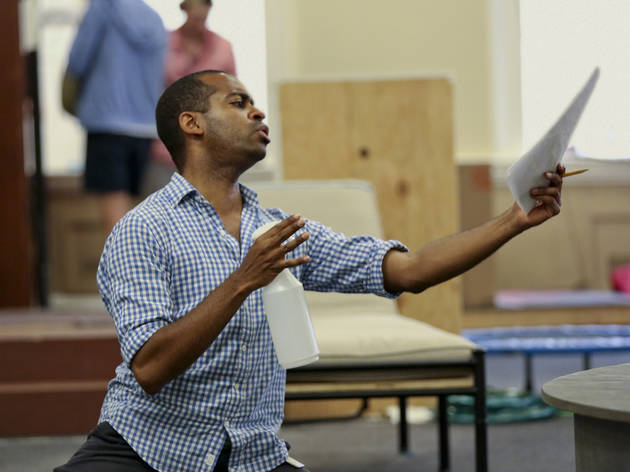 1/3
Photograph: Tammy Shell
Daniel Breaker in rehesarsal for Love's Labour's Lost, a musical adapation of the Shakespeare comedy.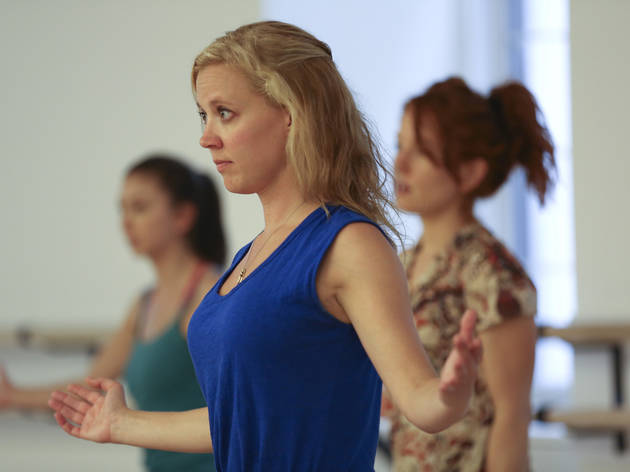 2/3
Photograph: Tammy Shell
Patti Murrin in rehesarsal for Love's Labour's Lost, a musical adapation of the Shakespeare comedy.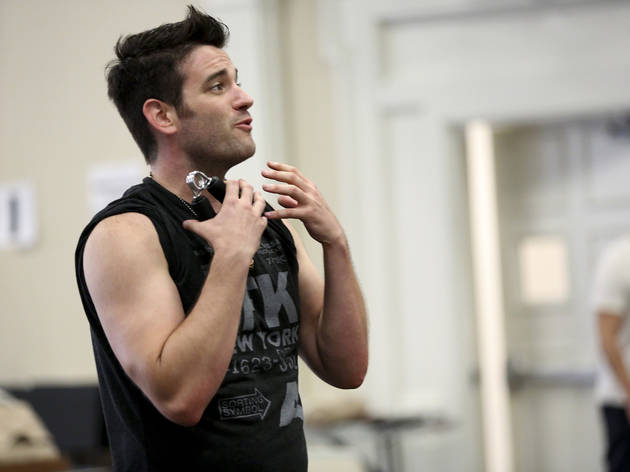 3/3
Photograph: Tammy Shell
Colin Donnell in rehesarsal for Love's Labour's Lost, a musical adapation of the Shakespeare comedy.
Love's Labour's Lost sings out in Central Park
The team behind Bloody Bloody Andrew Jackson transforms a Shakespeare comedy into a new musical.
There's one thing the guys behind the musical revamp of Love's Labour's Lost want audiences to understand: They're not out to lampoon Shakespeare. Adapted by writer-director Alex Timbers and songwriter Michael Friedman, Love's Labour's Lost is the first Bard-based tuner to debut at Shakespeare in the Park's Delacorte Theater since Two Gentlemen of Verona in 1971. Even though that was before either of them was born, Timbers and Friedman count Verona—which transferred to Broadway and snagged the Tony for Best Musical—as a major influence.

RECOMMMENDED: Complete Shakespeare in the Park coverage.
"I mounted a production of Verona the musical in college," says Timbers. "It set this great tone in terms of its radicalism with the text. It made events happen through song that didn't occur in the original play and interpolated bits of other Shakespeare works. I like to say that we're taking the J.J. Abrams approach to Love's Labour's Lost. We're huge fans of the play and we're not trying to do a number on it. But we have tried to create a truly populist entertainment."
Inspiration for Love's Labour's Lost hit as Timbers and Friedman's irreverent Bloody Bloody Andrew Jackson was transferring from the Public Theater to Broadway for what turned out to be a short 2010 run. Wanting to collaborate on something totally different, they started circling early Shakespeare comedies and Love's Labour's Lost sprang to the fore. "We'd both done it before," says Friedman. "Alex played Armado in college and I did the music for a production at Boston's Huntington Theatre. It's already so much like a musical: The characters break into poetry because they're so deeply in love."
Of course, Timbers and Friedman have taken liberties. The rom-com about a king (Daniel Breaker) and his three noble pals who swear off romance is now set in present day at a five-year college reunion, where they encounter irresistible ladies from their past. Although the text has been truncated, the profiles of some characters—such as comical country wench Jaquenetta, a personal favorite of Timbers's—have been punched up.
As for lyrics, Friedman estimates that at least 50 percent are taken directly from Shakespeare, including a few of his sonnets. "The big song 'Are You a Man' is most of Berowne's awesome speech in Act III," explains the songwriter—albeit with extra references to bran flakes, minivans and Revenge of the Nerds. "Honestly, I think we were both surprised at how faithful we remained to the source." (The impatient can listen to six of the songs on the Public Theater's website in advance of next week's first preview.)
While Love's Labour's Lost is also a Bloody Bloody reunion for Timbers, Friedman and the Public, the new show's tone is markedly different. "It's not satire and there are no distancing devices," says Timbers. "It's a much more heartfelt show about young people being vulnerable to love."
"There are some delightfully silly songs, but the crucial numbers are completely serious about the stakes of being in love," adds Friedman. "I've written a lot of breakup songs, but this is the first time I've ever done a full-on 'Hello, I love you, here is my song about how much I love you' number before." Also unlike Bloody Bloody: The new project didn't have the benefit of developmental productions. The Delacorte run marks the musical's world premiere, so any kinks will be smoothed out as they go. Still, considering Verona was the template, it's hard to imagine that those involved don't harbor hopes for the production beyond Central Park.
"I find that everything gets messed up when we think about that sort of thing," says Public Theater chief Oskar Eustis. "Since tickets to this production are free, we don't have to worry about its commercial prospects. Alex and Michael are taking that freedom and running with it."
Perpetually in demand, both collaborators are involved with separate projects. (Friedman is working on Pretty Filthy, a musical about the adult film industry; Timbers is directing Broadway's upcoming Rocky and a possible live Muppets spectacle.) But they're committed to making Love's Labour's Lost a success, and are philosophical about what that means. "Bloody Bloody was critically successful but a financial flop on Broadway," Timbers reflects. "And yet last year, it was one of the top ten most produced shows in America. So I guess the dream for me is that someday, college kids will be doing Love's Labour's Lost the musical—just as I did Verona."

Love's Labour's Lost is at the Delacorte Theater through August 18. Click here for details on how to get free tickets.