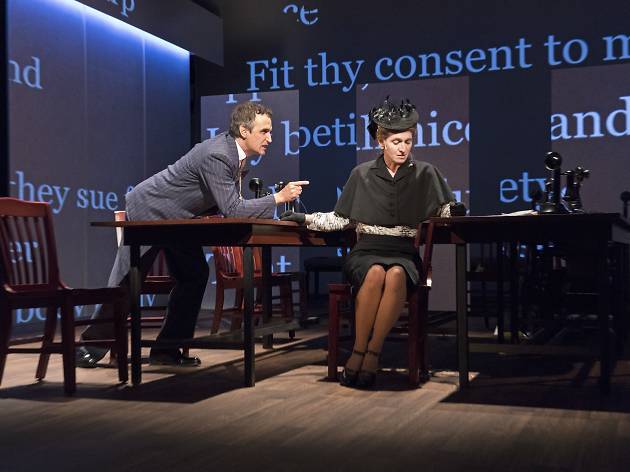 Theater review by Adam Feldman
Elevator Repair Service's wacky Measure for Measure is constantly and deliberately off-balance. According to director John Collins, the company was inspired to try Shakespeare's problem play at highly varying speeds after a happy experiment with a glacially slow version of one of its key scenes: a tense prison dialogue between Claudio (Greig Sargeant), sentenced to die for impregnating his fiancée, and his sister, Isabella (the finely understated Rinne Groff), who refuses to give up her chastity to save him. A different company might have slowed the rest of the play to match; instead, ERS perversely speeds it up. The actors, reading from teleprompters, race through their lines at a breakneck pace, sometimes barking them into candlestick telephones in the style of a 1930s screwball comedy. (The whole show lasts a bit more than two hours, with no intermission.)

As far as language goes, the production is often unintelligible; the dialogue flies by too quickly to catch, and is sometimes drowned out by loud music. That doesn't matter in the clown bits—which are usually hard to follow anyhow, and are middlingly performed here—but one misses important information and poetry in other scenes, especially those between Isabella and the lecherous, hypocritical Angelo (Pete Simpson, a master prowler).

Yet the show has many compensatory assets. The prison scene is indeed remarkable: a dense center of solemnity amid the production's vaudevillian comedic antics. Several performances are delightful, including Scott Shepherd's Duke of Vienna, an insouciant toff, and Vin Knight's huffy Escalus. And the production is funny in unexpected ways: As Angelo, a peacock who continually checks his own feathers, Simpson has wonderful spasms of physical comedy; the final tableau is a hilariously baffled coda to the Duke's imperious resolution of the plots. Audiences who don't know Measure for Measure may well find this version confusing. Those who know the text well, however, will find much to enjoy in ERS's pointed run-through.
Public Theater (Off Broadway). By William Shakespeare. Directed by John Collins. With ensemble cast. Running time: 2hrs 10mins. No intermission. Through Nov 12.
Follow Adam Feldman on Twitter: @FeldmanAdam
Follow Time Out Theater on Twitter: @TimeOutTheater
Keep up with the latest news and reviews on our Time Out Theater Facebook page
Rating Breakdown
5 star:

0

4 star:

0

3 star:

0

2 star:

0

1 star:

1
I saw this on a Saturday Matinee, Sept. 21st. Along with the rest of the audience I, at times, was silenced by the impact, laughing, and crying. The performances were stark, and without pretense. The plays meaning was vivid, and painfully timely. The teleprompter, used as a prop, served to clarify the path/lines we all must follow, as we still live within our hearts and desires, as the actor so powerfully did. I wish I could see this play again.
A hot mess. Saw it in early previews. The technique of speeding up the language with stylish illegible super-titles rendered the production incoherent. Actors were clearly reading from lines from a teleprompter which they apparently needed in order to speak so many lines at such a rapid pace. The slapstick did not work and further added to the feeling of the pretentious self consciously hip stage direction.