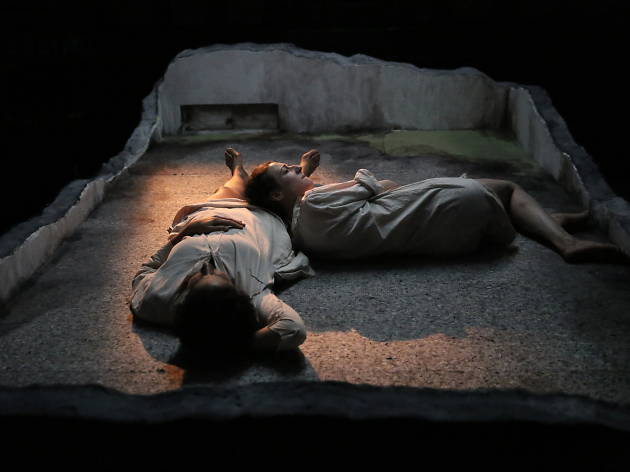 Time Out says
Theater review by Raven Snook
Held in a dirty, claustrophobic cell for unexplained reasons, the two women of No One Is Forgotten pass the time by bickering, bantering and baring their souls. Playwright-director Winter Miller has said that her chilling one-act drama was inspired by the kidnappings and executions of high-profile journalists such as Daniel Pearl and Jamal Khashoggi, but she injects the proceedings with a Beckettian timelessness. This could be anywhere; they could be anyone.
When we meet the sarcastic Beng (Renata Friedman) and the volatile Lali (Sarah Nina Hayon), they've been sequestered together for a while, so biographical revelations are scarce. In brief scenes, we learn tidbits (Beng is a lesbian with a child, Lali has a husband, they both once loved to travel for work), but their outside lives have ceased to matter. They spend their captivity exercising, playing morbid games—is it better to die of AIDS or Ebola, by gas or asphyxiation?—debating whether their food is poisoned, and engaging in painful intimacy. They are everything to each other: BFFs and lovers, confessors and confessants, reasons to live or to want to die.

Leaving their vanity at the stage door, Friedman and Hayon are harrowing in physically and psychologically demanding roles. Bleak though their plight may be, Miller gives them surprising moments of levity and love. Their sanity and health are eroding, but their connection keeps them going—which is why the play's scariest moments occur when either one of them is left alone. Hell may be other people, but solitary confinement is torture.

Rattlestick Playwrights Theater (Off Broadway). By Winter Miller. Directed by Miller. With Renata Friedman, Sarah Nina Hayon. Running time: 1hr 25mins. No intermission.
Follow Raven Snook on Twitter: @ravensnook
Follow Time Out Theater on Twitter: @TimeOutTheater
Keep up with the latest news and reviews on our Time Out Theater Facebook page
Details
Users say