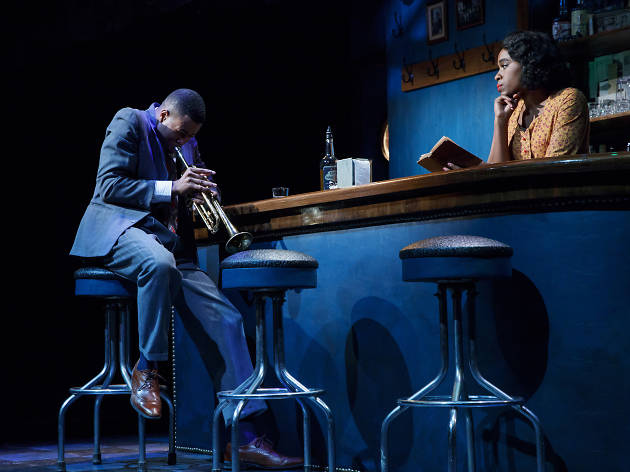 Theater review by Raven Snook

Like the passionate music played in the 1949 Detroit jazz joint where it's set, Dominique Morisseau's Paradise Blue attempts to harmonize disparate influences. Echoes of August Wilson, Tennessee Williams and Alice Walker course through its strains, but the playwright's singular voice eventually rings out to tell the tragedy of the club's owner, Blue (J. Alphonse Nicholson), a gifted but volatile trumpeter being consumed by racism, madness and a violent legacy.

If Blue comes off as a bit of a cipher, it's because his decline is a metaphor for what happened to the Motor City's famed African-American enclave Black Bottom, which was razed by wealthy white interests. But the supporting characters in his orbit have much richer melodies: his compliant employee/girlfriend, Pumpkin (a heartbreaking Kristolyn Lloyd) who suffers his abuse; his bandmates, the young and cocky P-Sam and the old and wise Corn (Francois Battiste and Keith Randolph Smith, respectively, both perfect); and a mysterious femme fatale named Silver (the voluptuous Simone Missick), whose arrival shakes everyone up. Their poetic interactions, always believable under Ruben Santiago-Hudson's lucid direction, fuel the drama, which is heavy on atmosphere and emotion and light on action. The final work in Morisseau's Detroit Project trilogy, Paradise Blue has overlong riffs and isn't as satisfying as her Obie-winning Skeleton Crew. Yet its haunting themes are liable to get stuck in your head.

Signature Theatre Company (Off Broadway). By Dominique Morisseau. Directed by Ruben Santiago-Hudson. With ensemble cast. Running time: 2hrs 20mins. One intermission.
Follow Raven Snook on Twitter: @ravensnook
Follow Time Out Theater on Twitter: @TimeOutTheater
Keep up with the latest news and reviews on our Time Out Theater Facebook page