Heads up! We're working hard to be accurate – but these are unusual times, so please always check before heading out.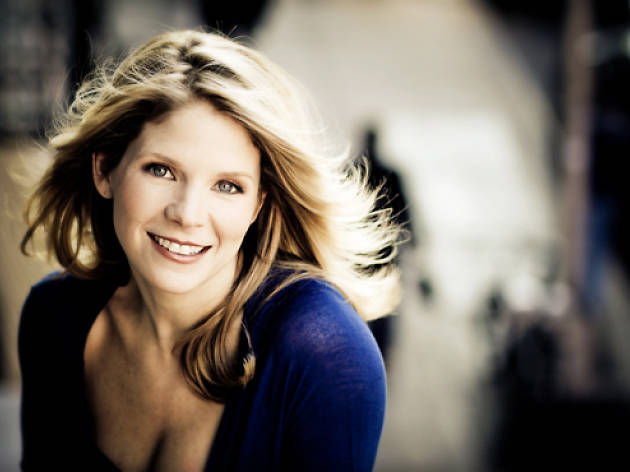 Profile: Kelli O'Hara
The Broadway star on Gershwin and the allure of classic show tunes.
Kelli O'Hara will be having her dessert first, thank you. "I've got some things coming up that are really mature," says the petite powerhouse who last wowed Broadway as an endearingly earnest Nellie Forbush in Bartlett Sher's majestic South Pacific. "All of a sudden you step from being the sexy, I've-never-been-in-love-before romantic lead to find yourself playing a mother who is heartbroken, or in a place in her life where she wants to reawaken her sexuality," says O'Hara, who, at 35, is the mother of a toddler.

The heartbroken part would be in Far from Heaven, a musical by Grey Gardens' Michael Korie and Scott Frankel based on Todd Haynes's 2002 film about 1950s sexual repression, headed for Playwrights Horizons next season; the horny role is at the helm of Jason Robert Brown and Marsha Norman's musical of The Bridges of Madison County, which had a Sher-directed workshop last December and continues development this year.
"I thought, Oh—I'm not quite ready for those. I wanna do something fun, but I don't want to do the ingenue again," says O'Hara. She may have found just the right diversion in the aptly titled Nice Work if You Can Get It. A brand-new Gershwin jukebox musical now in previews on Broadway, Nice Work shotgun-marries a trove of iconic George and Ira standards to a Prohibition-era farce by Memphis scribe Joe DiPietro. O'Hara's part is neither ingenue nor matron: She plays a tomboyish bootlegger opposite Matthew Broderick's thrice-married ne'er-do-well. Shenanigans ensue.
"I could say, Oh, nobody's dying in this one, and it's not dark and actory," says O'Hara of her current project. "But the comedy and pacing and this rich music—on some levels, it's just as difficult. The difference is, you're laughing more than you're crying."
Not that O'Hara has entirely abandoned the exacting verity she brings to all her roles. Whether playing the dim, sensitive Clara in The Light in the Piazza or the sassy Babe in The Pajama Game, utter conviction is her trademark. You never doubt that an O'Hara character means what she says, even when she's belting a vintage show tune.
"We were doing, 'You say eether and I say eyether,' and I stopped and I was like, 'No, I would say ee-ther and you would say eye-ther, because I'm low class,' " O'Hara recalls from a rehearsal of the teasing duet "Let's Call the Whole Thing Off." "There was then a conversation about how we shouldn't get hung up on those things, and I said, 'I don't know how else to do it. I can't sing a song unless I absolutely connect with what I'm saying.' I'm on a mission to make it all make sense."
That brings up another challenge: retheatricalizing songs that, though originally written for the stage, have become indelibly associated with freer, cabaret-style recordings by the likes of Frank Sinatra or Ella Fitzgerald. "They did these wonderful, intimate versions of the songs, but we're dramatizing them," admits O'Hara. "Some lend themselves to staging, like 'Fascinating Rhythm,' but when you're trying to sing something like 'Someone to Watch Over Me,' you wanna just sit in a corner and croon. But that doesn't work in a show."
O'Hara's unique blend of lightness and gravity—she's an apple-cheeked Oklahoman with a sunny soprano, who can tap remarkable reservoirs of feeling, even soulfulness—has served her well in mid-20th-century roles. Indeed, if O'Hara does bring Bridges of Madison County to the stage, it will be her first contemporary character.
"I was never going to do Rent; I don't sing that way," she says. It goes deeper than vocal style, though. "Maybe I was reborn from some 1940s person," she muses. "I don't know if I believe that, I just know that I came out of the womb feeling like I wanted to dress up in clothes from the '40s and '50s and sing with Nelson Riddle arrangements."
Indeed, if the performer has a theme song, it's a standard, not by the Gershwins but by Kern and Mercer. " 'I'm Old Fashioned' is one of my favorite songs," she says, quoting it like deeply felt dialogue: "I don't mind it; that's how I wanna be." That's Kelli O'Hara in a nutshell: totally present, even in a period role.
Nice Work if You Can Get It is at the Imperial Theatre.