PTP/NYC: Dogg's Hamlet, Cahoot's Macbeth and Havel: The Passion of Thought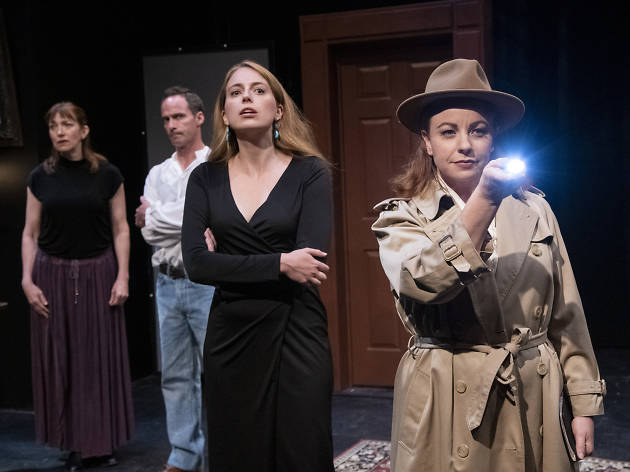 Time Out says
PTP/NYC's 13th New York season comprises a pair of productions that reflect the company's commitment to major international playwrights. Tom Stoppard's Dogg's Hamlet, Cahoot's Macbeth is a 1979 diptych of short works that use Shakespeare plays to explore linguistic and political questions; Havel: The Passion of Thought presents three 1970s playlets by Czech dissident Václav Havel (Audience, Private View and Protest) alongside Harold Pinter's New World Order (1991) and Samuel Beckett's Havel tribute Catastrophe (1982). The cast of the latter collection includes Danielle Skraastad, Michael Laurence and David Barlow.
Theater review by Helen Shaw: Dogg's Hamlet, Cahoot's Macbeth
PTP/NYC tends to be one of New York's best bets for summer counterprogramming: While the rest of the city is busy with outdoor salsa events and movies on the lawn, this long-lived company makes its July season out of serious classics. You go to it for dark plays, serious plays—plays that say something about (the worst part of) our present moment. This year, as usual, the troupe is presenting a pair of productions in rep, and one of them is Havel: The Passion of Thought, a collection of short works by Václav Havel, Harold Pinter and Samuel Beckett. And so it feels almost naughty to attend the other one: Tom Stoppard's 1971 comedy Dogg's Hamlet, Cahoot's Macbeth, whose mood director Cheryl Faraone describes in her curtain speech as "antic."

Stoppard's goofball spirit stretches to theatrical conventions themselves. Are there two plays in this evening or one? They certainly look like two. The first half of the swift evening, Dogg's Hamlet, is an absurdist lark in which schoolboys speak in a language called Dogg—cube means "thank you," afternoon is a slur—before mounting a 10-minute version of Hamlet in English. The Dogg sections are forced, both on page and onstage, but abridged Shakespeare is inevitably hilarious: Just try not to giggle at Ophelia, "drowning" just in time for a bouquet of flowers to whizz over a wall and bop her in the tum.

After intermission, Cahoot's Macbeth begins with a shortened version of the Scottish play being performed seriously in what looks like a parlor. Macbeth (Christopher Marshall), Banquo (Christo Grabowski) and Lady Macbeth (Denise Cormier) kill their scenes, and Faraone's staging choices would work in a complete account. But Stoppard is up to his tricks: The door slams open to admit all manner of interruption by the Inspector (Tara Giordano), some dark-suited thugs and even the first play. Stoppard wrote Cahoot's Macbeth in honor of Pavel Kahout, a Czech writer who staged Macbeth in living rooms to evade communist censorship, and he designed the two plays to work together to investigate how nonsense can answer and subvert power. The silliness drains out of the evening, and the real world seeps back in. All the giddiness has been a ruse: The PTP folks have tricked us into thinking and reflecting after all. It's the kind of thing you should say "cube" for.
Atlantic Stage 2 (Off Broadway). By Tom Stoppard. Dir. Cheryl Faraone. With ensemble cast. Running time: 1hr 30mins. One intermission.

Follow Helen Shaw on Twitter: @Helen_E_Shaw
Follow Time Out Theater on Twitter: @TimeOutTheater
Keep up with the latest news and reviews on our Time Out Theater Facebook page
Details
Best selling Time Out Offers