Broadway review by Adam Feldman
An itinerant Black preacher with a burnished silver tongue and a bushel of schemes up his sleeve, Purlie Victorious Judson (Leslie Odom, Jr.) is irrepressible—not that the white folks around him don't try. Even after the Supreme Court's landmark ruling for desegregation, Purlie's childhood home in rural Georgia seems frozen in time: a cotton plantation owned and ruled by Ol' Cap'n Cotchipee (Jay O. Sanders), the same bullwhip-wielding Dixie tyrant who chased our hero out of town two decades earlier. When Purlie returns to Cotchipee County, plotting to collect a long-denied inheritance, a major dust-up is all but guaranteed. And since Purlie Victorious is a comedy, with the merry subtitle A Non-Confederate Romp Through the Cotton Patch, it is also clear who will come out on top. Victorious is, after all, his middle name.
Ossie Davis's 1961 play—in which the actor and activist originally starred opposite Ruby Dee—may not seem a likely candidate for revival. Comedies often age badly, and comedies about race are even riskier. But Purlie Victorious doesn't crack: Directed knowingly by Kenny Leon, the show's new Broadway production is a joyous affair, broad in comedy and in spirit. Davis populates his play with deceptively familiar types (the simple-minded country girl, the loyal mammy, the villainous Confederate, the simpering Uncle Tom) who have more dimensions than expected; the actors who inhabit them take manifest delight in subverting stock figures from the inside out.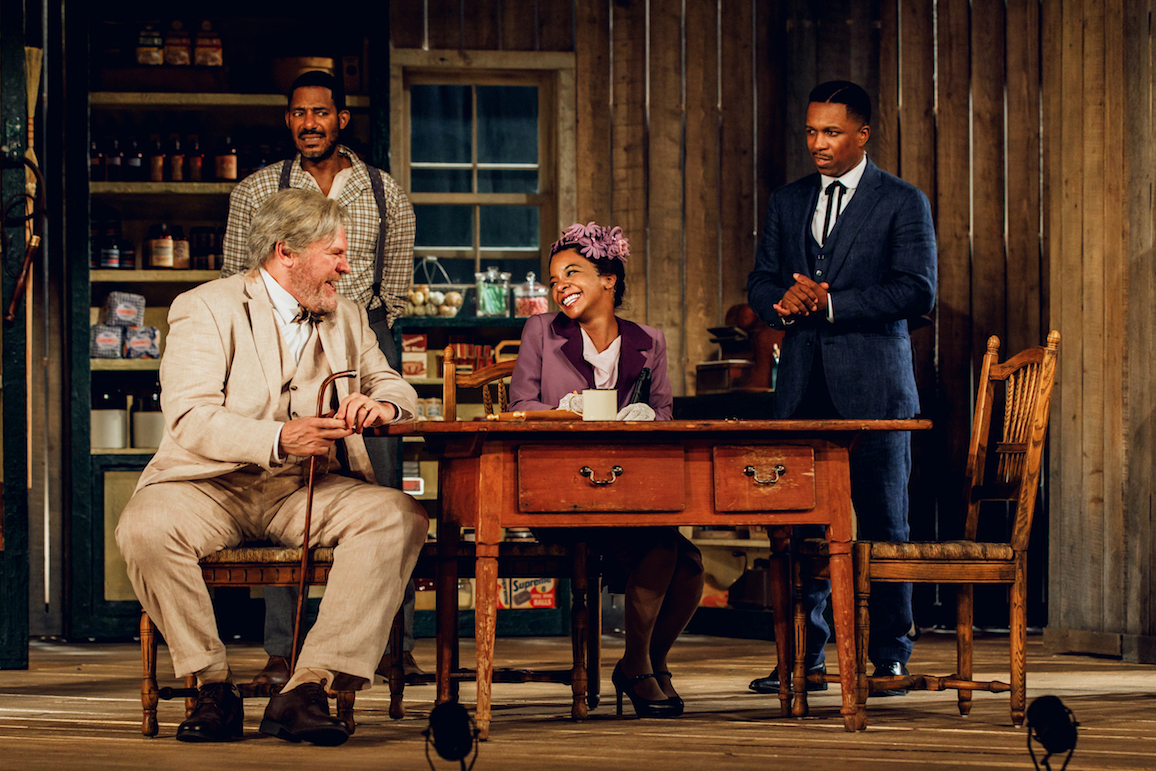 Purlie Victorious | Photograph: Courtesy Marc J. Franklin
Odom, who originated the role of Aaron Burr in Hamilton, once again shows off a flair for fast talking. But his role here is mostly as a straight man: Though driven to deception by circumstance—to get the money he is owed from Ol' Cap'n, he recruits an uneducated maid named Lutiebelle Gussiemae Jenkins (Kara Young) to spell in for his late cousin Bee—Purlie is also the play's main voice of social justice. "The South is split like a fat man's underwear; and somebody beside the Supreme Court has got to make a stand for the everlasting glory of our people," he exhorts. "Make Civil Rights from Civil Wrongs; and bring that ol' Civil War to a fair and just conclusion!"
It's in the rich supporting performances that Leon's production comes most vividly to life. As the brutish and buffoonish Ol' Cap'n, Sanders combines Foghorn Leghorn–style bombast with a hilarious streak of delusion: The scene in which he is misled into believing that the local Black population loves him is a masterpiece of character clowning. Billy Eugene Jones brings a sharp double edge to the smiling, bootlicking Gitlow, Ol' Cap'n's accommodating "Deputy-For-The-Colored," whose practical-minded acquiescence to the status quo—"What's wrong with running? It emancipated more people than Abe Lincoln ever did"—does not supersede the contempt he feels for his boss. Heather Alicia Simms and Vanessa Bell Calloway are believably strong-willed, as is Noah Robbins as Ol' Cap'n's rebelliously antiracist son. ("You trying to get non-violent with me, boy?" his father barks.)
And then there is Kara Young, who is simply a wonder as Lutiebelle; after terrific performances in Clyde's and Cost of Living, she proves once again why she is one of Broadway's fastest-rising stars. Purlie shifts into verse when singing Lutiebelle's praises—"Ten thousand queens, ten thousand Queens of Sheba: Ethiopia herself—in all her beauteous wonder"—and it's easy to see why: As played by Young, this ostensibly backward creature is at once vulnerable and enchantingly self-possessed. Humble and plain-spoken though she is, she won't be denied, and she has that in common with Davis's message about progress. "We want our cut of the Constitution, and we want it now," says Purlie. "And not with no teaspoon, white folks—throw it at us with a shovel!" Purlie Victorious is uncompromising in its defiance, but it rarely feels preachy. Its medicine goes down with a heap of dark brown sugar.
Purlie Victorious: A Non-Confederate Romp Through the Cotton Patch. Music Box Theatre (Broadway). By Ossie Davis. Directed by Kenny Leon. With Leslie Odom, Jr., Kara Young, Jay O. Sanders, Billy Eugene Jones, Heather Alicia Simms, Vanessa Bell Calloway, Noah Robbins. Running time: 1hr 45mins. No intermission.
Follow Adam Feldman on Twitter: @FeldmanAdam
Follow Time Out Theater on Twitter: @TimeOutTheater
Keep up with the latest news and reviews on our Time Out Theater Facebook page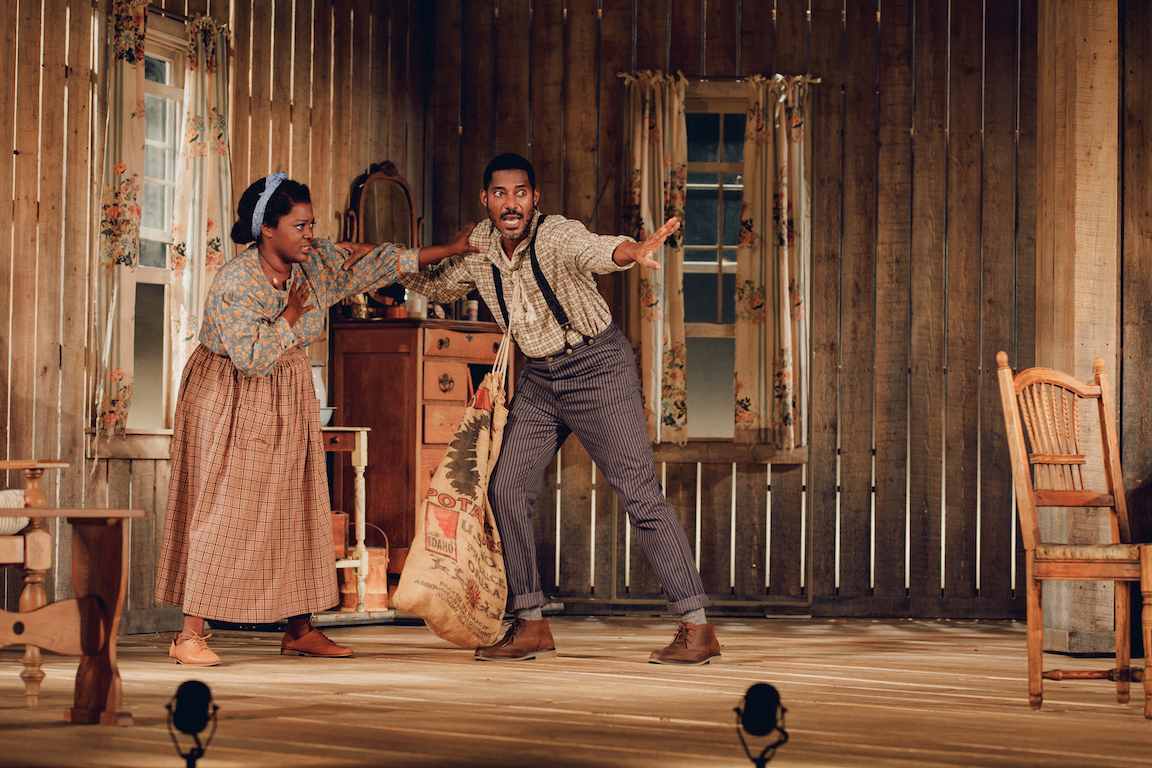 Purlie Victorious | Photograph: Courtesy Marc J. Franklin