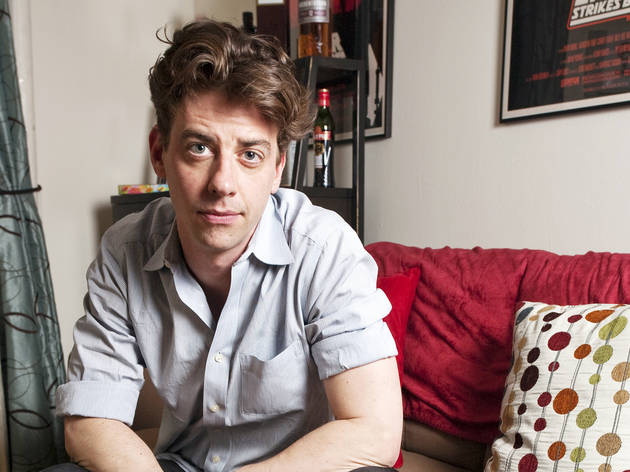 Q&A: Christian Borle
The star of Smash returns to his theatrical roots in Peter and the Starcatcher.
Until he landed a starring role on NBC's Smash, Christian Borle was best known to television audiences as the guy from that eBay commercial (he crooned "That's on eBay" to the tune of "That's Amore"). But theatergoers have been admiring his work for more than a decade. A versatile stage performer, the 38-year-old made his name with goofy turns in the musicals Spamalot and Thoroughly Modern Millie (opposite his now ex-wife, Sutton Foster), and then graduated to straight romantic lead in Legally Blonde, which earned him a Tony nod. Last season, he tackled two remarkably different characters back-to-back Off Broadway: AIDS-stricken Prior Walter in the Signature's lauded revival of Angels in America, and campy villain Black Stache in the kinetic Peter and the Starcatcher. (The play-with-music by Rick Elice was adapted from Dave Barry and Ridley Pearson's young-adult novel about Peter Pan's early years.) With Smash picked up for a second season, Borle is using the downtime to reprise his role in the Broadway transfer of Starcatcher. TONY spoke with the actor about his career, why he always plays gay and how he deals with online gossip.
Smash is about the making of a Broadway musical. Considering your résumé, it's ironic that your composer character, Tom, doesn't sing on the show. Will that change?
Yes. Coming up, they figured out ways to let me sing that stay within the show's rules. Most of the characters only sing when they're rehearsing or performing—and Tom spends a lot of his time watching rehearsals. That's all I can say.
Although you're straight, you play a lot of gay characters.
[Laughs] I really, really do! Even Black Stache is foppish. I think it's less a reflection on me and more because lots of gay roles are being written, which is fantastic. I've certainly never hesitated to take a gay role. I know people assume I'm gay, but I don't care. My sexuality is germane only in my personal life.
You played Black Stache in Starcatcher at La Jolla Playhouse, then downtown at New York Theatre Workshop. Has the show changed much for Broadway?
Overall, I think it's pretty much the same. Rick has streamlined it. But it's the same size stage as downtown and the same set. We just have to lift our heads a bit more to play to the balcony.
Although the show received mostly positive reviews Off Broadway, it seems like a hard sell for Broadway.
I'm happy that I don't have to worry about marketing it! I just show up and do my thing and hope people come. It truly is a word-of-mouth show.
On theater message boards, there's been griping about inaccuracies in Smash. Do you worry about getting it right?
It's a balancing act. There are a lot of things to nitpick. But I think we get enough right to give people a real sense of what we do. But there are moments that I know will drive insiders nuts—like when Ivy and I had lunch on an island in Times Square. People complained that nobody who actually lives in New York would sit at any of those tables! The upside is that we employ lots of real Broadway performers, like Wesley Taylor, Ann Harada and Will Chase.
Speaking of Will Chase, his romance with costar Debra Messing was real tabloid fodder, especially since both of them had recently separated from their spouses. Did that kind of gossip make interviews more stressful?
Honestly, I haven't gotten any questions about any of that. It's always so hard when people assume someone cheated or broke up a marriage, when the truth may actually be much more complicated.
You know that firsthand with your divorce from Sutton Foster.
Absolutely. We went through it on a much smaller level. I've heard rumors about myself that are true—and nobody likes that. But there's actually something very liberating when you hear a false rumor because you realize there's nothing you can do. People are going to say whatever they want—especially on chat boards. So don't go nuts.
Are you and Foster on good terms now?
Yes. As life took its crazy winding turns and we ended up not being married anymore, it was always a priority for us to stay friends. I just saw her before she headed off for her big L.A. adventure [as the star of the upcoming ABC Family series Bunheads]. When we were together, we were obsessed with Gilmore Girls. Now Sutton's working with Gilmore Girls creator Amy Sherman-Palladino, so it's a dream come true.
Peter and the Starcatcher is playing at the Brooks Atkinson Theatre.
Best selling Time Out Offers