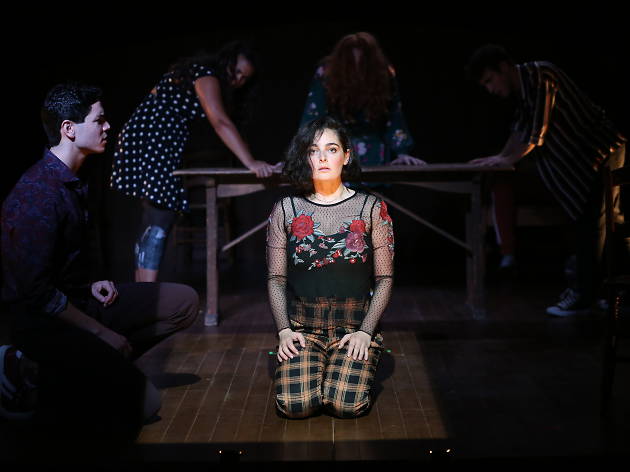 Time Out says
Theater review by Diane Snyder
The last 20 minutes of Renascence give themselves over completely to Edna St. Vincent Millay's titular masterpiece, as the six-person cast sings and dances to her lyric poem about nature, humanity and suffering. It's the high point of this evocative but overly ambitious new musical.
Millay was just 20 years old in when the poem Renascence made her name in 1912. She won the Pulitzer Prize for Poetry 11 years later, but the musical focuses on her early adulthood and rise to fame: growing up with her mother and two younger sisters in Maine after her parents' divorce, losing out on an award with a much-needed cash prize, forging a love affair with a female college classmate.
This Transport Group production, directed by Jack Cummings III and Dick Scanlan, is no typical musical biodrama; it's more of a jukebox poetry slam. An authors' note in the script describes the play as "a theatrical exploration…of what it means to be an artist and a person" that uses Millay's life as inspiration. That's a challenging proposition, and one that's hard for book writer Scanlan and composer Carmel Dean to sustain over two and a half hours. Millay's poems supply the lyrics, and although Dean's score and a top-notch orchestra of eight accentuate the power of her words, the piece has trouble fashioning a dramatic arc around her preexisting body of work.
Hannah Corneau plays Millay engagingly, and is complemented by the stirring vocals and performances of Mikaela Bennett and Danny Harris Kornfeld as her sisters as well as, respectively, a college lover and a benefactor. Even so, the characters never quite coalesce, and Vincent, as she was known, sometimes seems like a supporting figure in the story. Although it's a pleasure to hear Millay's soulful poems in song, the voice behind them remains something of a mystery.
Abrons Arts Center (Off Broadway). Music by Carmel Dean. Book by Dick Scanlan. Lyrics by Edna St. Vincent Millay. Directed by Scanlan and Jack Cummings III. With ensemble cast. Running time: 2hrs 30mins. One intermission.
Details
Best selling Time Out Offers