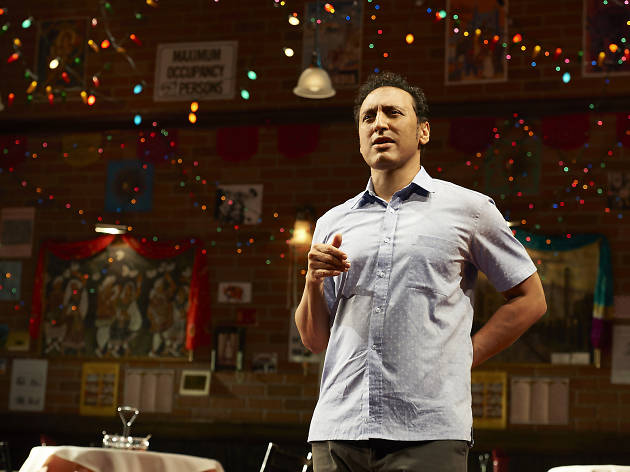 Time Out says
Theater review by Raven Snook
Two decades ago, Aasif Mandvi made a name for himself with Sakina's Restaurant, his loving portrait of an Indian family torn between tradition and assimilation in New York City. Mandvi wrote it because, as a nonwhite actor, he had trouble finding work; an eye-opening peek at a culture rarely represented on stage, his solo show won an Obie and helped the writer-performer leap to roles in bigger venues (Oklahoma! on Broadway, Disgraced at Lincoln Center) and a nine-year stint as a correspondent on The Daily Show.
Now Mandvi is reprising his breakthrough in a revival produced by Audible Inc., which will also be recording it. Sakina's Restaurant is best enjoyed as a showcase for the actor, who convincingly portrays wide-eyed waiter Azgi, restauranteur Hakim and several members of Hakim's family. Through changes in gesture, inflection and accent, he switches characters at the drop of a scarf in Wilson Chin's whimsical, Christmas light–festooned set. Under Kimberly Senior's direction, Mandvi is particularly moving as the show's two women: Farrida, a former dancer uprooted from the country she loved by her husband's dream, and Sakina, an Americanized teen oppressed by cultural customs.
As a playwright, however, Mandvi doesn't fare as well. Sakina's Restaurant is a succession of thin slices of life, and although the action is ostensibly seen through Azgi's eyes, we barely get to know him. The play is more nostalgic than resonant: a bittersweet '90s period piece about a less xenophobic time, when the children of immigrants were more worried about things like arranged marriages than about forced separation and deportation. With questions of identity politics and immigration dominating the national conversation today, it's easy to understand why Audible thought this was a dish worth serving again. But the reheated result feels less satisfying than it did when it was fresh out of the oven.
Minetta Lane Theatre (Off Broadway). By Aasif Mandvi. Directed by Kimberly Senior. With Mandvi. Running time: 1hr 25mins. No intermission.
Follow Raven Snook on Twitter: @ravensnook
Follow Time Out Theater on Twitter: @TimeOutTheater
Keep up with the latest news and reviews on our Time Out Theater Facebook page
Details
Best selling Time Out Offers