1/2
Photograph: Courtesy Joan Marcus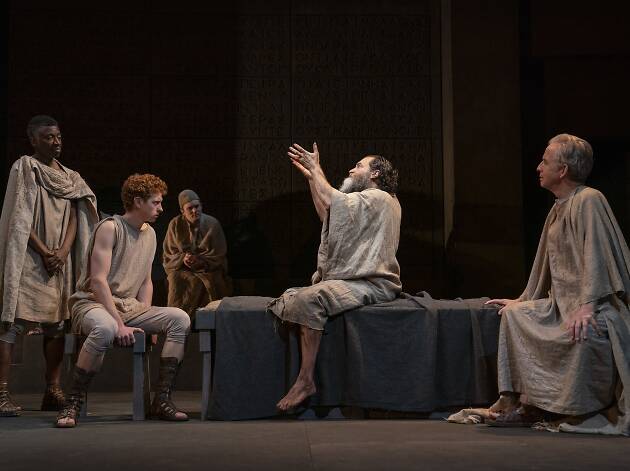 2/2
Photograph: Courtesy Joan Marcus
Time Out says
Theater review by Raven Snook

Socrates spent his life in pursuit of truths he knew were elusive. Playwright Tim Blake Nelson is on a similarly challenging quest with his three-hour neoclassical tribute to the ancient Greek philosopher: How do you humanize a two-millennia-old thinker who is known to us only known through secondhand accounts?
Framed as Plato telling a prospective student about his late mentor, Socrates is dragged down by loquacious speechifying, excessive double casting and the general stasis of Doug Hughes's plant-your-feet-and-spew staging. Before we hear much from Socrates (Michael Stuhlbarg), we see him slovenly and drunk, getting roasted by his acolytes. Historical snippets—including a jarring and an embarrassing Eyes Wide Shut–style tableau—provide the setup for his trial and his death by poison. Just when you're ready to give up, however, the spotlight shifts in earnest to Stuhlbarg's arresting performance as a fascinating, fallible, sometimes frustratingly inflexible man who believed that no idea was too sacred to be questioned.
Best known as a character actor (he's a Coen brothers regular), Nelson is also an accomplished dramatist who's been hankering to write this play since he majored in classics at Brown University more than 30 years ago. He crafted it with Stuhlbarg in mind, for good reason: Whether sparring with his followers, arguing with his wife, Xanthippe (Miriam A. Hyman, the sole woman on stage), or challenging the powerful men who will be his undoing, Stuhlbarg is a wonder. As he plays the fool to make his points, exhibits tenderness to his disciples or rages against his accusers—and anyone who calls him a teacher—he manages to animate the play's didactic discussions of virtue, knowledge and democracy.
Socrates is the centerpiece of the 2019 Onassis Festival, whose subject is democracy, and the play's debates about the viability of popular rule prompt audible audience reactions. (One worker says he wants to "make Athens great.") That dialogue may be where the show's head is, but Stuhlbarg is its beating heart. Without him, this ambitious enterprise would be dead on arrival, no hemlock required.
Public Theater (Off Broadway). By Tim Blake Nelson. Directed by Doug Hughes. With Michael Stuhlbarg. Running time: 3hrs. One intermission.
Follow Raven Snook on Twitter: @ravensnook
Follow Time Out Theater on Twitter: @TimeOutTheater
Keep up with the latest news and reviews on our Time Out Theater Facebook page
Details
Best selling Time Out Offers