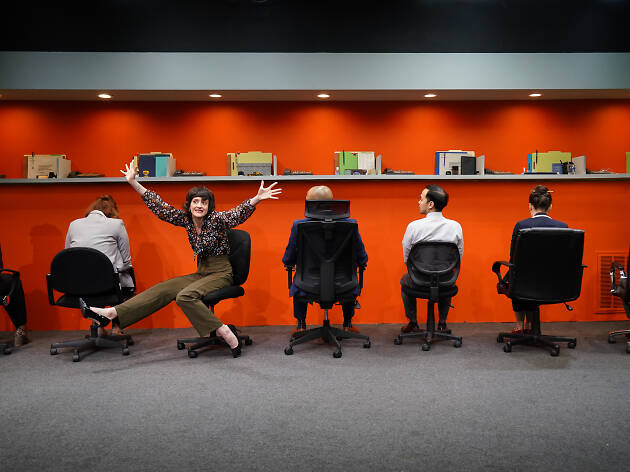 Time Out says
Clubbed Thumb mounts its 24th annual new-works festival, one of the best ways to see which local playwrights have their fingers on the pulse. The first show is Sarah Einspanier's portrait of harried public defenders, Lunch Bunch (May 17–28), directed by Tara Ahmadinejad. Next up is Zhu Yi's You Never Touched the Dirt (June 3–13), a depiction of economic transformation and its costs, directed by downtown mainstay Ken Rus Schmoll. The final show is Daniel Glenn's look at life on the Plymouth Plantation, King Philip's Head Is Still on That Pike Just Down the Road (June 19–29), directed by Caitlin Ryan O'Connell.
Lunch Bunch: Review by Helen Shaw
Hey, here's a dare! Try seeing Lunch Bunch, Sarah Einspanier's excellent workplace comedy, when you're hungry. Its characters are overtaxed public defenders (the script suggests they might be in the Bronx), and their lone joy is a co-op lunch agreement shared by five proud members. In rattling, lickety-split dialogue, the lawyers tell us about the sustainable homemade delicacies—like sesame-encrusted kale chips and jackfruit barbecue—that they bring in to share with fellow Bunchers. (My notes here read: "Buy jackfruit.")
Membership in the Lunch Bunch is jealously guarded, so when rookie cook Nicole (Julia Sirna-Frest) subs in for a vacationing Tal (Eliza Bent), we have the whisper of plot. But there's little room for a story, because Einspanier has crammed every second with marvelous character studies and syncopated conversations that reveal the topsy-turvy stakes of a life lived in service. Everybody in the office is tightly wound: Jacob (Ugo Chukwu) is one bad salad away from a breakdown, and Tuttle (comic superwoman Keilly McQuail) keeps wondering if her misery means she's making a difference. Behind its giddy surrealism (someone goes on a vision trip to the Stone Age), Lunch Bunch is a heartfelt paean to people who work desperately to help others.
Einspanier and director Tara Ahmadinejad operate hand in glove; the amount of dynamic indication in the text (font changes, ellipses, etc.) makes the script seem almost like a piece of music. The downtown stars that Clubbed Thumb has assembled for its first Summerworks offering are so at ease with the play's relentless pace and rhythms that at times they almost seem to be singing. Einspanier is playing a little game with the audience's ability to focus—can you think about the real world when someone's talking about French cheese?—while also being frank about the brutality of the legal system. Lunch Bunch is at once a cry for help and a joyful, fizzy comedy of manners; it celebrates both getting a father limited visitation rights and the value of a good sandwich. The fact that some victories aren't very big—say, the size of a little brown lunch bag, or an hour-long play—doesn't negate them. If anything, we are all the more grateful when one of them turns out to be so delicious.
Wild Project (Off-Off Broadway). By Sarah Einspanier. Directed by Tara Ahmadinejad. With ensemble cast. Running time: 1hr. No intermission. Through May 28.
Follow Helen Shaw on Twitter: @Helen_E_Shaw
Follow Time Out Theater on Twitter: @TimeOutTheater
Keep up with the latest news and reviews on our Time Out Theater Facebook page
Details
Users say