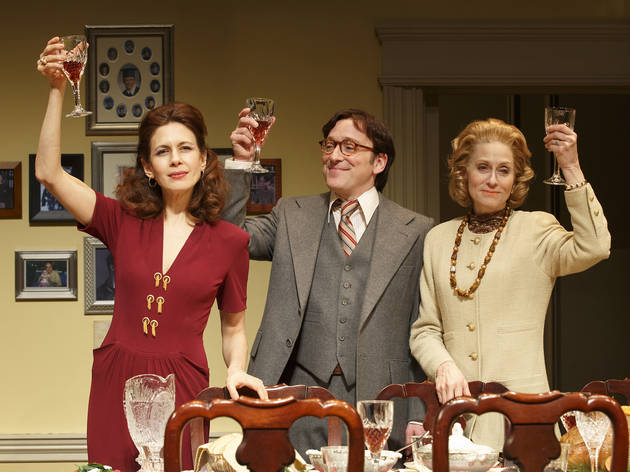 1/7
Photograph: Joan Marcus
The Assembled Parties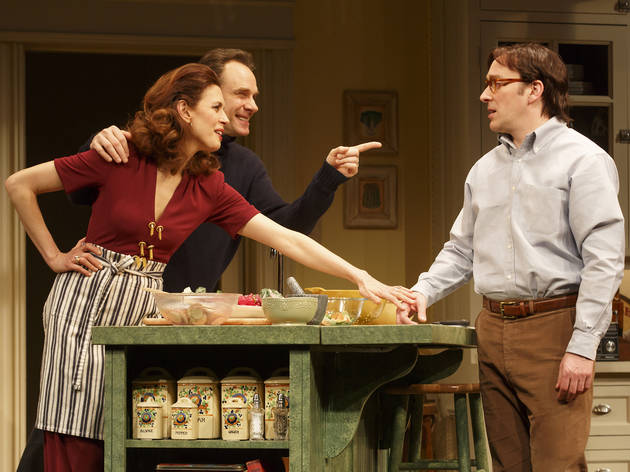 2/7
Photograph: Joan Marcus
The Assembled Parties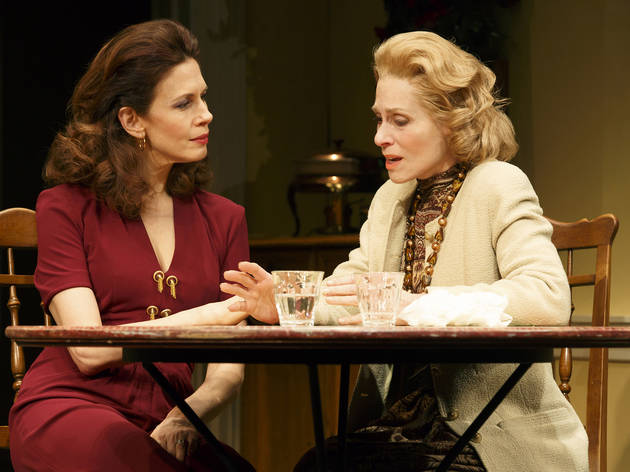 3/7
Photograph: Joan Marcus
The Assembled Parties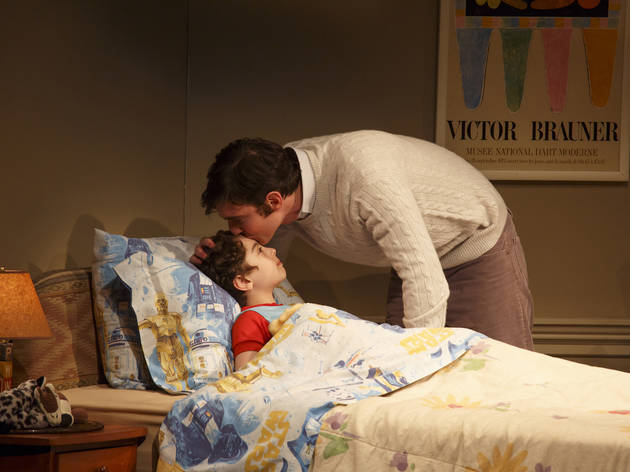 4/7
Photograph: Joan Marcus
The Assembled Parties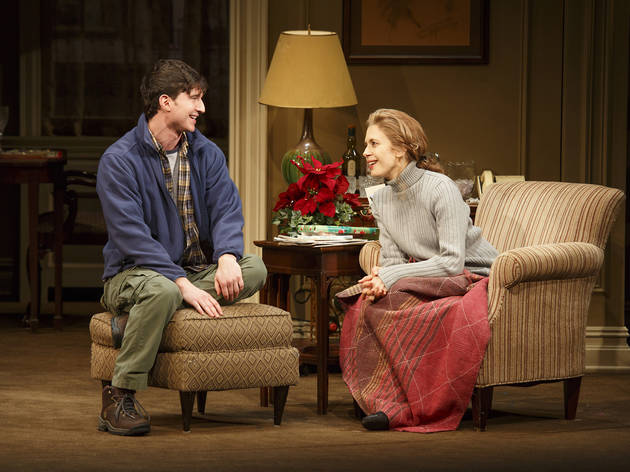 5/7
Photograph: Joan Marcus
The Assembled Parties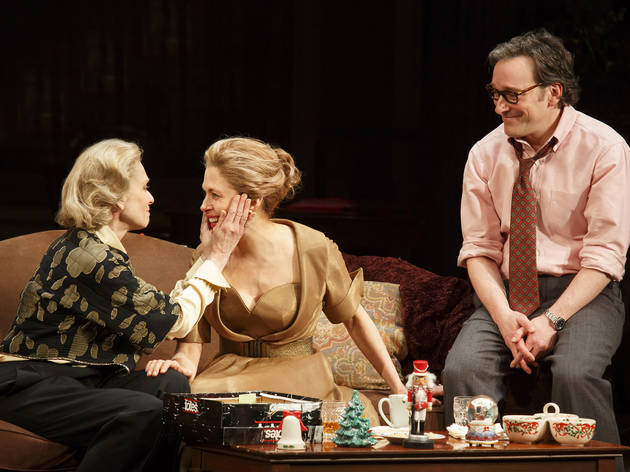 6/7
Photograph: Joan Marcus
The Assembled Parties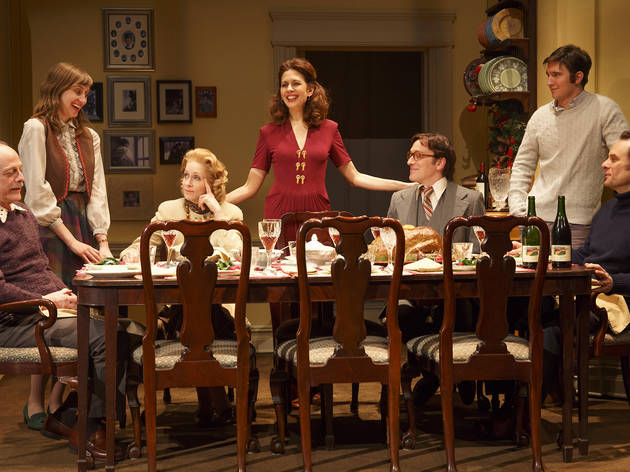 7/7
Photograph: Joan Marcus
The Assembled Parties
Theater review by Adam Feldman. Samuel J. Friedman Theatre (Broadway). By Richard Greenberg. Dir. Lynne Meadow. With Jessica Hecht, Judith Light, Jeremy Shamos. 2hrs 30mins. One intermission.
Richard Greenberg's elegantly moving The Assembled Parties is somewhere between a slice of life and a slice of mille-feuille. Unfolding in a palatial Upper West Side flat, first in 1980 and later in 2000, the play is a Jewish family drama by way of The New York Review of Books. Characters in Greenberg's word-besotted world mix Yiddishisms with terms like aleatory, ambrosial and artesian—just to skim the A-list—and drop names like Louis Auchincloss and Mary Wollstonecraft. (A ruby-red necklace is described as a "rutilated, asterized treasure.") The theatrical nature of this style is more or less explicit: "You would love the apartment, Mom," says a young visitor, Jeff (the yeomanly Shamos), in a flustered phone call to his mother. "It's like the sets of those plays you love. With the 'breezy dialogue.' " A brisk draft of intelligence blows straight through the script, tempering moments of sentiment with astringency and surprise.
In Lynne Meadow's lovely Manhattan Theatre Club staging, the first act is a whirl of quips and overlapping scenes—Santo Loquasto's ingenious set spins the stage from room to room—and the second is ominously still, shadowed by past and future death. At the center of both is Julie, played with feathery otherworldliness by Jessica Hecht in one of the year's most absorbing performances. Enchantingly agreeable, Julie is always smoothing things over. ("A cheerful nature is an utterly ruthless thing," she says with iron-butterfly aplomb. "I'm the most ruthless woman you'll ever meet.") In this regard she differs from her grudge-happy sister-in-law, Faye (the incisive Light), who is lodged in wars of attrition with her angry mother and lumpish daughter (a funny, original Lauren Blumenfeld). Greenberg treats both women lovingly as he leads them through a shifting maze of hard truth and sometimes beneficent deception, and a pair of speeches in Act II show us, with gentle irony, how these women have changed. Julie's beautiful reverie about appreciating things, inspired by her mother's passion for dressmaking, is the highlight of the night; like the character, and indeed the rest of The Assembled Parties, it is gracefully built to endure.—Adam Feldman
Follow Adam Feldman on Twitter: @FeldmanAdam
2013 Tony Award nominee. See our guide to the 2013 Tony Awards.
Rating Breakdown
5 star:

0

4 star:

0

3 star:

1

2 star:

0

1 star:

0
"The Assembled Parties" is written by Richard Greenberg who adapted the stinker "Breakfast at Tiffany's." And while this play suffers the same problem of BAT of too little conflict and not much of interest happening to sustain itself, TAP, however, has glimpses of characters sprinkled with funny lines, but not enough for an enjoyable evening of theater for someone like myself who attends weekly. If you don't get out of the house much or get starstruck seeing actors you've seen on TV, you might just like this. But it draaaaaaags. The setting is a 14-room apartment on Central Park West during Christmas 1980 and act two is Christmas 2000. And while Judith Light is always wonderful and some of the ensemble are talented, most of the acting felt forced. Was it intentional? I don't know. What was the playwright trying to say? I don't know. I left saying "so what?" The star of the show is the gorgeous revolving set designed by Santo Loquasto know for his production design on a couple dozen Woody Allen movies.