Heads up! We're working hard to be accurate – but these are unusual times, so please always check before heading out.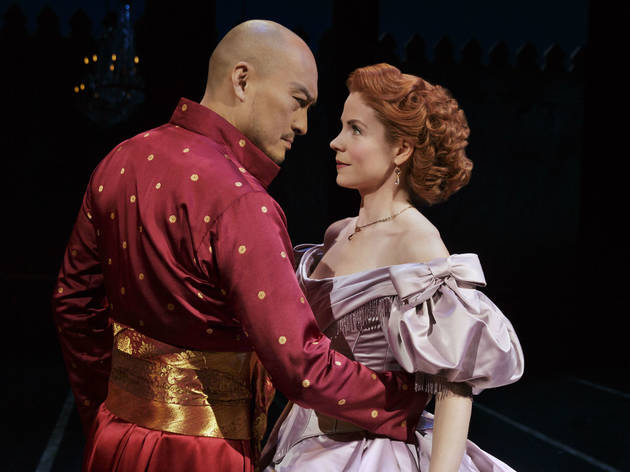 The best musicals now on BroadwayHD
Watch these classic musical theater performances from the comfort of your couch
With Broadway dark until at least 2021, fans of musical theater are hungry for shows they can watch from home. That's where BroadwayHD comes in. A streaming service aimed at theater lovers, BroadwayHD offers some 300 whole, high-quality, professionally filmed live theater performances from Broadway, London's West End and beyond. (Some have been acquired from existing catalogs, while others have been created especially for the channel.) Subscriptions cost just $8.99 a month—and for new subscribers, the first week is free.
But how can you choose among the many shows on offer? That's where we come in. BroadwayHD is currently streaming 65 different musicals. Here are the ones we think you won't want to miss. One note: BroadwayHD offers several musicals that were made as feature films (including Nine, The Music Man and The Last Five Years) or as made-for-TV movies (such as Bye Bye Birdie or the Bette Midler Gypsy), but we have limited this list to recordings of live stage productions.
RECOMMENDED: A day-by-day guide to the best new theater, dance and opera you can stream this week
Best Musicals Currently on BroadwayHD
Guilty Pleasure Musicals Currently on BroadwayHD
Andrew Lloyd Webber's disastrous 2010 sequel to The Phantom of the Opera picks up ten years after the original story (set in the 1880s) but somehow lands in 1907 Coney Island, where the Phantom reunites with his stalking victim, Christine Daaé, and other characters from the first show. The whole thing plays like very misguided Phantom fanfic; after negative reviews in London, the musical never came to New York as had been announced. Happily, an Australian production starring Ben Lewis and Anna O'Byrne was recorded in 2011, providing a record of this fascinating failure.
Highlight: In "The Beauty Underneath" (0:55), the Phantom yells a rock song as he leads a boy (his son with Christine, we soon learn) through an insane subterranean hall of mirrors populated by caged freaks, pinhead children, writhing women, a skeleton monster, a mermaid and a guy on a penny-farthing bicycle. This number must be seen by everyone.
Frank Wildhorn and Leslie Bricusse's 1990s musical drags Robert Louis Stevenson's 1886 mad-scientist tale through a sludge of dreary portentousness. Yet it has accrued a following despite the dunderheaded lyrics and the ceaseless aural aggression of the music, in which most songs end in some form of screaming. There's no denying that Wildhorn has a gift for juicy melodies, but the rest of the show is pure kitsch—and never more so than in this 2001 film of the show, starring David Hasselhoff in the dual title role.
Highlight: No lover of Broadway camp should miss the climactic "Confrontation" (1:57) between our antihero's two identities, performed by a sweaty, chest-baring Hasselhoff as a hair-flipping coup de théâtre. "God damn you, Hyde!" Jekyll screams. "You take all your evil deeds and you rot in hell!" Hyde retorts: "I'll see you there, Jekyll!" The Hoff, God bless him, gives this everything he's got and more.