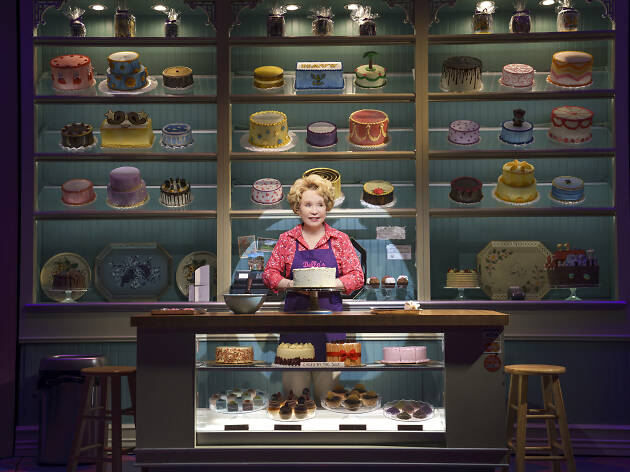 Time Out says
Friendly warning! We're working hard to be accurate. But these are unusual times, so please check that events are still happening.
Theater review by Raven Snook

A topical dramedy on a subject whipped from the headlines, The Cake revolves around Della (Debra Jo Rupp), a Christian baker in North Carolina who is forced to search her soul when her late best friend's daughter, Jen (Genevieve Angelson), requests a wedding cake. Della is initially thrilled to cook one up, but when she learns that Jen is marrying a woman, Macy (Marinda Anderson), she has trouble reconciling her religious beliefs with the profound love she feels for her surrogate child.

This is personal political territory for playwright Bekah Brunstetter, who is the daughter of former Republican North Carolina Senator Pete Brunstetter, a champion of 2011's antigay Defense of Marriage Act. Her compassionate and nuanced depiction of Della, a woman some might dismiss as a bigot, is The Cake's biggest treat, and Rupp—who played the mom on That '70s Show—is delectable in the role. Sweet and warm even when espousing heinous views, Della has always followed directions and avoided conflict. Her confrontation with Jen, who struggles with an intense sense of shame from her own Christian upbringing, prompts Della to take stock of her own life and longings, and she's surprised by what she discovers.

If only the rest of the play were so multilayered. A producer and writer for This Is Us, Brunstetter is a master at mixing punch lines and sight gags with insightful sentiment, but she stirs in some unnecessary plot twists. And despite the actors' best efforts, Macy and Della's husband, Tim (Dan Daily), mostly come off as two-dimensional mouthpieces: She's a resist-at-all-costs progressive, he's an uncompromising conservative.

Director Lynne Meadow smartly keeps the pace of the quips and conversations quick, aided immensely by John Lee Beatty's colorful, hunger-inducing rotating set. The Cake isn't really an LGBTQ story; it's a plea for people in a polarized culture to find a way to talk to each other when too many of us merely wish the other side would get its just deserts.

Manhattan Theatre Club (Off Broadway). By Bekah Brunstetter. Directed by Lynne Meadow. With Debra Jo Rupp. Running time: 1hr 40mins. No intermission.
Follow Raven Snook on Twitter: @ravensnook
Follow Time Out Theater on Twitter: @TimeOutTheater
Keep up with the latest news and reviews on our Time Out Theater Facebook page
Details