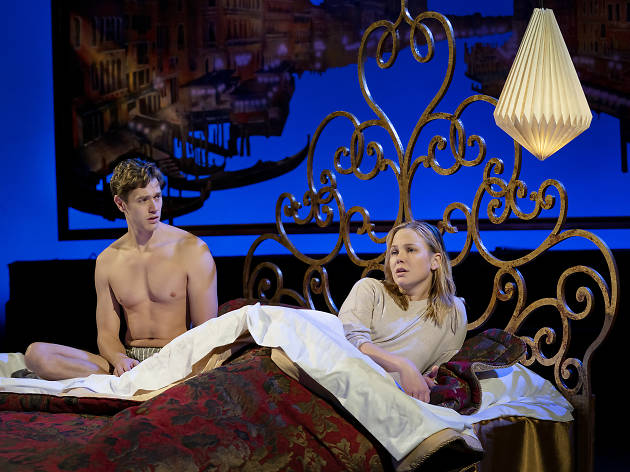 Time Out says
Theater review by Adam Feldman
The problem with Tom Stoppard's new play, his first in nearly a decade, is that it isn't hard enough. That is an unexpected complaint to lodge against this great writer—whose deservedly high standing has been built on such dazzlingly intellectual offerings as Arcadia, Travesties and The Coast of Utopia—especially when the subject of The Hard Problem is so literally brainy: The title refers to the difficulty of accounting for human consciousness and morality, and the play's main characters are cognitive scientists. Yet Stoppard's approach to this question is rudimentary: an intro-level survey of the shades of gray matter, starting with a discussion of game theory's familiar "prisoner's dilemma" and then strolling down well-trodden paths about religion, science, altruism and the nature-versus-nurture debate. He doesn't grapple with his central question so much as he thumb-wrestles it.
Adelaide Clemens plays Hilary, an attractive young woman who lands a job at a prestigious research institute over candidates with heftier résumés—a development she describes as "a miracle." Such language is not alien to her; unlike her colleagues, she believes in God and prays nightly, which inspires scoffing from her strictly rationalist tutor and sex partner, Spike (Chris O'Shea). Although the play is elegantly directed by Jack O'Brien, its ideas and characters are thin. Most of the arguments voiced in the play support the scientific side of things, and Stoppard doesn't get around to giving Hilary much of a case, beyond emotional appeal, for her Cartesian distinction between mind and body (which remains wishy-washy and gets muddled in with questions of good and evil)—or for her faith in a higher power. As if to compensate for this, Stoppard contrives to stack the dramatic deck in her favor: He resorts, in a significant way, to coincidence. But if there's a ghost in the machine, it should be more than just deus ex machina.
Mitzi E. Newhouse Theater (Off Broadway). By Tom Stoppard. Directed by Jack O'Brien. With Adelaide Clemens. Running time: 1hr 40mins. No intermission.
Details
Best selling Time Out Offers