Heads up! We're working hard to be accurate – but these are unusual times, so please always check before heading out.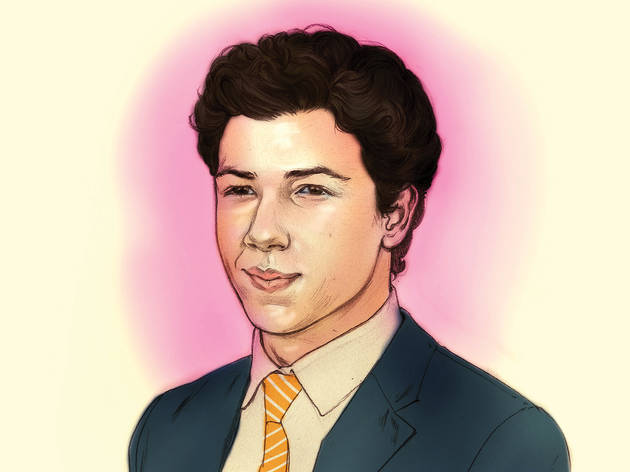 The Hot Seat: Nick Jonas
Goodbye, Harry Potter; hello, JoBro.
RECOMMENDED: Full list of Hot Seat interviews

You're replacing Daniel Radcliffe as J. Pierrepont Finch in How to Succeed in Business Without Really Trying. Did he give you any advice?
He did share a few passing-of-the-torch sort of things. There's this one joke that Robbie Morse [the original Finch in 1961] told Matthew Broderick, and that Matthew Broderick told him. So all the Finches through time have told each other this joke. But I'll keep it private out of respect to the Finches of the past.
Finch has some unpleasant characteristics. How do you plan to make the audience connect with him?
I think the genius of the character is that he's really crafty and mischievous, but in a way that's productive and not hurtful to anyone. My director explained it perfectly: He's the kind of guy that jumps and figures out how he's going to land halfway down. Somehow he always lands on his feet and keeps on moving up that ladder.
Darren Criss from Glee has been playing the role these last few weeks, before you hit the stage. Why do you think the show has been casting from outside of the theater world?
I think that through all the different Finches, there is a common thread of trying to bring a new audience to the theater. We've all had our success in different areas of the entertainment world, and it's great that we can now take those fans and say: "Come see something that I'm really excited about that I think you'll enjoy as well, that may be a little bit different from what you're usually drawn to."
Are you looking forward to spending time in New York?
I was here so much as a kid and really loved the city, but I don't think I really understood how brilliant it was until I had been away for a while. The energy in New York is so great. It's exciting to know that this is where I live for a year.
Do you have any favorite hangs?
There's a place called John's Pizzeria [260 W 44th St between Seventh and Eighth Aves; 212-391-7560, johnspizzerianyc.com]. Best pizza spot in New York, in my opinion. I love Italian food.
What's your secret talent?
Bowling. I love to bowl. I try to bowl once a week, more if I can. It's definitely a passion.
If you could only ever listen to one song, what would it be?
I don't know if I could choose just one. But if I had to, I'd probably say [the Beatles'] "Blackbird."
What's your strategy for getting the most out of your time in New York?
Do it all. Sometimes you don't want to do the touristy things, or you find a restaurant you like and go to that restaurant again instead of trying different things. But try everything—just go all out.
Nick Jonas appears in How to Succeed in Business Without Really Trying starting Tue 24.
You might also like
See more Hot Seat
See more in Theater