Heads up! We're working hard to be accurate – but these are unusual times, so please always check before heading out.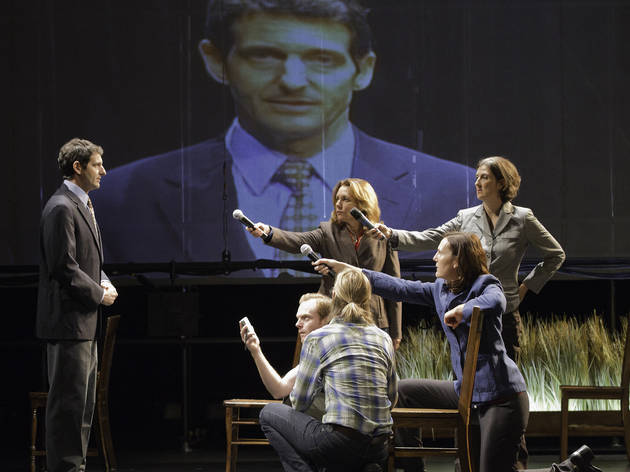 The Laramie Project Cycle comes to Brooklyn
Tectonic Theater Project and Moisés Kaufman return to the scene of an antigay hate crime that made headlines worldwide.
In 1998, the news broke of the savage murder of a young gay man named Matthew Shepard in Laramie, Wyoming. Theater director and writer Moisés Kaufman was struck, at first, by the sorrow and horror of the story. As time went by, he was also struck by the fact that it was still a news story at all.

"Over a thousand hate crimes a year are committed and reported, but for some reason this one resonated," he recalls. So Kaufman proposed an idea to his Tectonic Theater Project: a group trip to Laramie, to investigate the larger context of Shepard's murder. At first, says codirector Leigh Fondakowski, the goal of their visit was undefined. "The question that Moisés posed was not, 'Let's go down and write a play about this,'" she says, "but 'Do we, as theater artists, have a role to play in this national dialogue?' "

It wasn't until months later that they puzzled the results together into The Laramie Project: a somber, gripping 2000 documentary collage of the shifting discourses within the town over the course of a year, based on court documents, media reports and—most importantly—more than 200 interviews with local residents.

"The actors recorded the voices of the people of Laramie but, as actors, they also recorded their thoughts and idiosyncrasies," Kaufman suggests. "The true recording device was the actors' empathy." The play touched a nerve nationwide, spawning countless local productions and a 2002 HBO movie.

A decade later, Tectonic returned to Laramie to measure the long-term aftershocks of the murder on its citizens—to see, as Kaufman puts it, "if their soul-searching had translated into something concrete and lasting." The result of that visit (whose interview subjects included Shepard's killers, Aaron McKinney and Russell Henderson) was The Laramie Project: Ten Years Later, first performed in 2009 as an evening of readings worldwide.

The Laramie they visited the second time had changed. "There's an AIDS walk now, and a symposium at the university called the Shepard Symposium for Social Justice," Kaufman says. "But we were shocked at how much rewriting of history was taking place. A lot of people in Laramie now believe that this wasn't a hate crime." (Ironically, McKinney admits in the play—for the first time on record—that Shepard was targeted in part for being gay.)

"During part one, people seemed very open and authentic," recalls cast member and cowriter Greg Pierotti. "We turned up with our tape recorders and said, 'Hi! We're here to talk to you!,' and they warmed up to us pretty quickly." Ten years later, however, the reception was chillier. "People there had had enough of being represented as the hate-crime capital of the United States. They were much more self-conscious and aware of us as outsiders."

The Laramie Project does not ignore the related question of how stories may be affected by the process of telling them. "The characters of the company are present in the play precisely to address those issues of representation," Kaufman says. "Part two deals a lot with that: how we construct narratives that serve us, and how communities construct narratives, and how theater constructs narrative."

This month, for the first time, The Laramie Project: Ten Years Later can be seen in a fully staged New York production, in tandem with its predecessor at Brooklyn Academy of Music. And although the gay-rights narrative in America has shifted markedly since 2009, the pieces are hardly dated. "It's tempting to breathe a sigh of relief and say, 'Phew, that's over!'" says Pierotti. "But that may be naive. For us, the play speaks to the question of what change is, and how to measure it."

Violence against gays, Fondakowski notes, has actually been on the rise in America in recent years. "I keep waiting for The Laramie Project—the original Laramie Project—to feel historical," she says. "It doesn't feel historical to me."
The Laramie Project Cycle is at the BAM Harvey Theater through Feb 24. Click here for tickets.
You might also like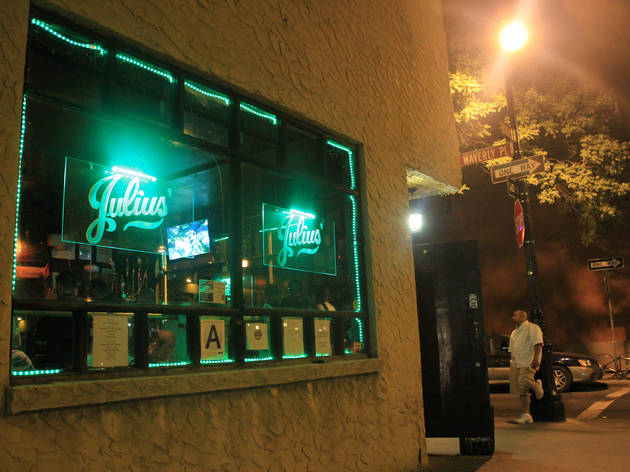 Gay Pride isn't just about partying. Find out why we celebrate each June at these historic locations. The Gay Pride movement has come a long way since the Stonewall riots. With June being National LGBT Pride Month, and NYC's 2012 Gay Pride weekend upon us, now's the time to explore these local historic sites and collections—proof that Gay Pride is about much more than partying and parades.RECOMMENDED: Full coverage of Gay Pride in NYC The Lesbian, Gay, Bisexual & Transgender Community Center (the Center)For almost 30 years, the Center has offered a space for groups, services and events that strengthen and enrich the LGBT community in New York. The Center originally hosted 60 groups that met regularly; today, it has more than 300. Several history-making organizations grew here, including Queer Nation, GLAAD (Gay & Lesbian Alliance Against Defamation) and ACT UP (AIDS Coalition to Unleash Power). The Center is also home to The National Archive of LGBT History, which works to preserve the community's heritage and make it accessible through exhibits, publications and scholarly research.JuliusOpened in 1864, this dive is the Village's oldest bar and the city's oldest gay bar. It started to attract gay customers in the 1950s, though management would sometimes deny service to queer customers—or even kick them out. In April of 1966, members of the New York chapter of the Mattachine Society (one of the first gay organizations in America) staged a "sip in" at the bar and helped change
See more in Theater