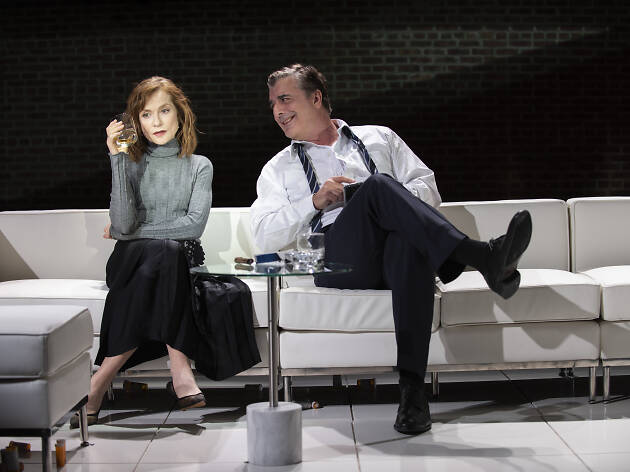 Time Out says
Friendly warning! We're working hard to be accurate. But these are unusual times, so please check that events are still happening.
Theater review by Raven Snook

Empty nester Anne (Isabelle Huppert) is profoundly unhappy. In The Mother, she spends her days languishing on a sleek sofa in a medicated haze, waiting for her husband, Peter (Chris Noth), to come home from the office so she can rant about his philandering and how much she misses their son, Nicholas (Justice Smith). But their familiar domestic squabbling soon takes a surreal turn: Scenes repeat with disquieting alterations, furniture disappears and Anne's relationships break down in pace with her psyche.
Anyone who saw Florian Zeller's The Father on Broadway three years ago will recognize these theatrical tricks. A companion piece to that play, The Mother offers another disorienting dissection of the same dysfunctional family, and aspires to give audiences the same visceral experience of depression as The Father did with dementia. But in that production, Frank Langella provided a compelling emotional center to cling to through his long day's journey into blight. Playing his character's middle-aged daughter, Huppert looks luminous and works very, very hard, but she isn't able to flesh out the contours of this concept drama. Anne's identity is defined solely by her status in the family, so as she loses her husband and son—she has an unseen daughter too, whom she dismisses as repellent—she inevitably loses her mind.
Competently translated by Christopher Hampton, Zeller is presumably aiming for Pinteresque poignancy, but the play winds up in Freud 101, right down to its Oedipal core. Director Trip Cullman, a deft hand with comedy, gives a darkly humorous spin to Anne's biting insults and threats early on. But as her bipolar bitchiness gives way to despair, confusion and fantasy, the pace slows to a slog. A so-called "black farce," this downer of a play is only fitfully funny and almost completely lacking in feeling. By the end, it's hard to tell what's actually happening and what's in Anne's head, but there's a good chance that your own brain will have checked out long before.

Manhattan Theatre Club (Off Broadway). By Florian Zeller. Directed by Trip Cullman. With Isabelle Huppert, Chris Noth. Running time: 1hr 25mins. No intermission.
Follow Raven Snook on Twitter: @ravensnook
Follow Time Out Theater on Twitter: @TimeOutTheater
Keep up with the latest news and reviews on our Time Out Theater Facebook page
Details