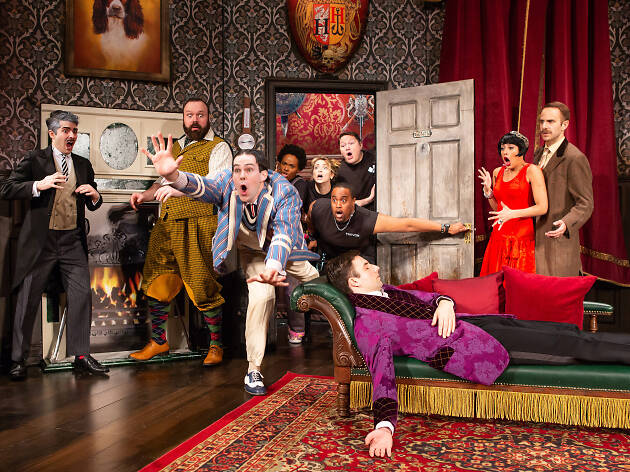 Time Out says
Theater review by Adam Feldman

[Note: This is a review of the 2017 Broadway production, which moves Off Broadway to New World Stages in 2019 with a new cast.]
Ah, the joy of watching theater fail. The looming possibility of malfunction is part of what makes live performance exciting, and disasters remind us of that; the rite requires sacrifice. There is more than schadenfreude involved when we giggle at, say, a YouTube video of a high-school Peter Pan crashing haplessly into the scenery. There is also sympathy—there but for the grace of deus ex machina go we all—and, often, a respect for the efforts of the actors to somehow muddle through. Mischief Theatre's The Play That Goes Wrong takes this experience to farcical extremes, as six amateur British actors (and two crew members who get pressed into service onstage) try to perform a hackneyed whodunnit amid challenges that escalate from minor mishaps (stuck doors, missed cues) to bona fide medical emergencies and massive structural calamities.
Depending on your tolerance for ceaseless slapstick, The Play That Goes Wrong will either have you rolling in the aisles or rolling your eyes. It is certainly a marvel of coordination: The imported British cast deftly navigates the pitfalls of Nigel Hook's ingeniously tumbledown set, and overacts with relish. (I especially enjoyed the muggings of Dave Hearn, Charlie Russell and coauthor Henry Lewis.) Directed by Mark Bell, the mayhem goes like cuckoo clockwork.
If you want to have a good time at this show, chances are good that you will; there are many funny sequences, and I laughed a lot. But you may find it rather exhausting. With almost no baseline reality from which to depart, the show is all payoffs and no setups; it's like a stand-up routine consisting only of punch lines. This was probably more sustainable in its original London incarnation at a pub theater, when it ran just over an hour. But as a two-hour show with an intermission, it struggles to sustain interest in its series of absurdly unfortunate events. The show must go on, yes, but must it go on quite so long?
Lyceum Theatre (Broadway). By Henry Lewis, Jonathan Sayer and Henry Shields. Directed by Mark Bell. With ensemble cast. Running time: 2hrs 5mins. One intermission. Through Sept 3.
Follow Adam Feldman on Twitter: @FeldmanAdam

Keep up with the latest news and reviews on our Time Out Theater Facebook page
Details
Address:
340 W 50th St
New York


Cross street:
between Eighth and Ninth Aves
Transport:
Subway: C, E, 1 to 50th St
Price:
$95
Contact:
Event website:
http://www.theplaythatgoeswrong.com/
Dates And Times
Average User Rating
4.5 / 5
Rating Breakdown
5 star:

1

4 star:

1

3 star:

0

2 star:

0

1 star:

0
Saw The Play That Goes Wrong and couldn't stop laughing. Let's face it; in these fraught times, an evening out where you can laugh with an ensemble cast that performs bad acting to perfection is an antidote we can all use. This is the perfect show at the right time. A farce of the first order that never lets up, you may be brought to tears--good tears--from the antics on stage. Enough cannot be said for this cast who work together like a precision clock to achieve the height of comedic marvel. The "whodunit" they perform is satirized to the hilt with every stock character of an Agatha Christie-like tale. This is a striking piece of brilliant ensemble timing and commitment.from a troupe of actors, all making their Broadway debuts, who give it their all and then some. Buy a ticket, sit back, and enjoy the biggest laughs you've had in years. It feels good!