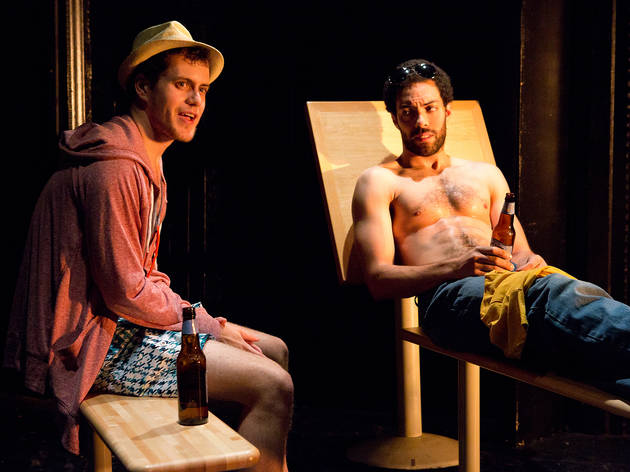 1/4
Photograph: Hunter Canning
The Recommendation; 2048x1365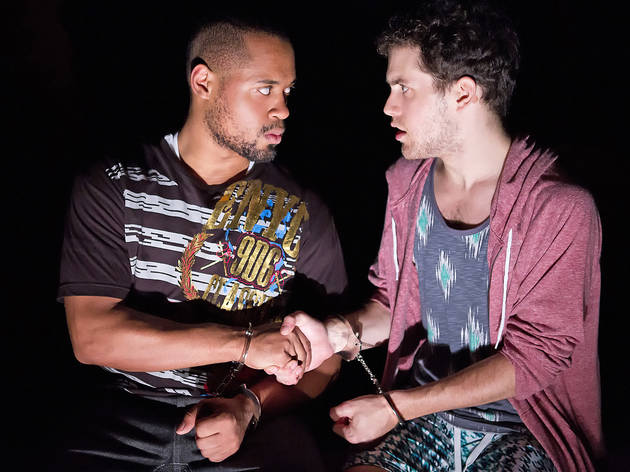 2/4
Photograph: Hunter Canning
The Recommendation; 2048x1365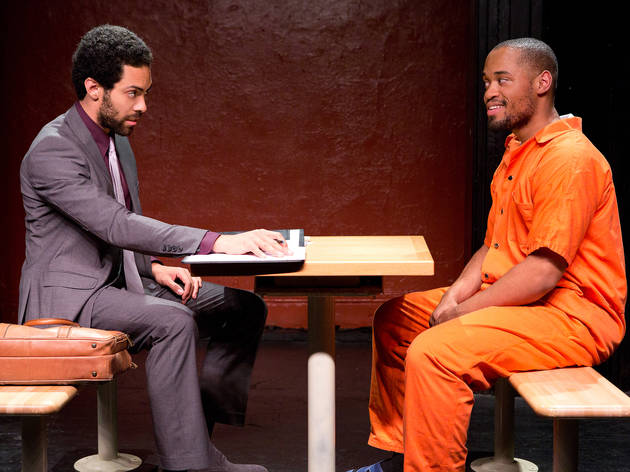 3/4
Photograph: Hunter Canning
The Recommendation; 2048x1365
4/4
Photograph: Hunter Canning
The Recommendation
The Recommendation. Flea Theater (see Off-Off Broadway). By Jonathan Caren. Directd by Kel Haney. With James Fouhey, Austin Trow, Barron Bass. Running time: 1hr 45mins. One intermission.
The Recommendation: in brief
The Flea's youthful resident company, the Bats, begins its fall season with the local premiere of Jonathan Caren's drama, in which the power dynamic between two friends shifts after an incident on the road. Kel Haney directs.
The Recommendation: theater review by Jenna Scherer
Anyone who went to a private college will recognize the tense, tit-for-tat friendship between Iskinder "Izzy" Iudoku (Fouhey) and Aaron "Felly" Feldman (Trow). Izzy is bright and motivated, but monetarily challenged; Felly is charismatic and lazy, oozing privilege from his epidermis—which, as Izzy remarks in one of the script's most evocative images, is "white as the sky is when you die." Felly uses his connections to give Izzy a leg up, and we follow these bright young dudes from Brown to L.A., where Felly finds himself on the wrong side of the law.
The Recommendation races through the years at breakneck speed, giving us little time to know these guys in any real way. The pace slows down long enough to introduce an unhinged convict (the excellent Bass) Felly meets in the slammer, then zooms straight through to an engineered final confrontation. Playwright Jonathan Caren has an interesting voice and perspective, but he's too busy forcing plot points to give his characters and themes the breathing room they deserve.—Theater review by Jenna Scherer
Ticket Offers from Time Out New York
Looking for tickets to a Broadway or Off Broadway show? Time Out Offers brings you terrific discounts on tickets to the latest New York theater. Want even more ideas? Check out Time Out New York's complete listings of Broadway, Off Broadway and Off-Off Broadway shows, and browse all available tickets.
Rating Breakdown
5 star:

2

4 star:

0

3 star:

0

2 star:

0

1 star:

0
Wow what a wonderful performance I just saw of The Reccomendation directed by Kel Haney at The Flea Theater. The racial tension and boundaries it touches upon are definitely topics that need to be adressed. Thank goodness writer Jon Caren wasn't afraid to go there. My friend who went with me was so moved that he stood up at the end of the performance to applause! Great show always great work at The Flea Theater
Everyone. I saw THE RECOMMENDATION by Jon Caren Friday night and was totally blown away. It's a killer script with impeccable direction by Kel Haney and incredible performances by Barron B. Bass, James J. Fouhey Jr. and Austin Trow. Also amazing set, costume and sound design. Deeply insightful, hilarious, thought-provoking, entertaining, complex, it's everything theater should be. It's a must-see. Don't miss it!