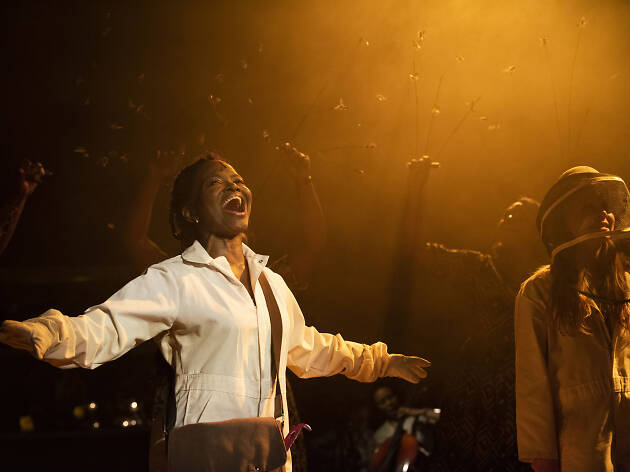 Time Out says
Theater review by Adam Feldman
On paper, it sounds like a honey of a show: a new musical, adapted from Sue Monk Kidd's bestselling 2001 novel, with a book by two-time Pulitzer Prize winner Lynn Nottage and a score by Duncan Sheik (Spring Awakening) and Susan Birkenhead (Jelly's Last Jam). But The Secret Life of Bees turns out to be all buzz and no sting. Set in the Deep South in 1964, the show centers on a teenage girl, Lily (an excellent Elizabeth Teeter), who flees her abusive home with her maid, Rosaleen (Saycon Sengbloh), to seek refuge at an apiary run by black women. But after a strong start, the show melts into a stagnant muddle of The Secret Garden, The Color Purple and To Kill a Mockingbird. It leaves some of the city's best voices without much to sing about.
The principal beauty-eyed bee-holders are sisters: the sunny August (LaChanze), the cloudy June (an amusingly sour Eisa Davis) and the stormy May (Anastacia McCleskey). Their vocals are glorious—the cast also notably includes Brett Gray and Jai'len Christine Li Josey—but the show doesn't seem to know what story it is telling, or how to tell it; its final thudding anticlimax is preceded by a seeming deus ex machina involving a wooden sculpture of a black Virgin Mary that is smeared in melted honey like a driftwood Karen Finley. One gets the sense that everyone involved is trying to avoid the suggestion that comes through in the show's final image: that the central function of the story's black women is to pollinate the little white flower that is Lily.
Atlantic Theater Company (Off Broadway). Book by Lynn Nottage. Music by Duncan Sheik. Lyrics by Susan Birkenhead. Directed by Sam Gold. With ensemble cast. Running time: 2hrs 20mins. One intermission.
Follow Adam Feldman on Twitter: @FeldmanAdam
Follow Time Out Theater on Twitter: @TimeOutTheater
Keep up with the latest news and reviews on our Time Out Theater Facebook page
Details
Best selling Time Out Offers