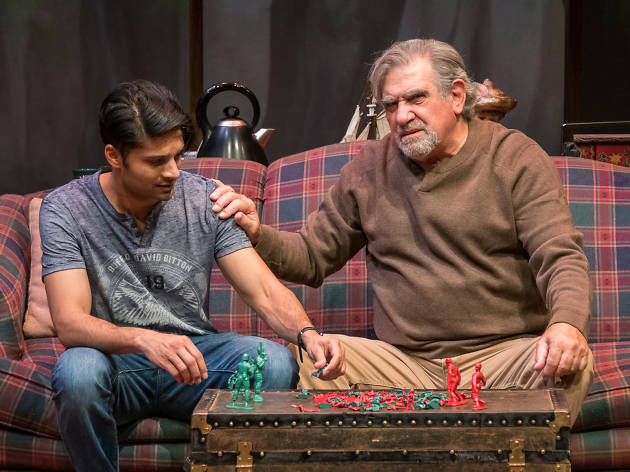 Time Out says
Friendly warning! We're working hard to be accurate. But these are unusual times, so please check that events are still happening.
Theater review by Juan Michael Porter II
Buried under long passages of nonsense in The Stone Witch is a moving tribute to confronting one's heroes. Set in a magnificent cottage—designed and populated with fantastical illustrations by Yael Pardess—Shem Bitterman's drama revolves around Simon (Dan Lauria), a once-great children's writer and illustrator whose editor, Clair (the terrific Carolyn McCormick), sets him up with a young assistant, Peter (Rupak Ginn), in the hope of extracting one last book from her difficult and writer's-blocked star client. The larger-than-life Lauria jolts his every scene to life with puckish glee, in a King Kong–size performance that pays homage to stage titan Zero Mostel; McCormick humanizes her "barracuda in Armani" character with an arch precision that offsets the fawning Ginn, whose portrayal of a struggling writer meeting his childhood idol is a touch too twee and forgiving of Simon's abuse.
The problem is Bitterman's focus on mental illness. When depicting insanity onstage, anything can happen and frequently does—but the mere absence of reason is rarely interesting. Director Steve Zuckerman coaxes honest reactions out of his performers, but watching Peter repeatedly struggle with Simon's hallucinations grows exhausting as they slog through the largely meaningless confusion. When doing something other than wrestling with ghosts, Lauria is mercurial, bullying and entertaining in the way that the most brilliant person in your life always is. In such moments, one can see why Peter and Clair put up with this tyrant. If only the lucidity lingered longer.
Westside Theatre (Off Broadway). By Shem Bitterman. Directed by Steve Zuckerman. With Dan Lauria, Rupak Ginn, Carolyn McCormick. Running time: 1hr 30mins. No intermisssion.
Follow Juan Michael Porter II on Twitter: @juanmichaelii
Follow Time Out Theater on Twitter: @TimeOutTheater
Keep up with the latest news and reviews on our Time Out Theater Facebook page
TIME OUT DISCOUNT TICKET OFFER:
THE STONE WITCH
Art is a Beast
$39* tickets for performances through April 28
Promotional description: Extraordinary art must be unleashed. Simon Grindberg is the world's most illustrious children's book writer and illustrator, but his next masterpiece is a decade overdue. Peter Chandler is a starving artist with unparalleled potential, but he doesn't yet know his own value. The two men are thrown together by Clair Forlorni, an ambitious editor who hopes Peter's youthful exuberance can unleash Simon's aging genius for one final story. But creativity comes at a cost. Don't miss this wondrous, hopeful and heartbreaking new play where imagination runs wild. By Shem Bitterman. Directed by Steve Zuckerman. With Dan Lauria (The Wonder Years), Rupak Ginn (Royal Pains) and Carolyn McCormick (Law & Order).
3 WAYS TO BUY YOUR TICKETS:
1. Online: Click here or visit TelechargeOffers and enter code: SWTNY39
2. By phone: Call 212-947-8844 and mention code: SWTNY39
3. In person: Print this offer and bring it to the Westside Theatre (407 W 43rd St (between Ninth and Tenth Avenues, open noon–6pm on performance days for advance sales)
Performance Schedule: Monday 7pm; Tuesday 7pm, Wednesday 2, 8pm; Friday 8pm; Saturday 2, 8pm; Sunday 3pm
* $39 tickets valid thru 4/29. $49 tickets valid for performances 4/30/18 through 5/28/18. All prices include a $1.50 facility fee. Tickets are subject to availability. Cast and schedule subject to change. Not all seats are discounted. Regular service charges apply to phone and internet orders. May not be combined with any other offer or discount. Not applicable to previously purchased tickets. No refunds or exchanges. Blackout dates may apply. Offer may be revoked or altered at any time. There is an 8-ticket limit per order.
Details