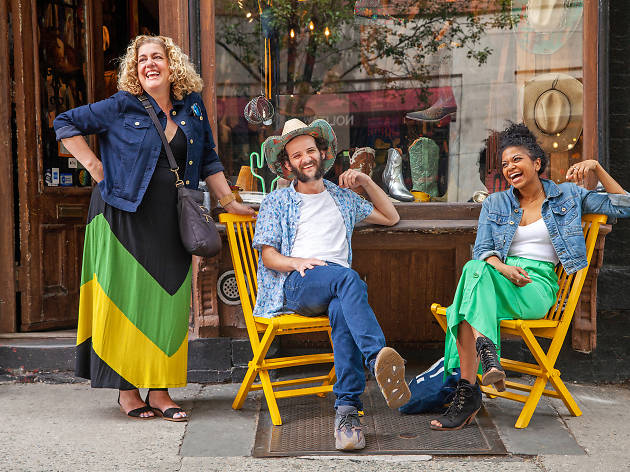 Three unique country western experiences in Manhattan
Broadway's new, Tony Award-winning production of OKLAHOMA! is a daring, edgy revival that will change what you know about the American Frontier. Want to get in on the country western action right here in NYC? Here's how...
Whether you're an OKLAHOMA! super-fan or you've never seen the Rodgers and Hammerstein classic, we guarantee that you've never experienced this production's vision of the American Frontier. This Tony Award-winning Broadway revival offers a darker, stripped-down and sexier vision of this fascinating, complex era that shaped our country. It's swiftly shaping up to being the hottest ticket of this summer; audiences and critics alike have raved about it. Our critic wrote, "It's thrilling to see a Broadway classic rise to the challenge of so modern a conception. OKLAHOMA! it remains, but there's nothing corny about it". You can read Time Out's full review here.
Ready to experience OKLAHOMA! for yourself? To get into the spirit of the show, we've rounded up four of its cast members—Rebecca Naomi Jones, Will Brill, James Davis and Mary Testa—to find some unique country western things to do in Manhattan.
So whether you want to find out where to get a new set of boots to pair with your Stetson this summer or you just want to immerse yourself in some old fashioned American folk art, we think the below will get you singing 'Oh, What a Beautiful Mornin'' in no time.
Read on to find out what happened when we sent the cast from one of Broadway's hottest shows to some of NYC's most unique venues.
You can catch OKLAHOMA! on Broadway at Circle in the Square Theatre.
You can't be a cowboy (or cowgirl) unless you've got a set of boots—and Space Cowboy Boots brings some El Paso flavor to its Nolita surroundings. The OKLAHOMA! gang know their way around these intricately designed beauties (perfect for two-stepping every night on stage!) and know it's key to get a good pair. And they are in safe hands at this Mulberry St spot, with an extensive selection of high-quality handmade creations sourced straight from Mexico and Texas. Prices aren't cheap, but the kicks and their stacked Cuban heels should be able to survive any run-ins at the rodeo.
Escape the city and get back to nature at Top Chef head honcho Tom Colicchio's farm-to-table restaurant that sources its veggies from its own fully functioning on-site farm. Swing by for brunch at weekends, or pop nextdoor to Little River for a sit-down or takeout breakfast in the week. Alternatively, go in the evening to sample the main space's grilled ribeye with charred summer beans or a delicious Riverpark Frozé in the Riverpark Beer Garden. As the cast of OKLAHOMA! found out – you just 'Cain't Say No'.
For those looking to get a true understanding of this era of history (and not the stereotypical Wild West setting seen in a John Wayne film), then it's best to steer your steed in the direction of this Lincoln Square museum. The space is packed with permanent and temporary exhibitions that celebrate traditional craft-based work, and the work of the self-taught artists, including Outsider artists. The OKLAHOMA! crew enjoyed the antique carousel animals in particular.
Follow the cast on Instagram at @oklahomabway