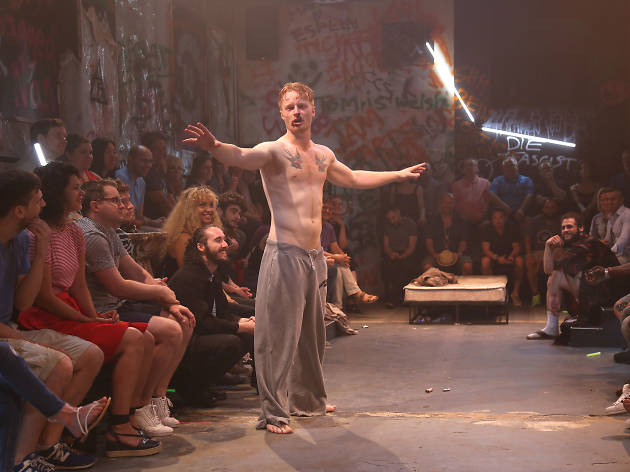 Time Out says
Theater review by Regina Robbins
If you find that Danny Boyle's pitch-black 1996 comedy Trainspotting has gotten stale after multiple viewings, you're in luck: Trainspotting Live has arrived in NYC to give you the fix you need. Based on the Irvine Welsh novel from which the movie was also adapted, Harry Gibson's play—which actually predates the film—immerses the audience in the angry, druggy world inhabited by young Scotsman Mark Renton (Andrew Barrett) and his mates as they rampage through the late 1980s in Edinburgh. Unemployed and beyond cynical, the lads spend most of their time drunk and/or high, which is wildly funny until the grim realities of addiction take their toll. Happily, at Trainspotting Live the audience has the option to imbibe during the show; it definitely helps to be relaxed, since chances are good that you will be sat on, pulled onstage or spattered with bodily fluids (fake ones, I hope).
Most of the characters you remember make appearances here—crazy Begbie (Tom Chandler), amoral Sick Boy (Tariq Malik), pathetic Tommy (Greg Esplin)—and the indelible "worst toilet in Scotland" scene is recreated. But Trainspotting Live is even more episodic than the movie, which only emphasizes how unessential it seems. The sheer outrageousness of the crew's escapades will probably get you laughing, or screaming, at some point before the show is over (and it moves fast, clocking in at an hour and a quarter), but is anyone really jonesing to see Renton's shit-stained ass up close? Board this train at your own risk—and bring towels.
777 Theater (Off Broadway). By Harry Gibson. Directed by Adam Spreadbury-Maher. With Andrew Barrett, Greg Esplin. Running time: 1hr 15mins. No intermission.


TIME OUT DISCOUNT TICKET OFFER:

Irvine Welsh's
TRAINSPOTTING LIVE
The Critically Acclaimed No-Holds-Barred Immersive Production

$29* Dealer's Choice tickets (regular price $55)
$39* Front Row tickets (regular price $69)
$49* Uppers tickets (regular price $89)
TO BUY TICKETS:
Click here or visit TranspottingNYC.com and use code: TRAINTIME
Promotional description: The most talked-about show in New York! This once-in-a-lifetime immersive experience contains splatter, nudity, violence, strong language and drug use (suitable for ages 16+). The show starts with a rave and takes you on an emotional journey with dark comedy, insightful dialogue and a killer soundtrack! Based on the famous film starring Ewan McGregor, Trainspotting is the story of Mark Renton and his friends living through the Edinburgh heroin scene of the 1980s. Winner of the Sunday Times Award for Best New Play. Runs 75 minutes.
"I was shocked, and I wrote the f&*%ing thing!"—Irvine Welsh
*Offer valid for performances thru 1/26/19. Not all seats discounted. Discount code valid for $89 Uppers include padding and back support. $69 Front Row seats are closest to the action. $55 Dealer's Choice seats are randomly allocated on arrival. All purchases via credit or debit, including online and phone orders, incur a $4 processing fee. Blackout dates may apply. Schedule and cast subject to change. Offer subject to availability. No exchanges or refunds; all sales final. Cannot be combined with other offers. Not valid for prior purchases.
Details
Best selling Time Out Offers