Two by Friel: Lovers: Winners & The Yalta Game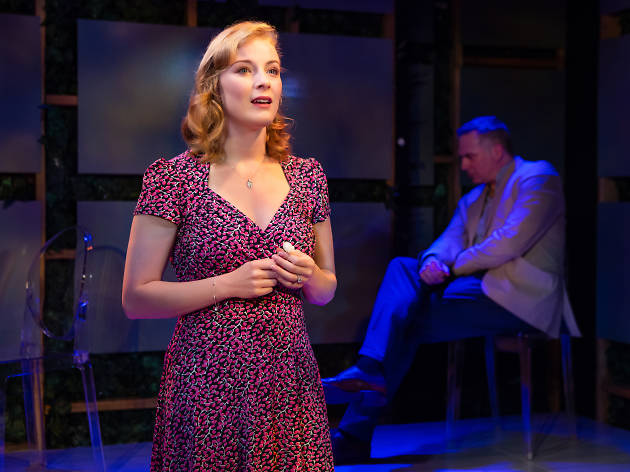 Time Out says
Theater review by Helen Shaw
The cozy basement studio at the Irish Rep seems barely big enough to contain a pool table, let alone a theater. Even standing on the lowest possible playing area leaves the actors with their heads among the lights—so pieces that succeed down there need to gather us close. It's therefore a tidy bit of programming to give us two well-performed plays by that bard of the intimate Brian Friel: a revival of half of his 1967 diptych Lovers and the New York premiere of The Yalta Game, his 2001 dramatization of a short story by Anton Chekhov.
Full of literary detail and narrative efficiency, Lovers: Winners is an example of perfect one-act construction. A pair of giddy 17-year-olds, Mag (Aoife Kelly) and Joe (Phil Gillen), are on a hilltop above a loch, just at the start of their lives together—a great bother to each other, yet youthfully confident in their plans and their love. Their scene is bubbly and joyful, but two mysterious speakers (Aidan Redmond and Jenny Leona), reading from evidence books, keep breaking in to tell us the details of some long-ago disappearance. Friel's sweethearts frequently talk about loving things at a distance: Mag adores all the people of Ballymore when she sees them from above; Joe worships Mag's parents from afar. Eventually we realize that we're seeing the couple from a distance too, a forensic remove that makes their happiness heartbreaking.
Director Conor Bagley seems to have chosen his pieces for their poignant quality: In both playlets, romantic love is seen through tears. Friel's deep connection to Chekhov—they had twin sensibilities—gives his adaptation of "The Lady with the Little Dog" much of the immortal quality of Chekhov's original. In The Yalta Game, Redmond and Leona return to play the story's adulterous lovers, whose affair changes from an adventure to something of nearly metaphysical power. The dapper Redmond makes the little play sing; he gleams with a cad's polish that is slowly abraded by sorrow. In fact, all four actors do strong work, with the Friel bijoux handsomely reflecting their talents. Neither production is a tornado of emotion, and the parameters of the evening are modest. But if you have a taste for the bittersweet, there is serious and quiet pleasure to be had in that tiny room: Some tempests are best seen in teapots.
Irish Repertory Theatre (Off Broadway). By Brian Friel. Directed by Conor Bagley. With ensemble cast. Running time: 2hrs 15mins. One intermission.
Follow Helen Shaw on Twitter: @Helen_E_Shaw
Follow Time Out Theater on Twitter: @TimeOutTheater
Keep up with the latest news and reviews on our Time Out Theater Facebook page
Details
Best selling Time Out Offers