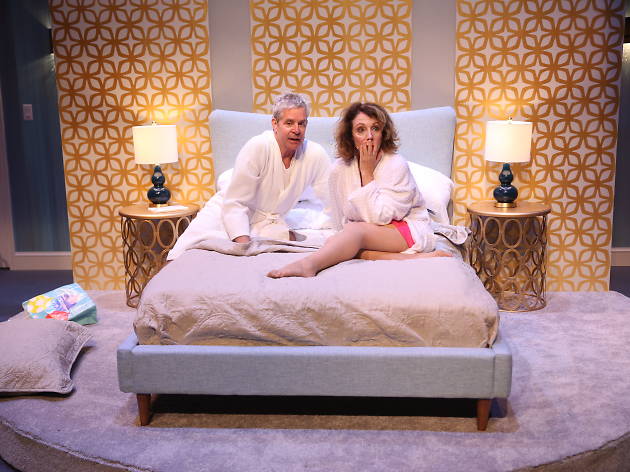 Time Out says
Theater review by Raven Snook
It's a tale as old as prime time: Two imperfect strangers are doubled-booked into the same Las Vegas hotel room, and it's hate at first sight. Tom (Robert Yacko) is an unkempt poker player who takes life as it comes. Wendy (Rita Rudner) is an uptight outlet shopper estranged from her cheating husband. How long will it take these sort-of-singles of a certain age to hop in the sheets for some sexual healing? Let's just say that the nearly two-hour musical Two's a Crowd reminds us why sitcoms are under 30 minutes long.
Rudner's has enjoyed success as a stand-up comic for four decades, and the show's funniest jokes are plucked straight from her act—she wrote the book with her husband, Martin Bergman, who also directs—though they also interfere with the action, such as it is. But most of Two's a Crowd is so obvious and inoffensive that it rarely induces smiles, let alone laughs. The underrehearsed cast, which also includes Kelly Holden Bashar and Brian Lohmann, struggles to sell hoary shtick and telegraphed punch lines in between Jason Feddy country-tinged songs, which often feel like afterthoughts. (Leading a three-piece band, Feddy inexplicably sings about half of the numbers himself during scene changes.)
Lithe and lovely, Rudner certainly puts the sex in sexagenarian, but she deserves a better showcase for her talents. There's nothing wrong with escapist fare, but it has to be—to borrow one of Feddy's many false rhymes—fun, not dumb. This time, what happened in Vegas should have stayed there.

59E59 Theaters (Off Broadway). Book by Rita Rudner and Martin Bergman. Music and lyrics by Jason Feddy. Directed by Bergman. With Rudner, Robert Yacko. Running time: 1hr 50mins. One intermission.
Follow Raven Snook on Twitter: @ravensnook
Follow Time Out Theater on Twitter: @TimeOutTheater
Keep up with the latest news and reviews on our Time Out Theater Facebook page
Details
Best selling Time Out Offers