1/7
Photograph: Nastassia Jimenez
Voices of Swords
2/7
Photograph: Nastassia Jimenez
Voices of Swords
3/7
Photograph: Nastassia Jimenez
Voices of Swords
4/7
Photograph: Claire Taddei
Voices of Swords
5/7
Photograph: Claire Taddei
Voices of Swords
6/7
Photograph: Claire Taddei
Voices of Swords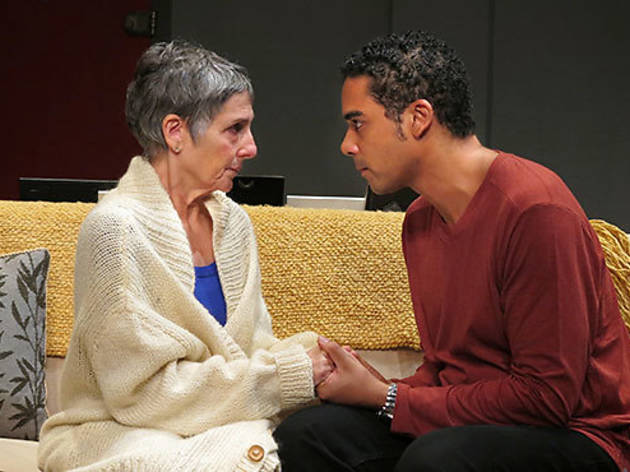 7/7
Photograph: Jonathan Slaff
Voices of Swords
Voices of Swords. Walkerspace (see Off Broadway). By Kari Floren. Directed by Eve Brandstein. With ensemble cast. Running time: 1hr 45mins. One intermission.
Voices of Swords: In brief
In Kari Floren's dramedy about life and its changes, Broadway vet Loni Ackerman stars as an ailing but headstrong older woman who balks at the assistant that her son has hired for her. Eve Brandstein directs.
Voices of Swords: Theater review by Helen Shaw
Kari Floren's comedy Voices of Swords rings with an aggressive, plaintive tone. Why don't children visit their parents? Why aren't virtuous siblings rewarded? Why doesn't the organized daughter get more respect? The play—doggedly pathetic even when it's cracking jokes—eventually tunes itself into a long, high mosquito whine; if your sister sounds like this on the phone, hang up.
Personal organizer Alexis (Celia Schaefer) has been hired to help Olivia (glassy-eyed Loni Ackerman) go gentle into that good heart surgery. Olivia's surly son, Kosey (Phillip Christian), can't connect, so Alexis becomes Olivia's surrogate daughter, despite her own family griefs, including a weird, dependent relationship with her parents (Bob Ari and Gillien Goll).
The play is illogical, slapdash and rife with sitcom bromides; performances feel desperate or entirely disengaged; and Eve Brandstein's awkward production operates with glutinous emphasis. There may be a reason to make theater such as this, but not to go and see it. Appropriately, Swords is the sort of dish you serve only to family.—Theater review by Helen Shaw
THE BOTTOM LINE This strained family comedy is relatively awful.