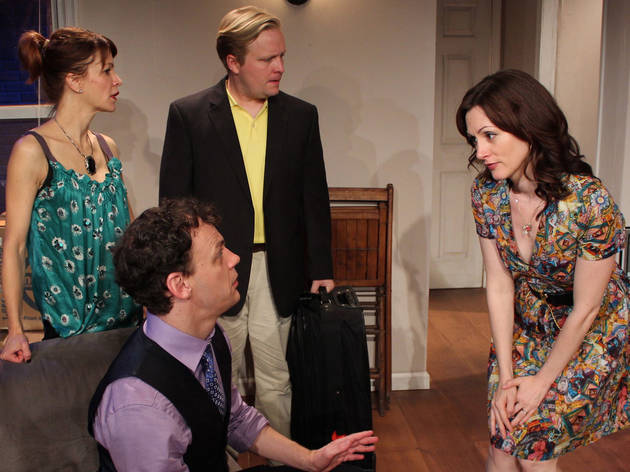 1/8
Photograph: Kyle Ancowitz
Why We Left Brooklyn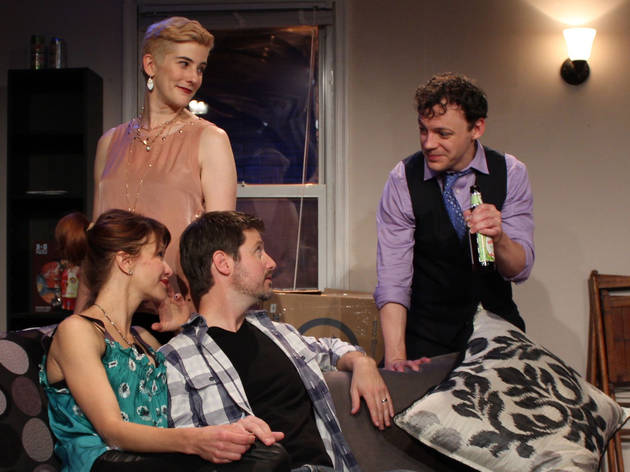 2/8
Photograph: Kyle Ancowitz
Why We Left Brooklyn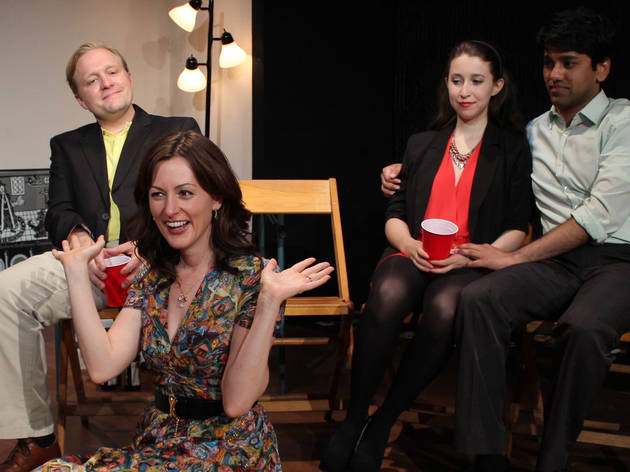 3/8
Photograph: Kyle Ancowitz
Why We Left Brooklyn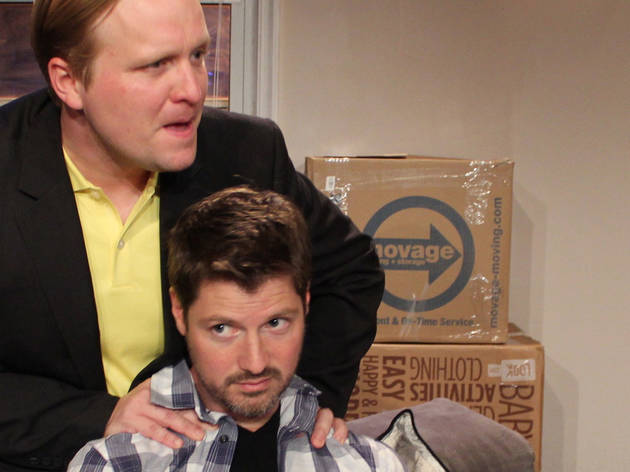 4/8
Photograph: Kyle Ancowitz
Why We Left Brooklyn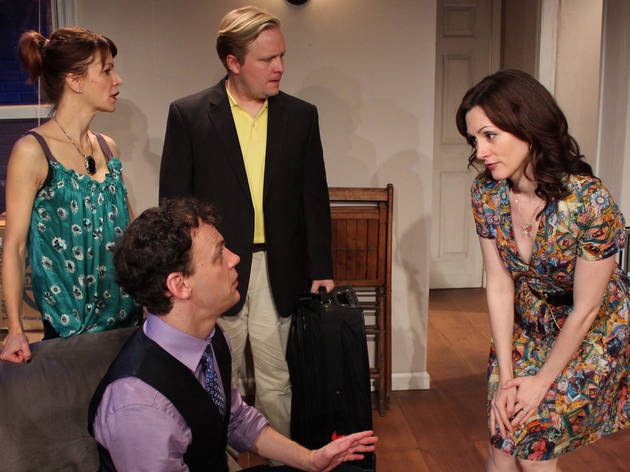 5/8
Photograph: Kyle Ancowitz
Why We Left Brooklyn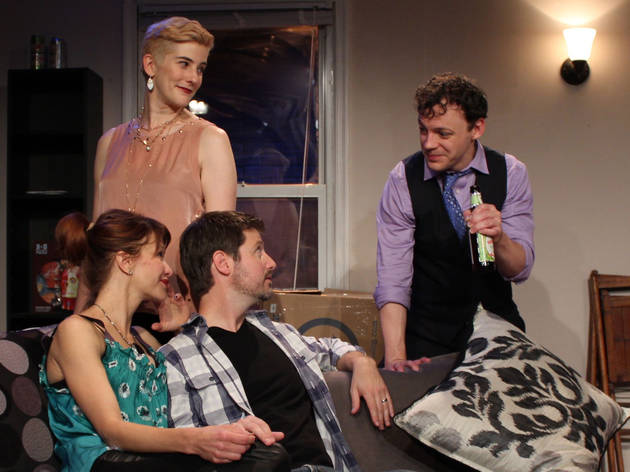 6/8
Photograph: Kyle Ancowitz
Why We Left Brooklyn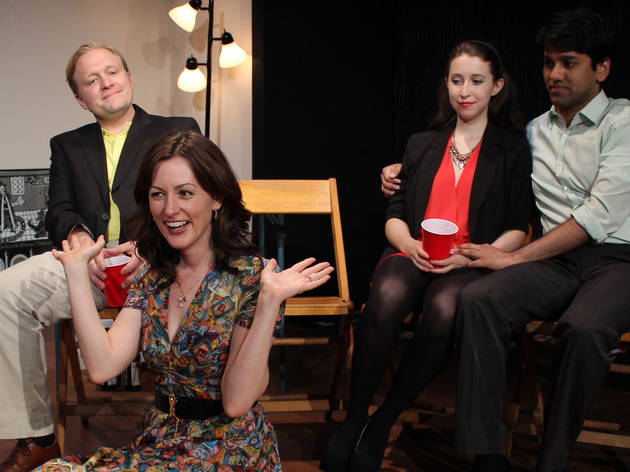 7/8
Photograph: Kyle Ancowitz
Why We Left Brooklyn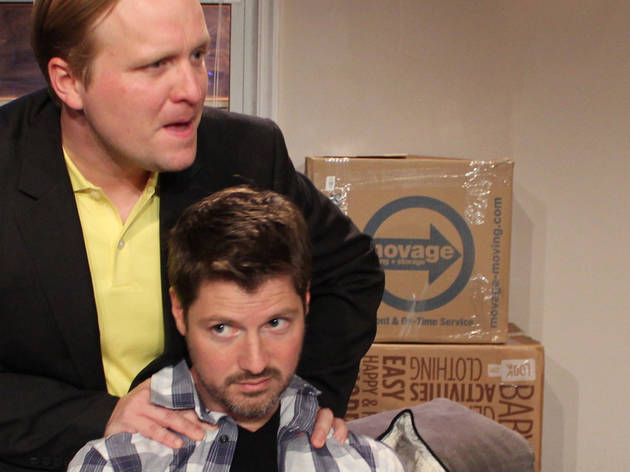 8/8
Photograph: Kyle Ancowitz
Why We Left Brooklyn
Time Out says
Why We Left Brooklyn. 4th Street Theatre (see Off-Off Broadway). By Matthew Freeman. Directed by Kyle Ancowitz. With ensemble cast. Running time? 2hrs. Two intermissions.
Why We Left Brooklyn: in brief
Ten New Yorkers confront their crushed dreams as one of them prepares to leave for Ohio in Matthew Freeman's new dark comedy, directed by Kyle Ancowitz for Blue Coyote Theater Group.
Why We Left Brooklyn: theater review by Helen Shaw
The Prospect Heights denizens in Matthew Freeman's acidic comedy Why We Left Brooklyn are a wonderfully unbearable bunch, a nattering bobo klatch, a din of monkeys. Why are we listening to them blather about yoga, beer and the Barclays Center? Ach, why do we ever? At its best, Why We Left is Gawker snark served with screwball spin; if everything broke right, we'd be hailing the author as the Noël Coward of Kings County. Freeman's formula doesn't work completely here, though, since Kyle Ancowitz's production wrong-foots the dialogue, the central relationship rings false, and the play sabotages its own pace with two (two!) unnecessary intermissions.
New York's verbose discontented have gathered to bid farewell to one of their own, actor Jason (Andrew Schwartz), who, with wife Michelle (Susan Louise O'Connor), must throw one final dinner party before leaving for a teaching gig in Columbus, Ohio. Naturally, jealousies and irritations are revealed, most amusingly by the gang's resident misanthrope, Charlie (the superb Matthew Trumbull). There's real, galvanizing anger among the zingers, particularly in Freeman's outrage at the humiliations of the actor's life. Unfortunately, Schwartz's performance retreats into one long sulk and Jason, without charisma, lapses into mere unleavened dickishness. Thus the play's tension—should he stay or go?—fades. We were only halfway through when I thought, Hell: I'd give this creep a ride to the airport myself.—Theater review by Helen Shaw
Ticket Offers from Time Out New York
Looking for tickets to a Broadway or Off Broadway show? Time Out Offers brings you terrific discounts on tickets to the latest New York theater. Want even more ideas? Check out Time Out New York's complete listings of Broadway, Off Broadway and Off-Off Broadway shows, and browse all available tickets.
Details