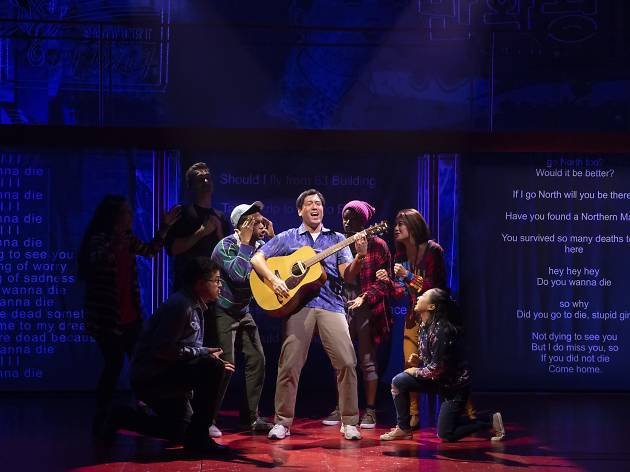 Time Out says
Theater review by Helen Shaw
Before anyone says a word in Hansol Jung's Wild Goose Dreams, the set has already started shouting. Clint Ramos's environmental design at the Public is a dazzling wraparound neon signscape: a downtown-theater version of downtown Seoul. Only slowly do you realize that some of the glowing images on the walls depict North Korean soldiers and cheerful-looking, Mao-jacketed dictators. Ramos floods our senses with salesmanship from both sides of the 38th parallel.
Set and play alike are interested in overload: Jung's not-quite-romance includes Korean fairy tales, hallucinations, dreams, a penguin in a toilet, and a seven-person "internet chorus" that sings in the ones and zeroes of binary code. At the still center of all this visual and theatrical noise are two people stifled by loneliness: the North Korean defector Yoo Nanhee (the extraordinarily deft Michelle Krusiec), and the married South Korean Guk Minsung (a sweetly abashed Peter Kim), whose heart is overseas with his increasingly distant daughter (Kendyl Ito). Minsung is a "goose father," posting his salary to an emigrated family so his child can have an American education; Nanhee smuggles money home to her father (Francis Jue), though she doesn't know if it reaches him. Emotionally, both are sending away the greater parts of themselves, even after they find each other on a dating website and stumble toward love. (Cue the singing internet.)
Wild Goose Dreams is a tricky play, full of both richness and distraction. The core story of Nanhee and Minsung is artfully constructed: Jung has written characters that complement each other exactly yet also seem organic, messy and real. This beautiful center, though, is often obscured by the stagey "online" and dream elements; the chorus and the penguin stuff feel extraneous and cutesy. Krusiec works hard to show us Nanhee's desperation and fraying sanity (she often hallucinates), but the text keeps cracking "this is how we write emails" jokes. Still, director Leigh Silverman draws keen, vivid performances from Krusiec and Kim, and their interpersonal drama is quite moving in its combination of stunned sadness and gallows humor. How do you write about a country—and people—cut in two? Jung tries a whole flock of techniques, and happily, some of them have wings.
Public Theater (Off Broadway). By Hansol Jung. Directed by Leigh Silverman. With ensemble cast. Running time: 1hr 50mins. No intermission.
Follow Helen Shaw on Twitter: @Helen_E_Shaw
Follow Time Out Theater on Twitter: @TimeOutTheater
Keep up with the latest news and reviews on our Time Out Theater Facebook page
Details
Best selling Time Out Offers