Heads up! We're working hard to be accurate – but these are unusual times, so please always check before heading out.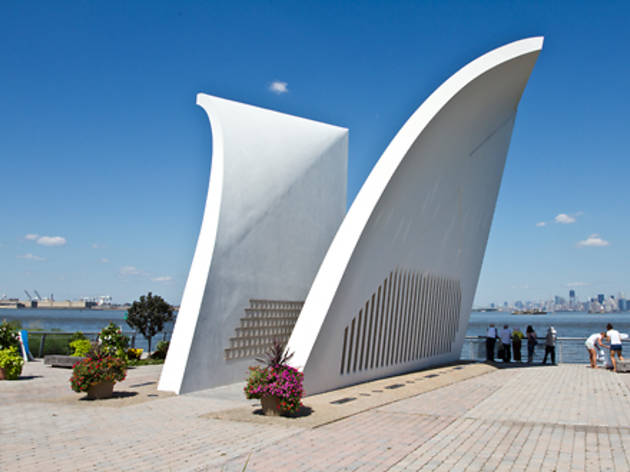 1/7
Photograph: Caroline Voagen Nelson
Postcards (St. George Waterfront Esplanade, Staten Island; statenislandusa.com)James Molinaro, Staten Island borough president: "[On September 11, 2001] I was down at the polling place when a young man came over to me and whispered in my ear that a plane had crashed into the World Trade Center. I went [to the ferry terminal] and there was absolutely no one coming off from the ferries. I decided to walk down the promenade, and I watched [the north tower] collapse. When I was elected, I went to the mayor [and got approval to use capital funds to build a memorial]. We got 200-and-some-odd proposals from around the world. [Masayuki Sono's] was postcards being sent to the loved ones that were no longer with us. We went to the next of kin [of each victim] and asked them for a photograph, so we could cut out a profile. Sixty percent of the people that have a profile there...[their loved ones] never received remains. That postcard is their cemetery."---As told to Alison Zeidman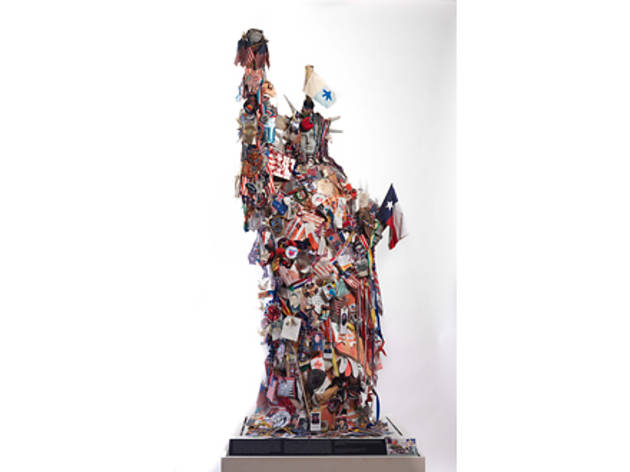 2/7
Photograph: Bruce White
Lady LibertyLady Liberty (9/11 Memorial Preview Site, 20 Vesey St between Broadway and Church St; 911memorial.org)Jan Seidler Ramirez, chief curator of the 9/11 Memorial Museum: "[The statue] was outside of Engine 54, Ladder 4 at [West] 48th Street and Eighth Avenue. Every time I look at it, I notice something different. Each tribute is a book in itself: a United Airlines pin, badges from international responders who volunteered or a note to a lost father. There's a mass card for [firefighter] Gerard Nevins, who also responded to the 1993 bombing; it has an image of his 1993 jacket, which will be in the museum. Some tributes have a history we'll never uncover, like the beautiful ring on the pedestal. We don't know who left it or what it signifies. But it's an intimate, private gesture."---As told to Rebcca Dalzell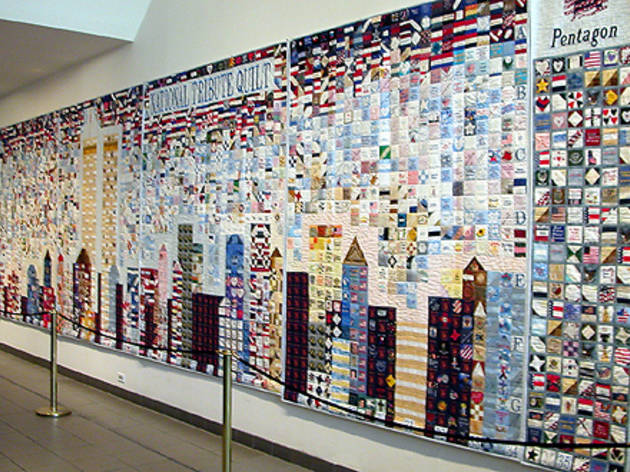 3/7
National Tribute QuiltNational Tribute Quilt (American Folk Art Museum, Columbus Ave between 65th and 66th Sts; folkartmuseum.org) Amber Dalley, Kathy Crawford and Jian Li, creators of the quilt: "We all work at United States Steel in Pittsburgh. A coworker lost his son on 9/11---it was the son's first day of work [in the Twin Towers]. We wanted to do something to support our coworker, but we also thought that what you do for one you do for all, so it was a better tribute to make [the quilt] for everyone. The quilt represents how, when your life breaks apart into pieces, you put them together. We created a website and contacted different quilting guilds, and the word spread. Many people who contributed made a 3.5-inch square that represented a victim, and they had free rein [for the] design. There's even a square for a bomb dog. It's sad, because each block is a life."---As told to RD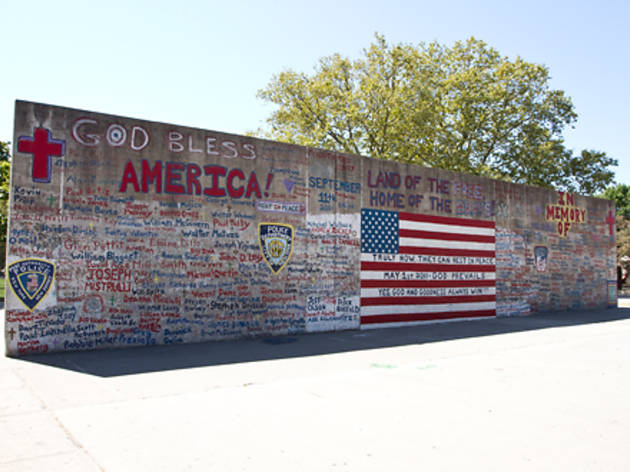 4/7
Photograph: Caroline Voagen Nelson
Handball Court MuralHandball Court Mural (Bill Brown Park, Bedford Ave at Ave X, Sheepshead Bay, Brooklyn; no phone)Raymond "Rockin' Ray" Fiore, creator of the mural: "I was at the World Trade Center digging for three days. [I was] very depressed, and kind of in a state of morbidness from being down there. I had to do something, so I painted the flag. Then the names started coming. I added a name because I thought of my friend's sister who died, then I thought of the guy down the block who died, and then [they] just kept coming. I never drew a stick figure as a kid---I couldn't draw for shit. And then all of a sudden I have the guts to do the FDNY emblem and the NYPD emblem, and [since then] I can draw anything. I go back and touch up the names every year to make it look respectable."---As told to AZ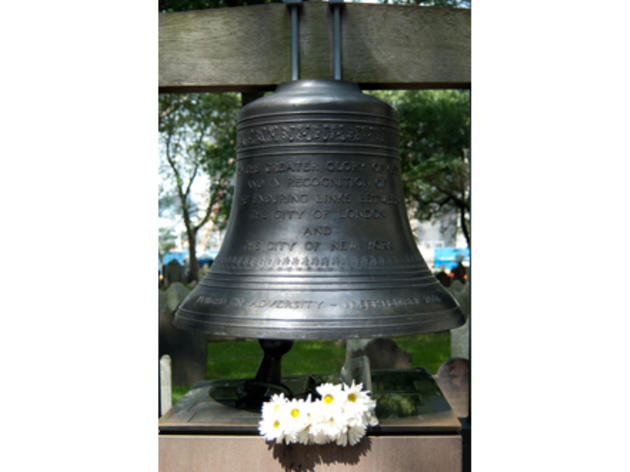 5/7
Photograph:Nitzan Krimsky
The Bell of HopeThe Bell of Hope (St. Paul's Chapel, 209 Broadway between Fulton and Vesey Sts; 212-233-4164, saintpaulschapel.org)Sir Michael Oliver, former lord mayor of the city of London: "There was a lot of shock [in London, as well as a] desire to show support [after 9/11]. The idea of a bell just came to me, and I ran into the archbishop of Canterbury, Dr. George Carey, [who] agreed that it would be a fitting tribute. The U.S. ambassador joined us in casting the bell at the Whitechapel Bell Foundry, the same place that made the Liberty Bell. Its dedication says FORGED IN ADVERSITY, which sums up our determination to turn this terrible thing into something better. I'm not surprised to see the bell struck for other tragedies; hope is a key to human strength."---As told to RD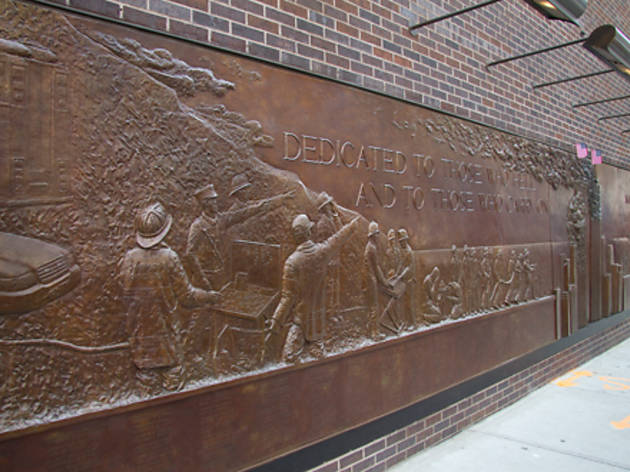 6/7
Photograph: Lindsay Maclean Taylor
FDNY Memorial Wall (Engine Company 10, Ladder Company 10, 124 Liberty St at Greenwich St; fdnytenhouse.com)Viggo Rambusch, senior project manager and concept designer for the memorial: "We were approached by [the law firm] Holland & Knight, which offered to buy a fire engine, but the FDNY [requested that they] pay for a memorial [instead]. The FDNY assigned [Assistant] Chief Harry Meyers to be our contact point; [we met with] Joe Oddi, who was a designer at Rambusch. Joe was drawing and Meyers, with tears in his eyes, said, 'You've got it, Joe, you've caught it.' And it was Meyers who said, 'Let's have the two buildings in the center and everything moving toward the center,' so he gets the credit for that."---As told to AZ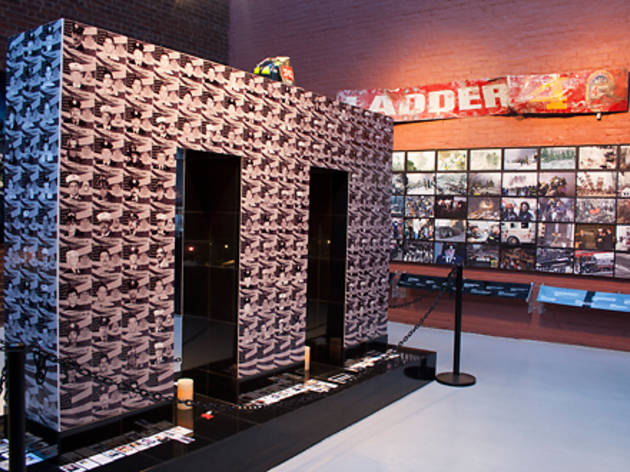 7/7
New York City Fire Museum memorialFDNY September 11 Memorial (New York City Fire Museum, 278 Spring St between Hudson and Varick Sts; nycfiremuseum.org) Jude Amsel, creator of the memorial: "I'm known for my photo transfers, and [that technique] was the perfect way to display the faces [of the firefighters]. I think, because of the rectangular shape, people see it and they think of the World Trade Center. When I was designing it, I just looked at it as a negative space. That negative space is really symbolic of all of the people that were lost that day, And the emptiness that the world felt. I've always felt that art really heals. I was just very honored to be part of it. And what's really beautiful is you'll go there and many times there are flowers and memorial cards. It's become like a shrine."---As told to AZ
9/11 memorials
Pay your respects on the tenth anniversary, and find out where to reflect.