Heads up! We're working hard to be accurate – but these are unusual times, so please always check before heading out.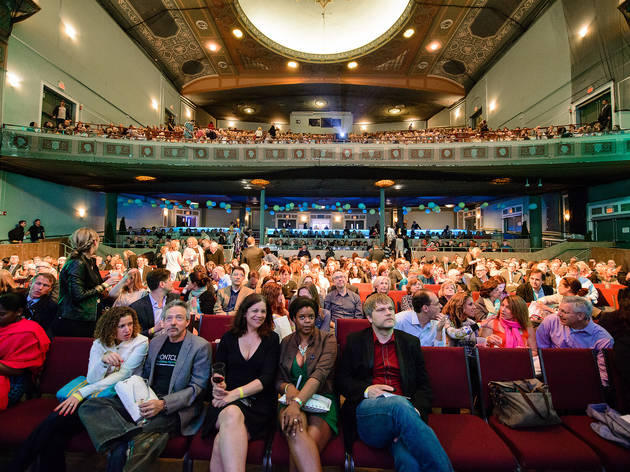 The best things to do in NJ
Even jaded New Yorkers (like us) think these across-the-Hudson things to do in NJ are worth the trek
We know what you're thinking: New Jersey is all about fist-pumping beach-goers, big hair and Bruce Springsteen. And sure, those elements are part of its charm, but there are so many great things to do in NJ—and they have nothing to do with hair gel or fake tans. From New York attractions like art and cultural landmarks (yes, really!) to some of nature's prettiest views at parks just as nice as our NYC parks and super-fun beer gardens and beer halls, NJ has something even a New Yorker would consider trekking to the 'burbs for.
Best things to do in NJ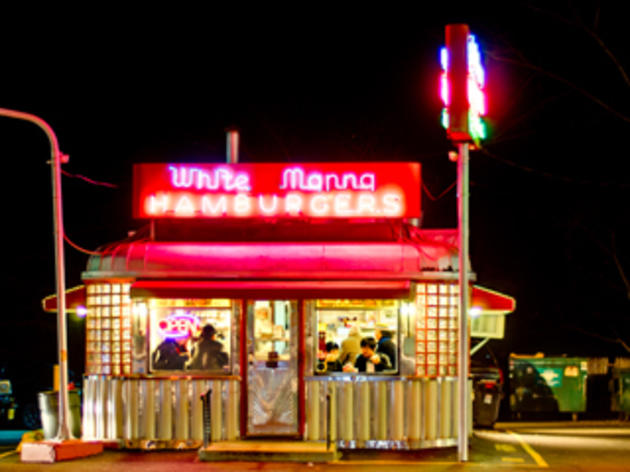 Photograph: Creative Commons
Shake Shack, Smashburger and Bobby's Burger Palace (as in Flay) have all invaded the Garden State, but Hackensack's White Manna still reigns as the go-to joint for natives and visitors alike. What the tiny hut lacks in friendliness (do not try to order fries from the burger guy—you will regret it) it more than makes up for in deliciousness, serving fresh sliders with cheese and onions on mini potato buns. There's a reason it's been around since 1946. 358 River St between East Passaic and East Ward Sts, Hackensack, NJ (201-342-0914)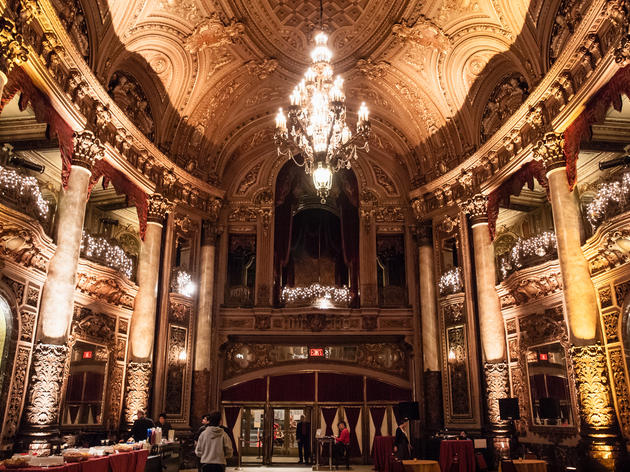 Photograph: David Vanderheyden
The Landmark Loew's Jersey Theatre
This gorgeous venue, which operated from 1929 to 1986, was the spot where a young Frank Sinatra was inspired to do the whole crooner thing while catching Bing Crosby back in the '30s. Now refurbished, the palacelike theater is a splendorous place to see a rare gig (Neutral Milk Hotel recently played here). Plus, if it's good enough for NYC vets the Strokes to shoot a video there, it's good enough for us. 54 Journal Square Plaza between John F. Kennedy Blvd West and Pavonia Ave, Jersey City (201-798-6055, loewsjersey.org)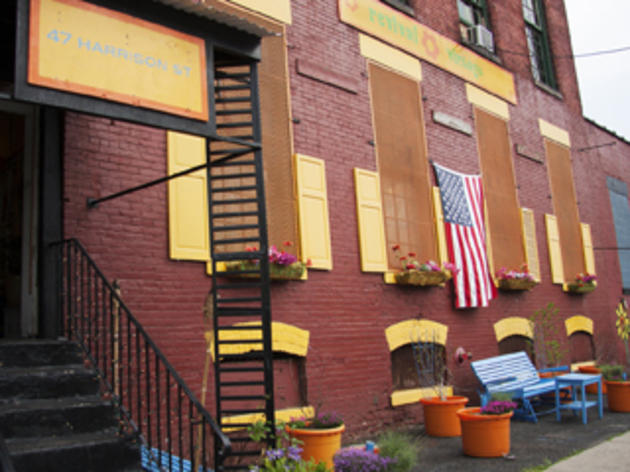 Photograph: Revival Vintage Boutique
New York has no shortage of throwback-fashion shops. But here's the thing: They're often expensive—and really picked over. (Maybe it's because we all have amazing taste? We like to think so.) Just a PATH ride away in Hoboken, you'll find this eclectic 5,000-square-foot retro den—which sells designer frocks, heels, hats and other wares from the 1800s to the 1980s on the cheap. How cheap? One buck and up. But keep that to yourself. 47 Harrison St between Newark St and Observer Hwy, Hoboken (201-217-9001, revivalvintageboutique.com)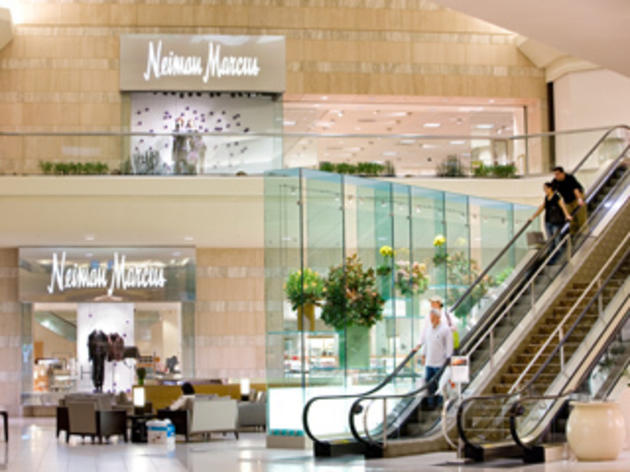 Photograph: Short HIlls Mall
Sure, NYC is a global shopping destination. But you know what it doesn't have? Valet parking. And fancy-pants stores like Neiman Marcus, Saks Fifth Avenue and Miu Miu in one convenient building—all without the obstacle of slow-moving tourists. So while Short Hills may not earn you the cool cred of, say, shopping on the LES, it will get you pretty rad clothes. (And no one has to know where you bought them.) Those into a slightly less civilized but way more affordable experience should head to Bergen Town Center (1 Bergen Town Center, Paramus, NJ; 201-845-4051, bergentowncenter.com) for the outlet version of Saks and Neiman's, as well as Nordstrom and Bloomies. 1200 Morris Tpke, Short Hills, NJ (973-376-7350, shopshorthills.com)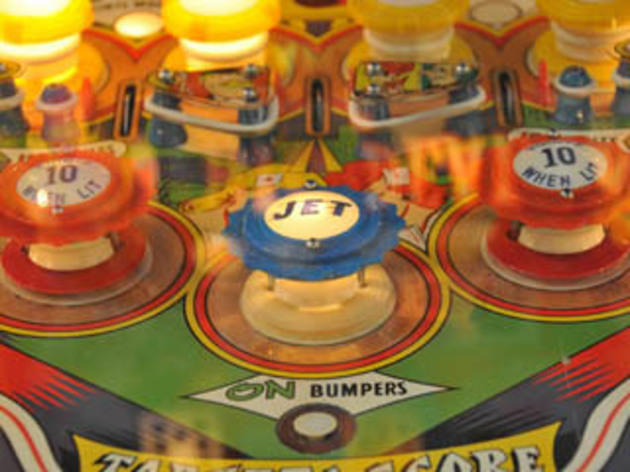 Photograph: Silver Ball Museum
Calling all pinball wizards: This Asbury Park destination boasts almost 200 games dating as far back as 1931. (Its most modern machine? The Sopranos. Duh.) We heard about the place from Tom Scharpling on radio staple The Best Show on WFMU; and some of the spot's nerds (sorry, enthusiasts) do take the high-score rankings very seriously. Think The King of Kong. But with pinball. 1000 Ocean Ave between Second and Third Aves, Asbury Park, NJ (732-774-4994, silverballmuseum.com)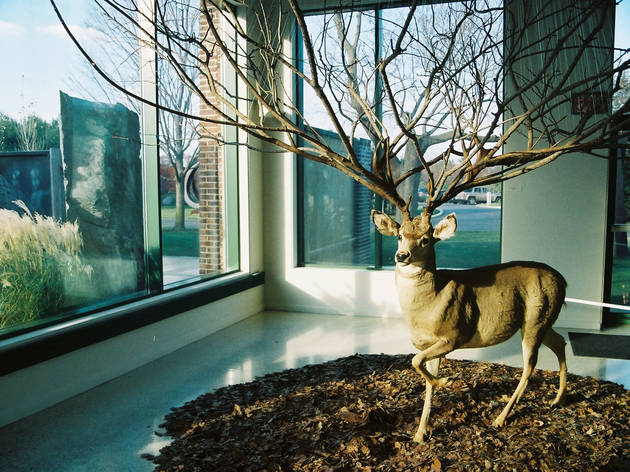 Photograph: Courtesy CC/Flickr/Takes Long Walks
This 42-acre park is filled with sculptures by emerging, local and international artists of the medium. There are seasonal exhibitions and a permanent revolving door of outdoor pieces, plus workshops, lectures and tons of opportunities to learn more about contemporary sculpture. Pick a warm, sunny day to visit and enjoy items from the cafe menu, packed up in a picnic basket, as you take in the sights. And just think of all the Instagram cred this trip will score you! #Nofilter. 80 Sculptors Way, Hamilton, NJ (609-586-0616, groundsforsculpture.com)

Photograph: Courtesy CC/Flickr/Takes Long Walks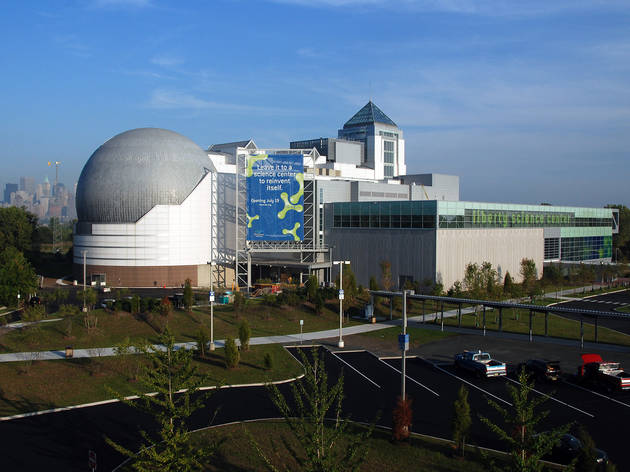 Photograph: Courtesy Liberty Science Center
North Jersey kids grew up knowing this spot as the school field trip destination of choice, thanks to its IMAX theater, touch tunnel, dinosaurs galore and plenty of exhibits that made learning about science feel more like being endlessly entertained. But it's not just for kids—though the Center would make for a great family fun day. Thanks to a $5 million donation, LSC will soon be the home of the Western Hemisphere's largest planetarium. Take that, Museum of Natural History! Liberty State Park, 222 Jersey City Blvd, Jersey City, NJ (201-200-1000, lsc.org)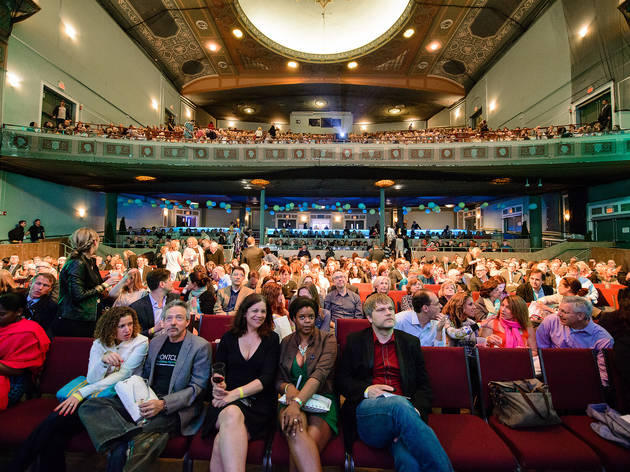 Photograph: Courtesy CC/Flickr/Montclair Film Festival
This place has been around—and through a few different iterations—since 1922, first as a live entertainment venue, then a movie theater before reopening in 2008 as a music venue. These days it's an official site for events during the town of Montclair's annual Film Festival, as well as a draw for music acts from Blink 182 to Whitesnake and special events like Welcome to the Night Vale, Legends of Rock and Jay Leno live. Bonus: the booze is cheaper at NJ venues than in the city, and trains and busses will take you right to the town center. 5 Seymour St, Montclair, NJ (973-783-9500, wellmonttheater.com)

Photograph: Courtesy CC/Flickr/Montclair Film Festival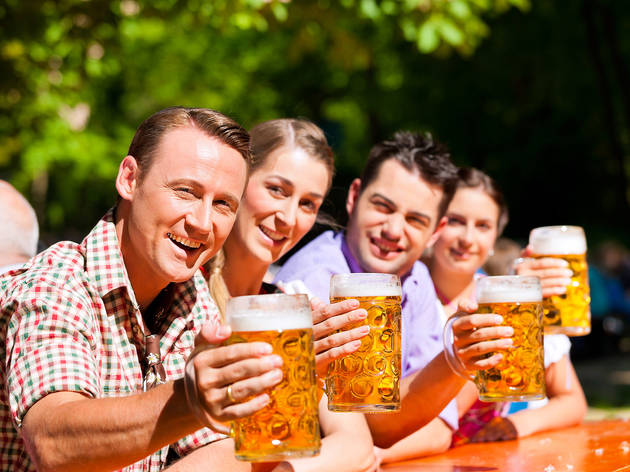 Photograph: Shutterstock
We know NYC has no shortage of beer taps and rooftop bars, and even the sliver of sidewalk outside restaurants makes for a relaxing day drinking spot. But Zeppelin Hall is a total game changer with 144 beer taps, traditional German fare and an indoor/outdoor dining and drinking space that gives the venue an authentic, community feel. Eat, drink and be merry with friends and strangers you'll be calling freund by the end of the night. 88 Liberty View Drive, Jersey City, NJ (201-721-8888, zeppelinhall.com)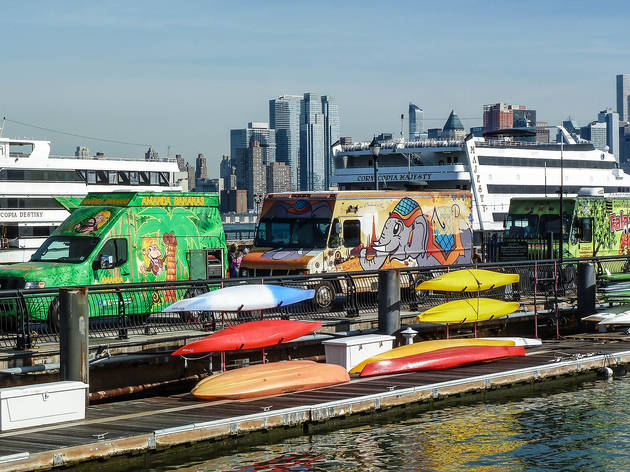 Photograph: Courtesy CC/Flickr/Bill Benzon
Sometimes the best part of NYC is the view of the skyline from across the river. Pier 13 offers that, plus the city of Hoboken, a "little Manhattan"-style destination for shoppers, foodies and day drinkers. Stop by the pier's beer garden for food truck finger foods or family activities, or dive into the Hudson for jet-skiing, kayaking or paddle boarding, all with the iconic cityscape just beside you to decorate the scene. 1301 Sinatra Dr N, Hoboken, NJ (201-798-8065, pier13hoboken.com)

Photograph: Courtesy CC/Flickr/Bill Benzon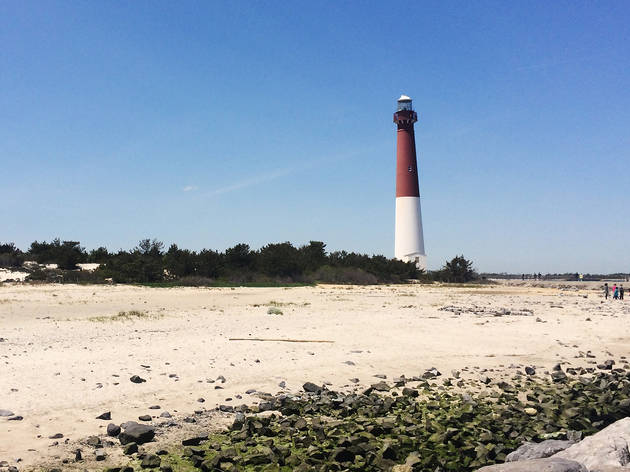 Photograph: Lauren Spinelli
Barnegat Lighthouse State Park
By now you've probably come to associate the Jersey Shore with Snooki and fist-fights at beach bars, but trust us—there's more to the Shore than that. With over 127 miles of beach, there just aren't enough guidos to cover the territory! There's tons of room for gems like the Barnegat Lighthouse, an iconic 65-year-old structure known for being a crucial focal point for vessels moving up the coast. Stop here along your journey down the New Jersey Coastal Heritage Trail and marvel at the other side of the Jersey Shore. 208 Broadway, Barnegat Light, NJ (609- 494-2016)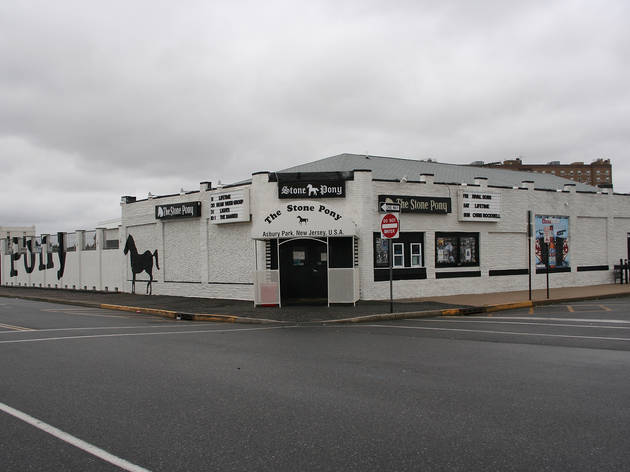 Photograph: Courtesy CC/Flickr/Federicochi
You've probably heard of this place alongside some anecdote about Bruce Springsteen, and what it means to grow up with music in your veins as a Jersey punk rocker. The historic venue has seen nearly every major musician to travel up the east coast, but also has a long legacy of charity and community as a landmark in Asbury Park. Check the lineup for benefit concerts, community support events, battle of the bands and of course, the best music events to be found on the coast. 913 Ocean Ave, Asbury Park, NJ (732-502-0600, stoneponyonline.com)

Photograph: Courtesy CC/Flickr/Federicochi
Find bed-and-breakfasts in New Jersey
Whether you're just looking for weekend R & R or a week's worth of summer vacay shenanigans, New Jersey's vast selection of B&Bs has you covered.