The best things to do in Nolita and Little Italy, New York
The stretch of turf will keep you satisfied all day long with Italian eats, killer shopping deals and awesome art events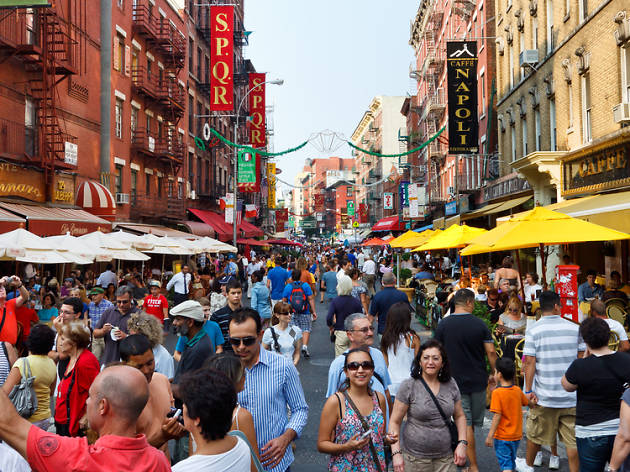 Things to do in Little Italy
Dances of Vice is throwing a burlesque Halloween bash this year that nods to Edgar Allen Poe's short story, "The Masque of the Red Death". Masks are mandatory and you should expect dancers to swing from glittering chandeliers above. Oh, and there's an upper chamber with a hidden dungeon that's part of the fun.
Things to do in Little Italy
Art, Contemporary art
Andrew Edlin Gallery, Nolita
Sometime around 1932 (the dates are a little fuzzy), an alien being who called himself Lacamo contacted the artist Paulina Peavy (1901–99) during a séance in Long Beach, California. For the remainder of her life, at Lacamo's behest, Peavy created artworks, writings and eventually videos to convey secret knowledge about the universe. She even wore homemade masks while painting to better channel her disembodied mentor; some of them, adorned with costume jewelry or silk tassels, appear in this small survey curated by Bill Arning. Alas, Lacamo seems to have been a bit too enamored of the Modernist art pioneered by Peavy's better known—and, frankly, more visionary—contemporaries. Dating mostly from the 1970s and '80s, her washy watercolors silhouetted by flat shapes overlaid with networks of fine lines have a mild psychedelic frisson, but look just like the countless examples of mid-century biomorphic abstraction pursued by Surrealists and Expressionists alike. (Roberto Matta's otherworldly vistas come especially to mind.) Better are a series of glossy oil paintings featuring crystalline structures that glow against dark grounds or body parts that emerge from a morass of writhing forms. Painted between the 1930s and 1980, they seem to combine Surrealism and American Regionalism, anticipating later eccentrics such as Alex Grey or even Judy Chicago and are weird enough to stand on their own. Ultimately, Peavy's work is charming, but it's also apparent that she and her spirit guide
Art, Contemporary art
Sperone Westwater, Nolita
Now 82, John Giorno was an icon for a dowtown NYC art scene that no longer exists. A poet and spoken-word pioneer, he appeared in Andy Warhol's Sleep, in which he's seen snoozing for nearly five and a half hours. He also did paintings characterized by epigrammatic texts, a technique maintained in his latest show, which presents inscribed bluestone boulders as well as new canvases.