The best ways to celebrate Women's History Month in NYC
March is Women's History Month, so pay your respects to fierce females at these excellent talks, shows or parties
We've found some great ways for you to show solidarity this Women's History Month in NYC, whether you want to join a protest for women's rights or just grab a beer at one of the city's best bars with your girlfriends. (Yep, that counts too.) Don't worry if you can't make one of the events—many of these organizations and New York attractions are active year-round, and there are always volunteer opportunities for women's shelters and more.
RECOMMENDED: Full guide to Women's History Month in NYC
Ways to celebrate Women's History Month in NYC
1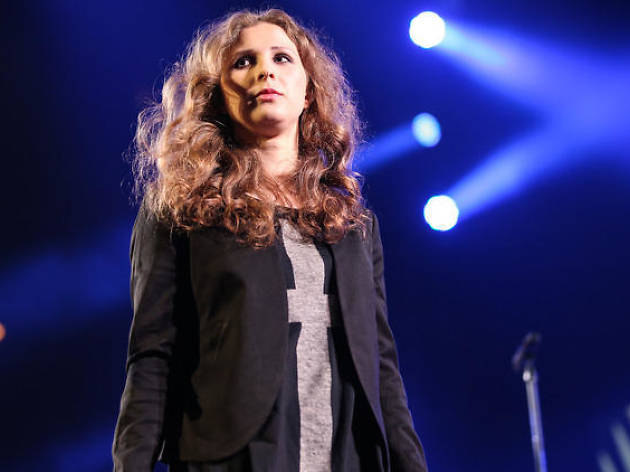 Spring Revolution Festival
This March, National Sawdust launches second annual Spring Revolution Festival, a month-long program of performances and discussions tied to Women's History Month. Its two themes—female empowerment and cultural dialogue—drive the programming, which include the premiere of musical-theater piece "Revolution: The Pussy Riot Story," and a collaboration between minimalist composer Philip Glass, kora player Foday Musa Suso and cellist Jeffrey Zeigler. For the full lineup of Spring Revolution events, visit National Sawdust.
2
Theory x LOLA Elevate the Everyday Kits
In honor of International Women's Day on March 8, Theory and LOLA—the all-organic tampon brand—teamed up to create female empowerment kits filled-to-the-brim with goodies. Some of the girl power-loot includes MoonJuice Powder Dust, a S'well bottle, Tula Probiotic Purifying Cleanser, a Lulu Frost keychain and so much more. Better yet, these kits are only $50 (valued at $375!). Buy one at Theory (theory.com) for a badass woman in your life.
3
The Alamo goes all out for Women's History month with movies celebrating the queens of camp (Serial Mom), horror (Prom Night II), drama (The Color Purple), Sci-Fi (The Fifth Element) and beyond.
Read more
4
This monthly literary salon invites notable women writers and performers to air their dirty laundry in the form of personal letters crafted just for the occasion. The March edition features Min Jin Lee, Ophira Eisenberg, Jo Firestone, Porochista Khakpour, Nancy Whang and Ivy Woolf-Turk.
Read more
5
A stellar lineup of comics—including Lane Moore, Marcia Belsky, Jena Friedman, Giulia Rozzi and more—gather to tell jokes and raise money for the Committee to Recall Judge Aaron Persky, who ruled on the controversial case People v. Turner at Stanford University.
Read more
6
Like so many prominent art museums, the Metropolitan Museum of Art has shockingly few pieces by female artists on display. Still, there are plenty of strong ladies to celebrate in the art itself. This tour highlights the modern and historical nasty women responsible for some of the museum's world-renowned pieces, whether they were the creators, muses or subjects. Smashing the patriarchy never felt so cultured.
Read more
7
Joli Beauty Bar is hosting a Clueless-themed event supporting the following causes threatened by the Trump administration: Planned Parenthood, ACLU, Dakota Pipeline and Flint Michigan. All the proceeds for the event go toward helping these organizations, so head to the East Village beauty haven for hair and makeup services, wine, a little meditation and a bake sale ad help the cause. FYI: Turn up rocking your best Cher and Dionne getup to snag a surprise from Joli.
Read more
8
Bring a laptop to help revise the annals pertaining to art and women's rights on this online bastion, and hear panels on feminism in the digital age led by writer Orit Gat, artist Reina Gossett and reporter Jenna Wortham.
Read more
9
In celebration of what would have been Ella Fitzgerald's 100th birthday, the Schomburg Center invites female jazz artists such as harpist Brandee Younger, singer Jean Baylor and saxophonist Camille Thurman to perform her songs every Monday in March.
Read more
10
The organizers of the massive and influential Women's March invite women and allies to challenge their local communities with a nationwide boycott of nonsupportive businesses. Check for updates and actions on the Women's March website.
Read more
Show more
Looking for more great things to do in March?
Make the most of the last month in winter and check out the best NYC events in March including St. Patrick's Day
Read more