Heads up! We're working hard to be accurate – but these are unusual times, so please always check before heading out.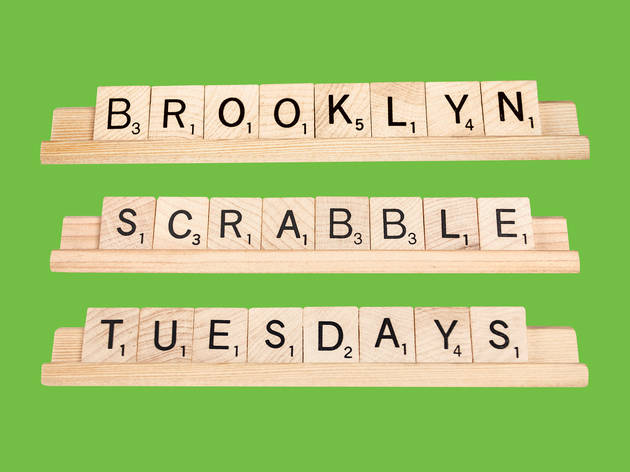 Brooklyn Scrabble Tuesdays kicks off at Brooklyn Strategist
Look your opponent in the eye over a Scrabble board (remember those?) at a new weekly game night in Brooklyn.
Do your pals sneer at your use of "brrr" or "mm" in Words with Friends? Go where you'll be understood: Brooklyn Scrabble Tuesdays is a casual meeting of wordplay enthusiasts beginning Tuesday 12 at Carroll Gardens' game den Brooklyn Strategist. Host David Bukszpan—a language fanatic and the author of Is That a Word?: From AA to ZZZ, the Weird and Wonderful Language of Scrabble—counts himself among the rabid digital players who battle in days-long games on their mobile devices. But he also enjoys the total focus and immediacy of sitting across the table from a competitor. It's a pleasure he's not alone in craving: At his book launch last September, Bukszpan decided to hold an informal Scrabble tournament at Freebird Books and Goods; more than one hundred people showed up to duke it out, cramming into the store and on its outdoor patio. Players can join at any point in the four-hour session, and can even request to be paired with a partner of similar ability. And, yes, The Official Scrabble Players Dictionary is allowed. For $25, the truly committed can sign up for a month of Tuesday playtime, which will provide ample opportunity to train for the special National Scrabble Day Tournament on April 13. Brooklyn Strategist, 333 Court St between Sackett and Union Sts, Carroll Gardens, Brooklyn (718-576-3035, thebrooklynstrategist.com). Tue 7–11pm; $10, one month $25.
Did you know?
• Scrabble was invented in the 1930s by an unemployed architect named Alfred Butts. He wasn't as good at his own game as his wife, Nina, who routinely beat him.

• Early versions of Scrabble were rejected by companies such as Milton Bradley and Parker Brothers.

• Scrabble's popularity exploded after the chairman of Macy's discovered it in 1952 and demanded that it be stocked in his stores.

• The word scrabble means to scratch or grope frantically. Passed-over names for the game: Lexiko and Criss-Cross Words.

• The National Scrabble Association has an Official Club and Tournament Word List for words considered too offensive to be in The Official Scrabble Players Dictionary. They include fart, fatso, gringo, badass and bazooms.

• Running time for an average Scrabble game is 50 minutes. (Think of that during your next knock-down, drag-out, three-day Words with Friends game.)