Candlelight Ghost Tours of Manhattan's Most Haunted House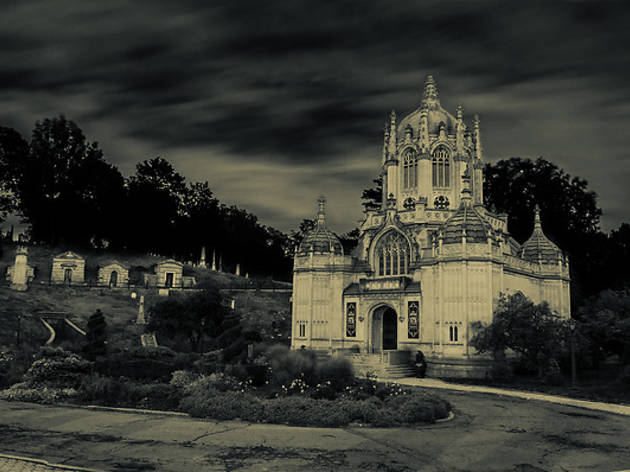 Time Out says
Once upon a time, people lived in building now called the Merchant's House Museum. Then they died...but their spirits may not have moved on. This 50-minute tour reveals the dark, haunted past of this old structure—as well as its spooky present. Has all that construction nearby has dredged the ghosts from their slumber? During this 50-minute tour (they begin every half hour from 6:30pm to 9:30pm) you may find out!
Details
Average User Rating
4.3 / 5
Rating Breakdown
5 star:

2

4 star:

0

3 star:

1

2 star:

0

1 star:

0
I'm a paranormal freak and this tour creeped me out! Hearing voices from the beyond like they were in the next room! The house got that Victorian Halloween feel that gets you spooked too! Loved it!
Bloomingdaler
Have ALWAYS wanted to take this Ghost Tour. Friends of mine have been talking about it for years and I finally was able to do so. Not only was it really creepy, but it was fascinating and informative, too. The hour tour flew by and I couldn't believe how quickly! The NY Times called this "Manhattan's most haunted house" and I can't imagine anyplace else being more so. The best part of the tour was how the guide shared actual photographs and RECORDINGS of voices in the rooms that no one heard at the time the recordings were made. It really challenged my disbelief and set the mood for, I think, my best Halloween ever!
Passed this brownstone multiple times & never knew the history behind it until one cold & rainy nite w/friends we decided it'd be a great way to kick off Halloween w/e. The brownstone was brought back to its original state. Take a seat in the front parlor where you will be told the history of the 180 yr old brownstone & the family that lived....& died in it. Guests & museum employees have reported seeing ghosts of the family members & the tour takes you thru the house lite only by candles into several rooms detailing who was born & who died in each room & recordings playing with eyewitness accounts of ghost sightings. But don't fear...they aren't there to scare you, instead they watch over their house & maybe if your lucky they will play the piano for you as it has been on several occasions been heard through out the house & out on the street. Looking forward to a day time tour!!!