Heads up! We're working hard to be accurate – but these are unusual times, so please always check before heading out.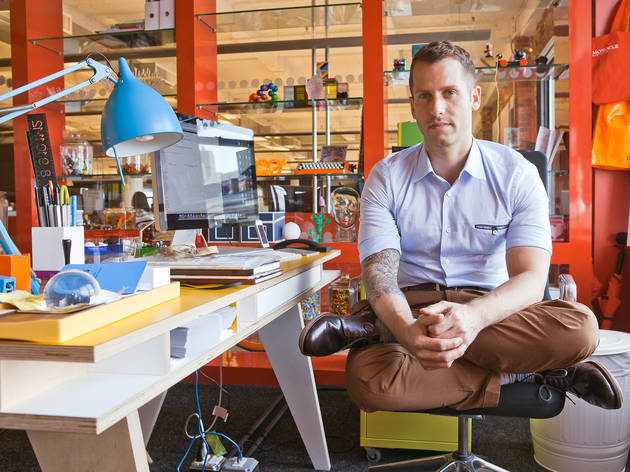 1/14
Photograph: Zenith Richards
The biggest challenge, according to Shellhammer, is letting other people see his and Goldberg's vision through.  "Jason and I have interviewed every single person in this company. My mission is [figuring out] one thing: Are you a culture fit?" Even so, Shellhammer emphasizes that there isn't a specific type of personality or background he's looking for. "It's about how smart you are, how much you like design, how passionate you are and how hard you'll work."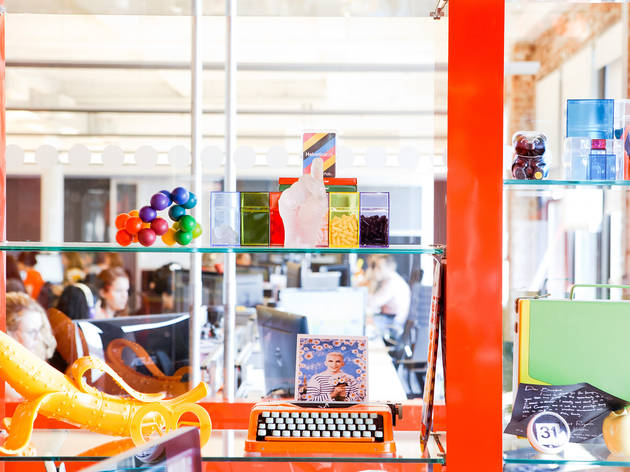 2/14
Photograph: Zenith Richards
An eclectic mix of products sold on the site, including Playable art balls from the MoMA Design Store and a refurbished vintage typewriter by Kasbah Mod, decorate Shellhammer's office. His current favorite object is Frank Kozik's yellow studded MechaBanana.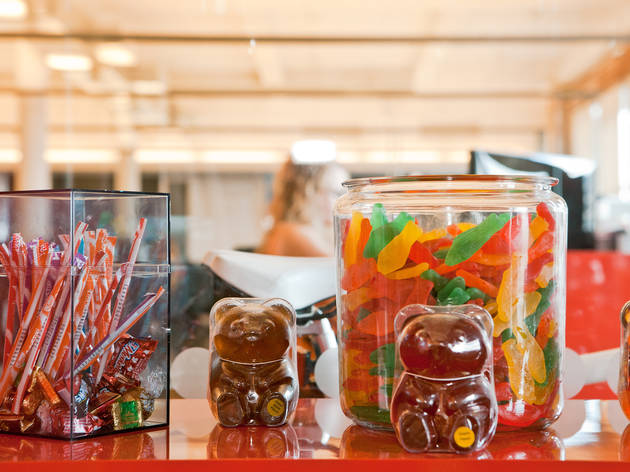 3/14
Photograph: Zenith Richards
Shellhammer is known around the office for his sweet tooth. Glass jars and plastic bins filled with all manner of candy—Pixy Stix, Swedish Fish, mini 3 Musketeers, oversize gummy bears and more—line his office shelves. "It encourages people to stop by and chat," he notes.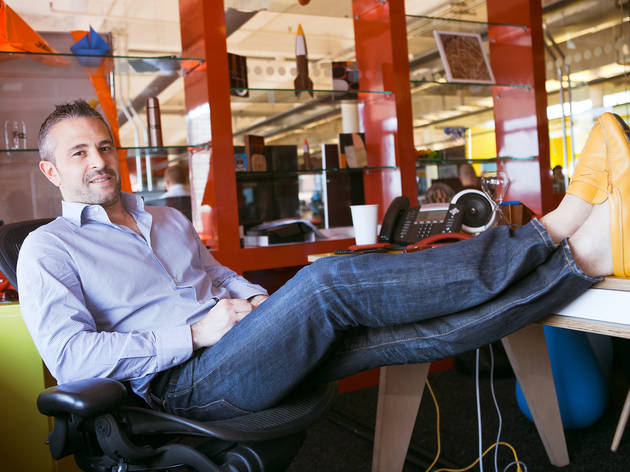 4/14
Photograph: Zenith Richards
Prior to cofounding Fab, Goldberg worked in the tech sphere for 13 years and helped launch three other ventures. "My job as CEO is to think about where [the company] needs to go and help people get there across all facets of the business, whether it's financing, products, strategy or where we are internationally," he says. "Ultimately, we want the people [on staff] who are implementing ideas to tell us how it should be done, and that only happens when you hire the best."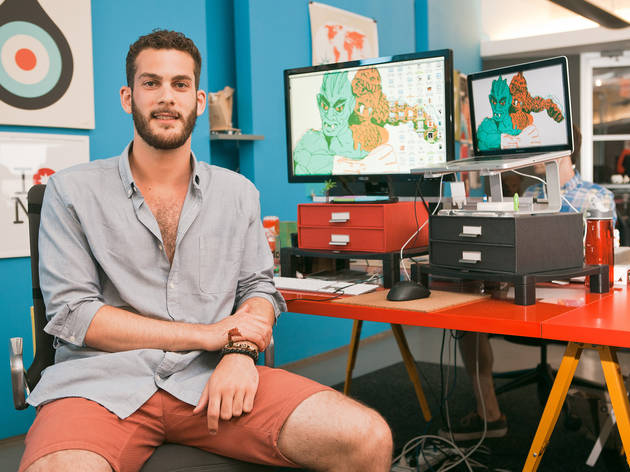 5/14
Photograph: Zenith Richards
As a production lead, Jeremy Miller oversees a team of five other producers, who are responsible for making sure the site's 32 daily sales go live on time. Though a typical day lasts from 9am until about 7pm, Miller admits that he's often checking his inbox after-hours and on weekends. "The nature of our work, where sales are going on every day around the clock, means I can't just ignore e-mails on a Saturday or Sunday."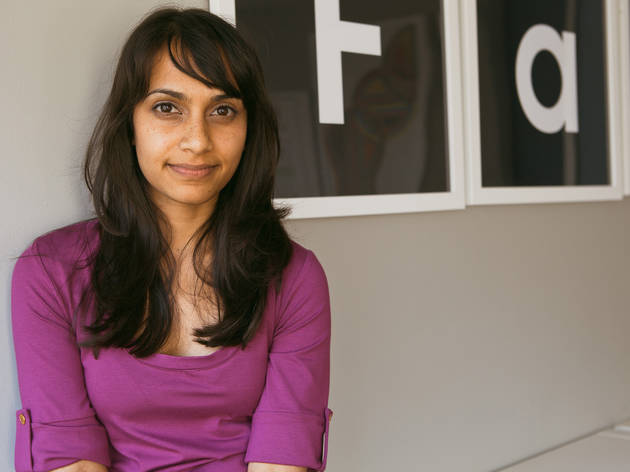 6/14
Photograph: Zenith Richards
After graduating with an MBA from the University of Pennsylvania's Wharton School, Sheezan Bakali joined Fab.com as the executive director of marketing, strategy and analytics. "My team tries to measure how happy our members are by looking at data from visits, purchases and surveys. Are they buying things? Are they coming back again? Opening our e-mails? Telling their friends? We then try to figure out how to make people even happier."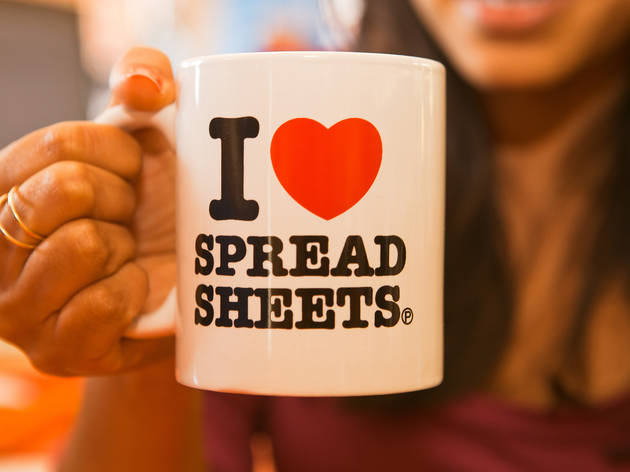 7/14
Photograph: Zenith Richards
Bakali's i heart spreadsheets mug nods to her team's niche within the company: "crunching a lot of numbers and marketing data."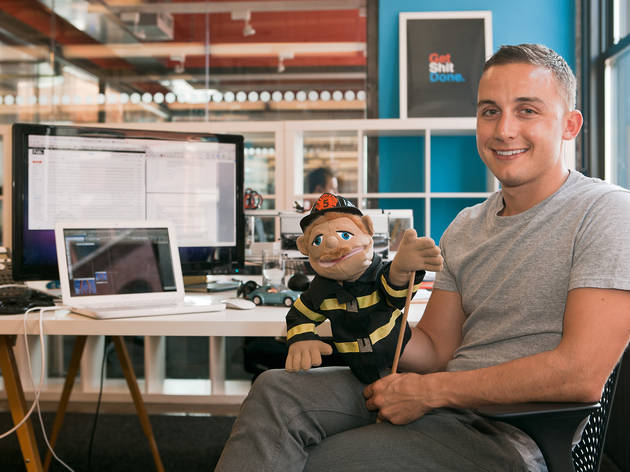 8/14
Photograph: Zenith Richards
The company's sensibility extends to every department: For example, customer-service representatives are officially dubbed "crackerjacks." Jonathan Kuhn, who started in August 2011, guides roughly 38 other 'jacks in the art of managing Fab users' questions and complaints. "I train the team in procedures, etiquette and writing tone," he explains.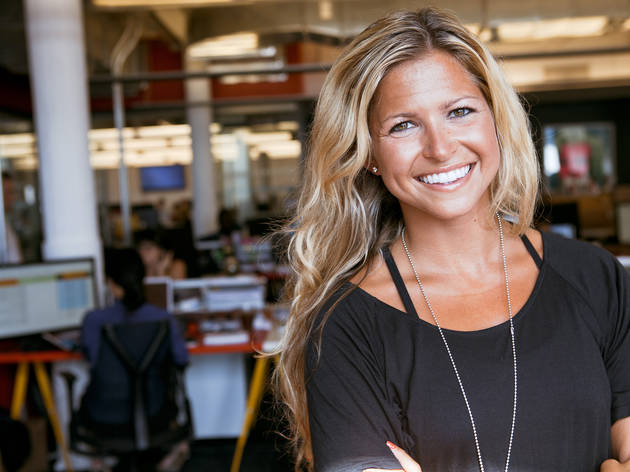 9/14
Photograph: Zenith Richards
Several staffers came to the company through unconventional paths. Jessica Marshall played on the same flag-football team as Matt Baer, Fab's vice president of merchandising operations. "After a game, I said something [about how] I wanted a new experience, something fun, and he told me they were looking for a buyer, so I sent him my résumé that same night," she explains. As the buyer for women's shoes and accessories, plus beauty and health products, Marshall devotes a lot of time to attending trade shows, building relationships with vendors and monitoring the success of the items she curates. "It's so exciting to find a new product and actually be able to see it on the site," she enthuses. "Once sales go live, I watch them like racehorses coming out of the gate."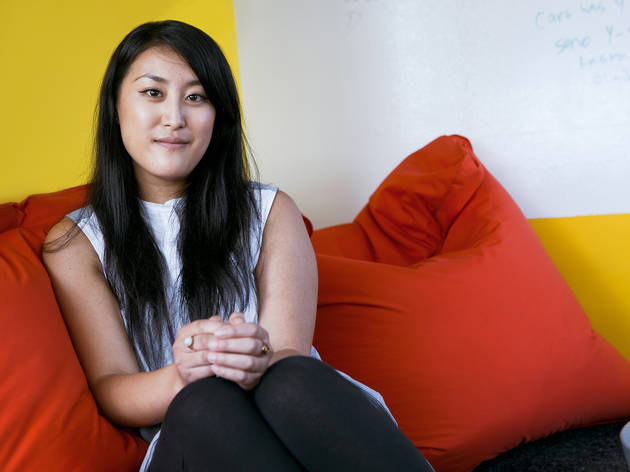 10/14
Photograph: Zenith Richards
After Marshall and the other buyers determine what will be sold on the site, it's up to Lydia Kim and her fellow quality-assurance leads to build the actual sale pages, ensure all relevant information is uploaded and confirm that all the product facts are accurate. "It's a very detail-oriented position. You're looking at a spreadsheet of the final copy that editorial has written, then looking at the sale that's been built, making sure all the elements are in place and whether any other information can be added," says Kim. "We try to view the sale in the same way a potential customer would."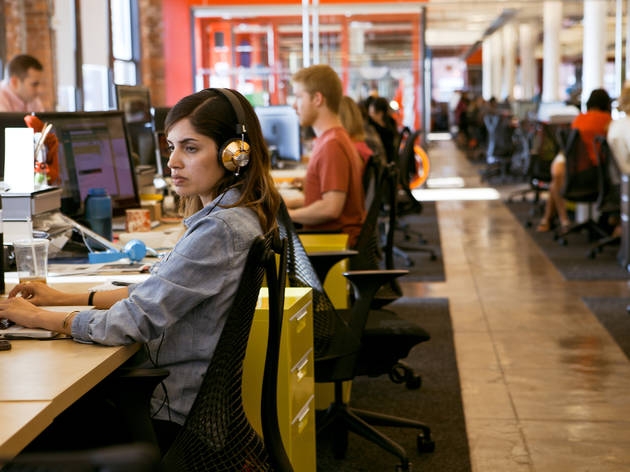 11/14
Photograph: Zenith Richards
Fab's office.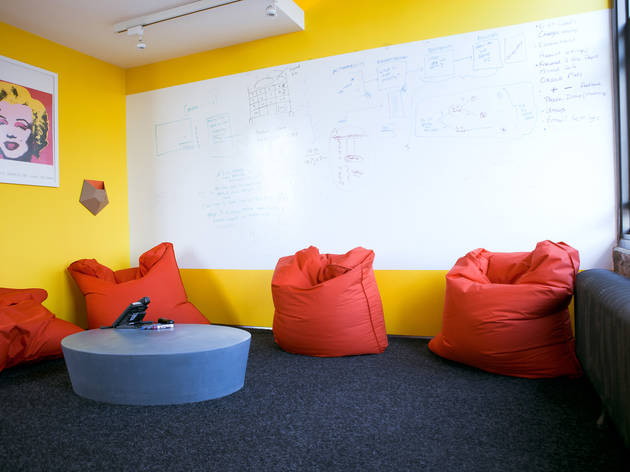 12/14
Photograph: Zenith Richards
Each conference room receives a name based on the color of its walls and quirky decor, but the Yellow Room is a favorite among staffers for its beanbag chairs.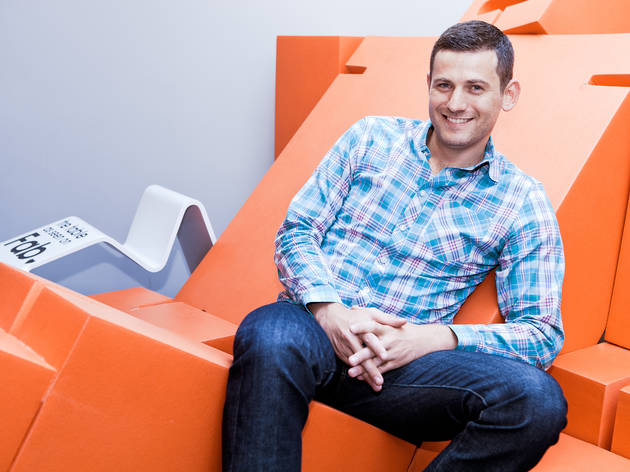 13/14
Photograph: Zenith Richards
More than 10,000 new products become available on Fab each week. Matt Baer, the senior vice president of merchandising operations, oversees the buying, production, editorial and quality-assurance teams, and the implementation of Fab's best practices and business processes in each new office that opens. "No two days are alike," he says.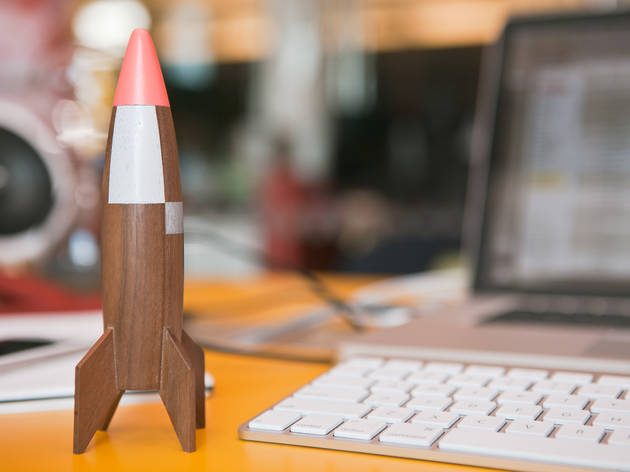 14/14
Photograph: Zenith Richards
Goldberg views this Pat Kim rocket as symbolic of Fab's ascent over the past year. "We've gone from zero members to 5 million—all from a standing start, like a rocket ship."
Cool NYC companies: Behind-the-scenes office tour of Fab
Check out the colorful headquarters of e-tailer Fab with our office tour and find out what it's like to work for this cool NYC company.
The founding of e-tailer Fab (fab.com) proves that failure can sometimes be the first step to success. In January 2010, entrepreneurs Bradford Shellhammer and Jason Goldberg launched Fabulis, a social network for gay men, but after a year, they hadn't built as large an audience as they'd hoped for. "The whole thing was kind of like going through a breakup," recalls Shellhammer, Fab's chief design officer. The friends and business partners decided to shift gears and morph their concept into a design-focused online marketplace. Since launching with 175,000 users and a staff of 20 in June 2011, Fab has rapidly expanded to 5 million users in 20 countries and 400 employees across four international offices. "We're an ambitious company with a very big mission," says CEO Goldberg of Fab's quest to bring beautiful, functional products to a broader audience. "We're quirky, creative and authentic; we put the same energy into everything we do, and we want [to hire] people who have that energy, too." To get a better sense of the Fab ethos, we looked inside its whimsical wonderland.
Wanna work here?
Fab staffers are looking to hire people who have abundant energy and are passionate about design, first and foremost. "Fab is like the land of misfits," says Shellhammer. "This is not a banking office, this is not a law office, this is not even a magazine office. It's kind of like all the people who never really fit in anywhere else coming together and collectively having this great, odd energy." Bakali echoes Shellhammer's sentiment, saying that she looks for candidates who are not only smart self-starters, but people who are a little unusual in the way he or she thinks. "This is not the kind of job or team where there's a lot of precedence for how we do things," she says. "I need someone who is creative and able to come up with a process on his or her own." The other attribute that many people mention is adaptability. "I think the more flexible you are, the easier your job becomes, because you don't get hung up on the little things," notes Marshall. "Essentially, it all comes down to your passion and your energy and making sure that you're giving it your all. This definitely is not a place where you can only half-ass your work!"
Career advice from the Fab crew
"I tell every entrepreneur the same thing: Find the one thing that you can be the best at and do that one thing to the exclusion of all other things. The biggest mistake entrepreneurs make is that they end up [taking on] a lot of different tasks, rather than just saying, 'We're going to be the best at this. All we're going to do is this.' When I am in product-development mode, I'm notorious for not answering calls or e-mails. I'm not going to be distracted by taking meetings. I'm focused on getting my one thing done."—Jason Goldberg, cofounder and CEO
"I think the biggest thing is that we want to see that [candidates] have the sort of aesthetic that we look for at Fab: bold, colorful, clean, modern. Sometimes that's the résumé itself—you can tell by how it's laid out—and sometimes it's a portfolio. But it's important that they have experience with graphic-design programs, so generally Photoshop, and that they're very detailed-oriented, because it's a mix of two jobs: It's building sales and dealing with data, so you need to be good with Excel, and also the design element."—Jeremy Miller, production lead
"I had a really strong vision of what I wanted. I was looking specifically for a New York retail or e-commerce start-up that was doing something fun. There are a lot of great jobs out there, but you have to stick to what you want and not veer off that path if you're looking for something specific."—Sheezan Bakali, vice president of marketing, strategy and analytics
"You have to be able to go with the flow and keep up in a fast-paced environment. It's important to be open to new ideas and opportunities. [You need to be] able to multitask and still be able to delegate work to someone and have faith that he or she is going to be able to do what you need to get done."—Jessica Marshall, buyer for women's shoes and accessories, beauty and health
"I think you have to work smarter and work harder each day. You have to be very observant about what's going on around you…[and] care about the little things. If you want to move up and fill a role similar to mine, it's about that dedication to precision and not letting anything get past you. The other part of it is [managing] people so that they understand that, so that they're doing better than they did before, and working smarter and working harder and not settling."—Matt Baer, senior vice president of merchandising operations
You might also like
Apartment tour: 1BR in Hell's Kitchen
Trend watch: Stylish cubicle decor
See more in Things to Do