It's pretty much an undisputed fact that everyone (yes, you included) loves Eataly. And how could you not? For casual Italiano fans and connoisseurs alike, Eataly is a literal heaven on Earth. Supremely tasty food? Check. A fabulous selection of vino? Of course. An enormous market packed full of the finest Italian ingredients ? You betcha.
Which is why the return of Restaurant Fest, Eataly's signature dining event , has us drooling. This March 4-20, the Eataly stores in both Flatiron and Downtown are set to be taken over by more Italian dishes and wines than you can possibly imagine – and menus are starting at $19!
So what even is Restaurant Fest? Well, in short, it's an all-out celebration of all things Italian food. It's the chance to indulge in some of Eataly's finest dishes and drinks, and to take part in some pretty cool events, activities and experiences, too.
As you can imagine, the food is top-of-the-range. Along with the phenomenal two-course menus starting at $19, experience Eataly like never before with all new features like a roaming mozzarella cart, trays of coccoli con prosciutto (fried balls of goodness stuffed with prosciutto), and tiramisu directly from the pan, just like Nonna makes it.
It goes without saying that, for a meal this decadent, you'll want to pair it with something equally delectable, and Restaurant Fest caters to that, too. From rare regional wines to cocktail carafes, Eataly will offer over 100 wines by the glass starting at just $10 and full carafes of cocktails at $25.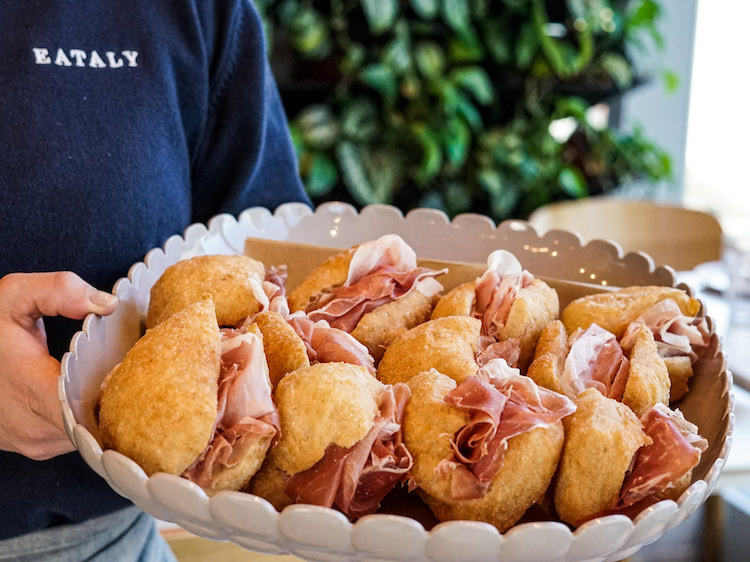 Once you've filled up with fine dining, check out dozens of complimentary tastings and demos, and special events spread across 16 days at both the Downtown and Flatiron locations. On March 4 and 25, head to Eataly Downtown for an immersive two-part event that will bring you from north to south of Italy through the food and wine of the Italian Peninsula. Then make your way to Eataly Flatiron on March 11 for a Parmigiano Reggiano cheese wheel opening and watch as the experts make fresh pasta out of the half parmigiano wheel. Want to check what else is on the calendar? Make your way to the website. In short, count us in for what's sure to be one of NYC's most immersive food events of the year.