Fall TV: Preview the season's most anticipated shows
Channel-surfing is back, bitch! Get revved for a fall TV season filled with meth madness, Knope-isms, new shows from Office vets and more.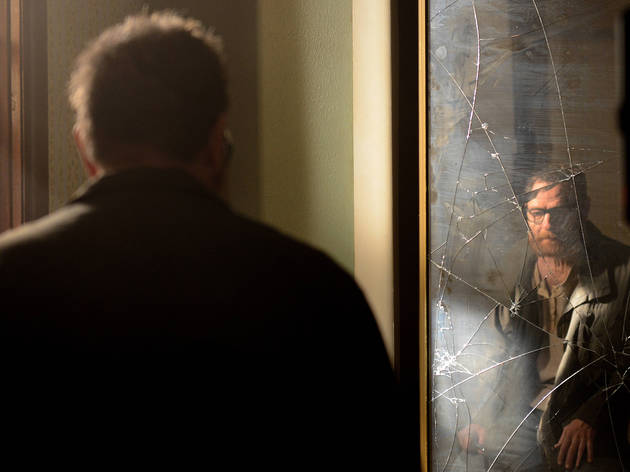 1/5
Photograph: Ursula Coyote/AMC
Breaking Bad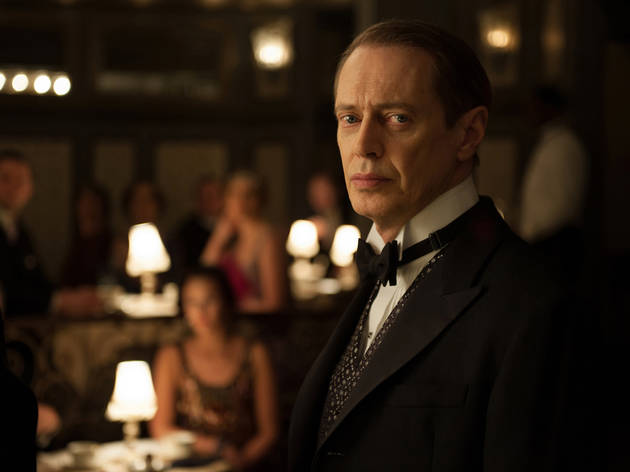 2/5
Photograph: Macall B. Polay/HBO
Boardwalk Empire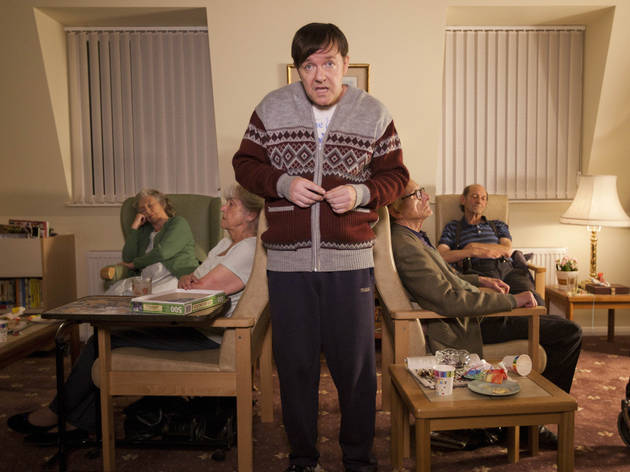 3/5
Photograph: Neale Haynes/Netflix
Derek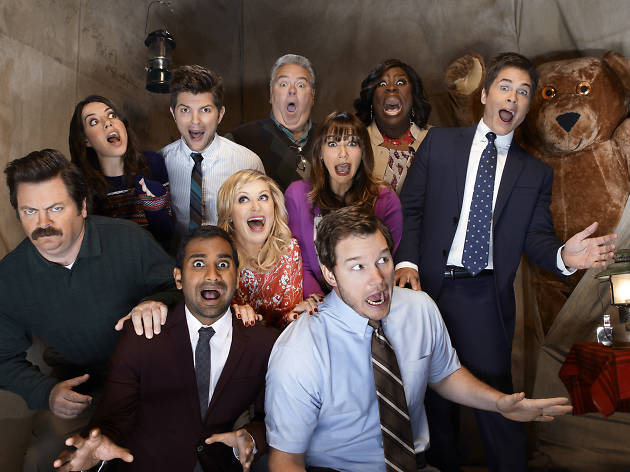 4/5
Photograph: Chris Haston/NBC
Parks and Recreation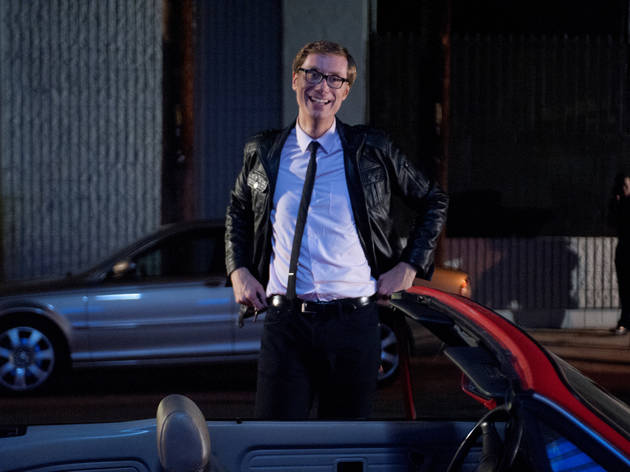 5/5
Photograph: Jaimie Trueblood/HBO
Hello Ladies
things to do in New York City this fall
. Now we've culled together the fall TV shows you shouldn't miss—from that about-to-end, envelope-pushing favorite you
may have read about
(
Breaking Bad
) to promising newbies (HBO comedy
Hello Ladies,
Fox sitcom
Brooklyn Nine-Nine
). So after you've tackled some of the awesome activities we pointed you to, feel free to head indoors and catch one of these series.
Not to sound too dramatic or anything, but the most exciting show on TV ends September 29, you guys. Vince Gilligan's gripping masterwork has somehow upped the stakes to ridiculous levels without ever, you know, feeling ridiculous. It's that rare show that's always evolving (adding depth to supporting characters, throwing in clever visual clues) even as its plot lines go bonkers. And its finale will probably be violent, amazing and—in true Breaking Bad season-ending fashion—jaw-dropping. Sun 9pm; AMC—Tim Lowery
Where to watch it: Brooklyn Winery, Professor Thom's, Union Hall, Videology
If you've written off The League as a show for frat dudes these past few years, you're missing out. Yes, it's packed with more dick jokes and football talk than a Delta Phi kegger, but it's also one of the breeziest, most consistently enjoyable comedies going. Indie-film star Mark Duplass, comedy-nerd faves Paul Scheer and Nick Kroll, and the rest of the players create an often-improvised conversational patter that keeps us coming back for more. Jason Mantzoukas's insanely raunchy non sequiturs as Rafi are an added bonus. Premieres Sept 4 at 10:30pm; FX—Tim Lowery
<em>Boardwalk Empire</em>
If HBO shows were meals, this elegantly shot, designed and costumed gangster series would be a pricey steak and Scotch, followed by a Cuban. Last fall, it introduced viewers to Bobby Cannavale's cold-blooded hothead, Gyp Rosetti. This time around, the excellent Jeffrey Wright joins the cast as Harlem bigwig Dr. Valentin Narcisse—as even more blood flows in Atlantic City, Chicago and our own fair stomping grounds. Premieres Sept 8 at 9pm; HBO—Tim Lowery
Does the title of Ricky Gervais's latest mockumentary sounds vaguely familiar? You're not crazy. Derek has already aired on Channel 4 in the U.K., despite being billed as an "Original Series" by Netflix. (The on-demand behemoth will unleash the entire first season at once, à la its recent—actually original—hit, Orange Is the New Black.) As for the dramedy itself, Gervais is the titular star, a slow-witted, gentle fortysomething working in a nursing home with a beaten-down-by-life buddy (ever-amusing Gervais frenemy Karl Pilkington). We've seen him capture the beauty of small-scale, mundane environs on The Office, so we're optimistic. Premieres Sept 12 at 3:01am; Netflix—Tim Lowery
<em>Brooklyn Nine-Nine</em>
No, having a by-the-book police captain (Andre Braugher) butt heads with a talented detective who breaks all the rules (Andy Samberg) isn't the most novel premise for a TV show. Despite the tired setup, though, we're pretty optimistic: In the teaser, the odd-couple chemistry between the two leads seems to have some legs, plus we'll check out anything in which The State vet and feature-film scene-stealer Joe Lo Truglio is a regular. Premieres Sept 17 at 8:30pm; Fox—Tim Lowery
If you told us two years ago that we'd be charmed by this Fox sitcom, we wouldn't have believed you. (Was it just us, or did New Girl's promos make it seem annoyingly saccharine or something?) It helps that the fine cast elevates the show's characters above types—adorably goofy girl (Zooey Deschanel), self-obsessed douche bag (Max Greenfield), lovable loser (Jake Johnson, who shines in the new film Drinking Buddies)—and that the writers tap into some authentic late-20s/early-30s unease without ever feeling like they're reaching for profundity. Premieres Sept 17 at 9pm; Fox—Tim Lowery
<em>Parks and Recreation</em>
The news that Ann Perkins (Rashida Jones) and Chris Traeger (Rob Lowe) will be leaving Parks and Rec has us crying into our shots of Snake Juice—but we still have high hopes for the sixth season of NBC's sweet, hilarious sitcom. The opener finds Leslie Knope, Ben Wyatt and the rest of the gang in London (with an appearance from Brit comedy vet Peter Serafinowicz). Later on, rivals join forces when Pawnee and Eagleton are forced to team up on a project—look out for special guests Kristen Bell, Sam Elliott and Billy Eichner as the Eagleton doppelgängers of Leslie, Ron Swanson and Donna Meagle, respectively. Premieres Sept 26 at 8pm; NBC—Amy Plitt
The fates of bipolar CIA agent Carrie Mathison (Claire Danes) and Marine bad boy Neek-o-las Brody (Damien Lewis) seem more intertwined than ever after season two's incendiary finale. Will Saul Berenson's (Mandy Patinkin) truth bombs of fatherly advice go forever ignored? With any luck, season three will bring more wrenching cry-faces and manic-jazz epiphanies and at least one crazy wall of clues. And can we toss poor Chris Brody a few more lines, please? Premieres Sept 29 at 9pm; Showtime—Andrew Frisicano
Where to watch it: Professor Thom's
Speaking of Gervais, the Derek creator's longtime comedy partner, Stephen Merchant (who co-wrote and-directed The Office and Extras), goes out on his own in this new HBO series, playing a gangly, bespectacled Brit looking for love in L.A. As a performer, Merchant is ace at digging himself into conversational holes (see: his inept, utterly unaware agent on Extras) and delivering sprightly bursts of self-deprecation (as in his stand-up tour last year, also titled Hello Ladies). Can't wait. Premieres Sept 29 at 10:30pm; HBO—Tim Lowery
<em>The Pete Holmes Show</em>
The affable, dadlike Holmes—whose podcast You Made It Weird challenges Marc Maron's WTF for the title of most guests sharing extraordinarily TMI—charmed with his stand-up appearances on Conan well enough to get a steady gig behind the scenes and eventually land his own show on O'Brien's network. If you've listened to YMIW or have seen Holmes's funny Batman parodies with Front Page Films, you know this talk show will feature a warm environment (in which celebs and comics can spill their guts) and a few smartly produced videos. Premieres Oct 28 at midnight; TBS—Matthew Love