Heads up! We're working hard to be accurate – but these are unusual times, so please always check before heading out.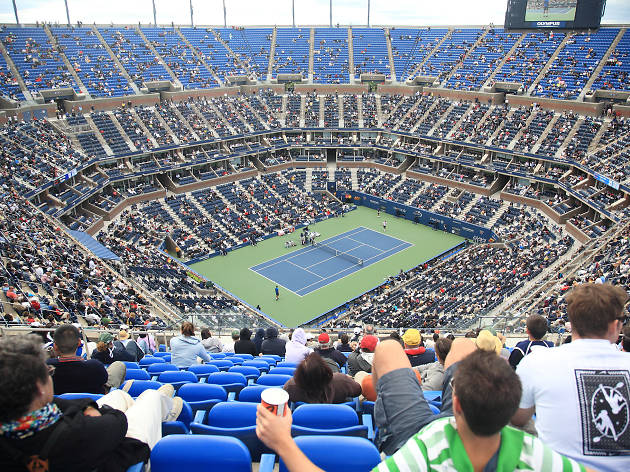 Five things we're excited about at the U.S. Open
There's much more than just tennis to look forward to at this year's tournament
The tennis world waits in anticipation for the U.S. Open in New York City, the last of this year's Grand Slam tournaments. The Open is an incredible opportunity to see seasoned champions and impressive up-and-comers, as well as indulge in some fine dining, celebrity sightings and some light sports-fashion criticism. Here are the five things we're most looking forward to at this year's festivities. American Express card members can get early access to U.S. Open tickets from now until June 6 at 11:50pm.
RECOMMENDED: Full coverage of the U.S. Open in New York
This year, Serena Williams will be competing for her seventh U.S. Open title, which would beat the six-win record she shares with the legendary Chris Evert (though Molla Bjurstedt Mallory of the pre–Open era beats out everyone with eight victories in the 1910s and '20s). Who will be Serena's main opponent this year: Could it be Caroline Wozniacki once again or perhaps Maria Sharapova? And could there be the kind of underdog uprising that Marin Čilić had last year, or will stalwarts like Roger Federer and Novak Djokovic reclaim their reigns?
One exciting part of the U.S. Open is how quickly someone can go from projected loser to shocking winner and vice versa. Players on our radar this year include Germany's Angelique Kerber, who went on an 11-match winning streak this clay season, and 20-year-old American Madison Keys, who beat Petra Kvitova and Venus Williams in the 2015 Australian Open. Among the men, young Australian Nick Kyrgios has a power serve and used it to get to his second Grand Slam quarterfinals match at this year's Australian Open, while American E.J. Crawford has won doubles championships at Wimbledon and Atlanta and won his first singles title at the U.S. Men's Clay Court Championship in Houston.
Flicking your neck back and forth as you watch the tennis ball fly over the net sure works up an appetite. Good thing the U.S. Open has several restaurants just waiting to help you refuel. Head to Aces restaurant for all the wine and seafood you can handle, Champions Bar & Grill for a clubhouse atmosphere and fine cuts, or Mojito Restaurant & Bar for Cuban-inspired cuisine and an outdoor garden. There are several other cafés and bars as well, but if you're looking for a fine-dining experience, head straight to the U.S. Open Club, known for its delicious Chef's Table.
What will the Williams sisters wear this year? We're waiting with bated breath to find out. Men's fashion on the court isn't usually very exciting (though some funky designs did manage to show up in previous tournaments in 2015), but the colors that the women competitors sport are always eye-catching. Last year, there was neon, polka dots and functional frills. Venus strode onto the court in beautiful white dress with blue flowers, and Serena rocked leopard print. More, more, more, please!
Every big-time sporting event brings out the celebrities who can afford the best tickets and VIP treatment. Last year's Open featured a flurry of actors, like Hamlet's Peter Sarsgaard, Orange Is the New Black's Uzo Aduba and Saturday Night Live's Jason Sudeikis. Others at the top of their fields, such as The Great Gatsby director Baz Luhrmann and model Karolina Kurkova, took their seats alongside actually royalty, including Princess Eugenie of York. Sure, we're there for the tennis, but there's no harm in checking out the crowd now and then!