Heads up! We're working hard to be accurate – but these are unusual times, so please always check before heading out.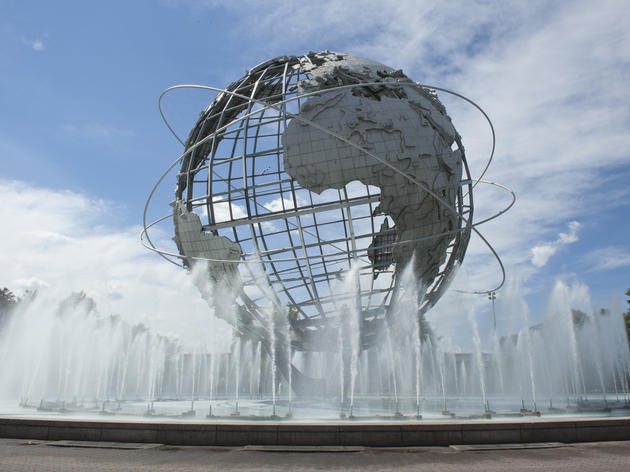 1/8
Photograph: Liz Clayman
Flushing Meadows Corona Park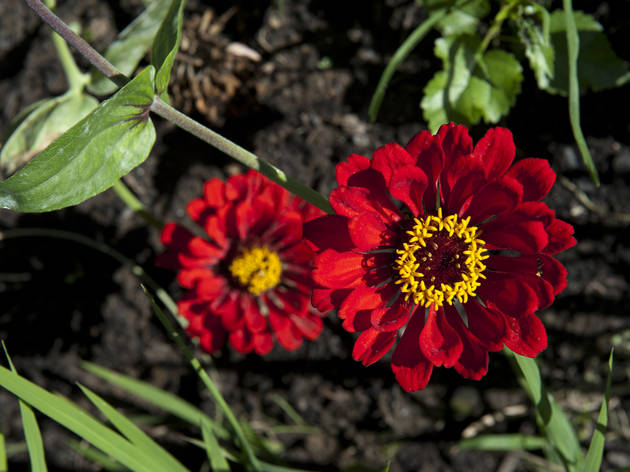 2/8
Photograph: Liz Clayman
Queens Botanical Garden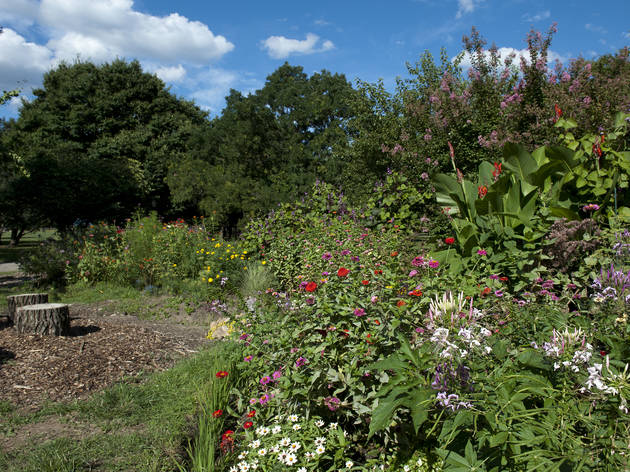 3/8
Photograph: Liz Clayman
Queens Botanical Garden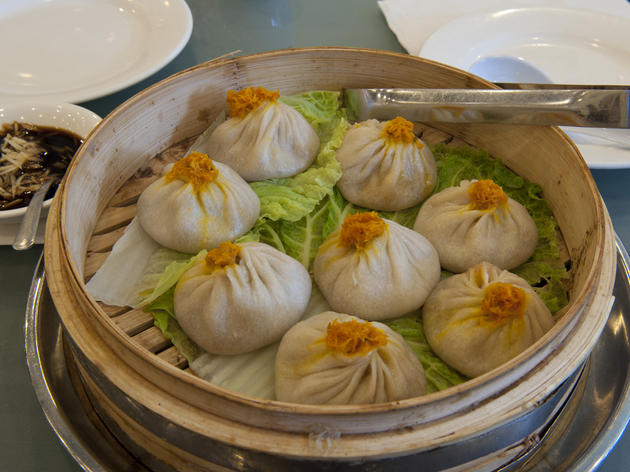 4/8
Photograph: Liz Clayman
Soup dumplings at Joe's Shanghai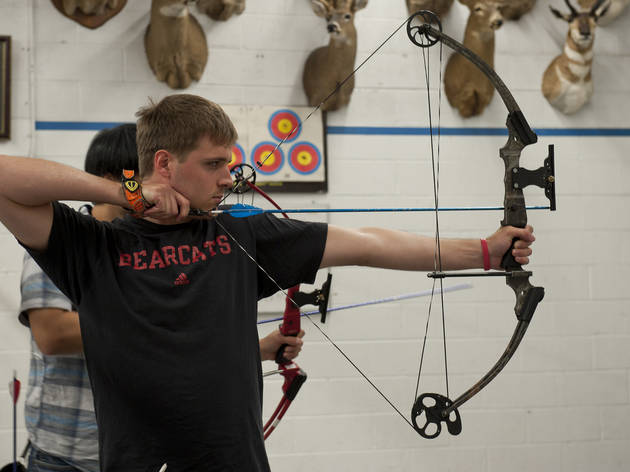 5/8
Photograph: Liz Clayman
Queens Archery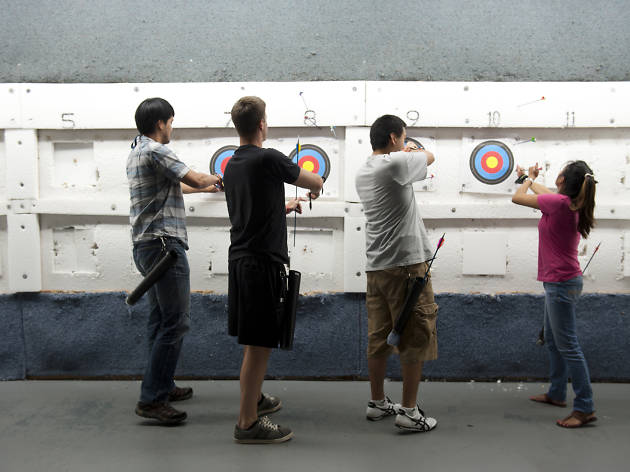 6/8
Photograph: Liz Clayman
Queens Archery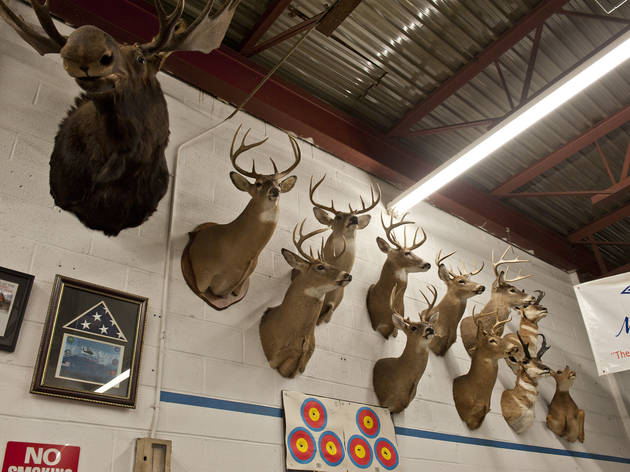 7/8
Photograph: Liz Clayman
Queens Archery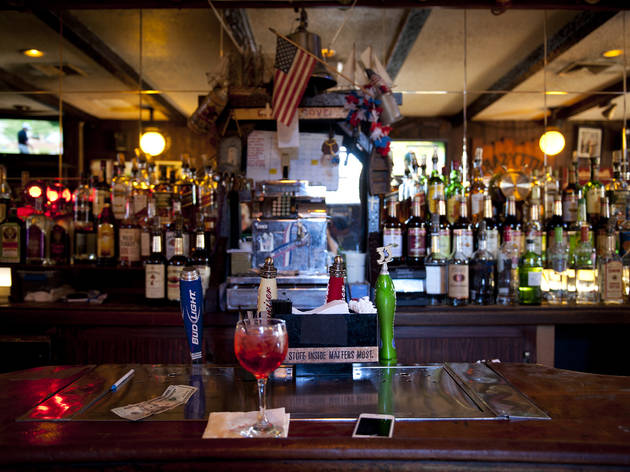 8/8
Photograph: Liz Clayman
Diver's Cove Bar
Flushing, Queens: A day in the neighborhood
The site of the US Open and two world's fairs, Flushing, Queens, has lots to offer adventurous 7 train riders.
Flushing is a bustling urban center that's home to beautiful parks, plenty of cultural attractions and one of the city's three major Chinatowns (arguably, the best of the lot).

RECOMMENDED: Great days out in New York
Hop off the 7 train at the Mets–Willets Pt stop and head to Flushing Meadows–Corona Park (enter at New York Ave and Perimeter Rd, nyc.gov/parks), a sprawling outdoor space that features open fields, a skate park and many a bargain fresh-mango vendor. It's centered on the Unisphere, a 140-foot-tall stainless steel globe surrounded by water jets, erected for the 1964 World's Fair. Fun fact: Those rings mark the orbital paths of the first three man-made satellites (cheers, Sputnik!).
Across the street is Queens Botanical Garden(43-50 Main St at Dahlia Ave; 718-886-3800, queens botanical.org; $2–$4), a 39-acre refuge full of forests, flower beds and fields that was originally built for the 1939 World's Fair (Flushing's had a couple of 'em). Stroll through planted environments like the coniferous Pinetum and the Korean-themed Circle Garden, or find yourself a peaceful patch of grass in the Meadow.
Post-stroll, grab a bite at Joe's Shanghai(136-21 37th Ave between Main and Union Sts; 718-539-3838, joeshanghairestaurants.com), known for its soup dumplings (eight for $4.95–$6.95). They're a treat and a marvel of physics: Each delicious parcel is filled with either pork or crabmeat and a generous amount of warm, soothing broth.

Now it's time for medieval feats of marksmanship; hop the Q28 bus to Queens Archery(170-20 39th Ave at 171st St; 718-461-1756, bigapplearchery.com) to partake in the age-old tradition of shooting stuff with a bow and arrows. Both newbs and skilled archers are welcome at this indoor sports hall; for first-timers, $20 gets you an hour of equipment rental, an intro lesson and a sense of derring-do that could come only from playing Robin Hood.

You've earned a libation. Aim your feet toward Divers Cove(29-01 Francis Lewis Blvd at 29th Ave, 718-352-9631), which has been a local institution for 35 years. This unassuming, unpretentious dive is equipped with a pool table; cheap beers (Bud, Amstel, etc.) that are actually cheap ($3.50) and served ice-cold out of a picnic cooler; and a bartender who always calls you "hon."
"From 4am to 11am, something very interesting happens at Curry Leaves Malaysian(135-31 40th Rd between Main and Prince Sts, No. 1). They provide a special night-only soup service. You choose your broth and noodles, then add whatever else you like, leaving you with your own unique dish."
—Joe DiStefano, chopsticksandmarrow.com
For a tour of Queens, click here!