France staycation
Say ooh la la to flaky croissants, vinotherapy and sexy underwear.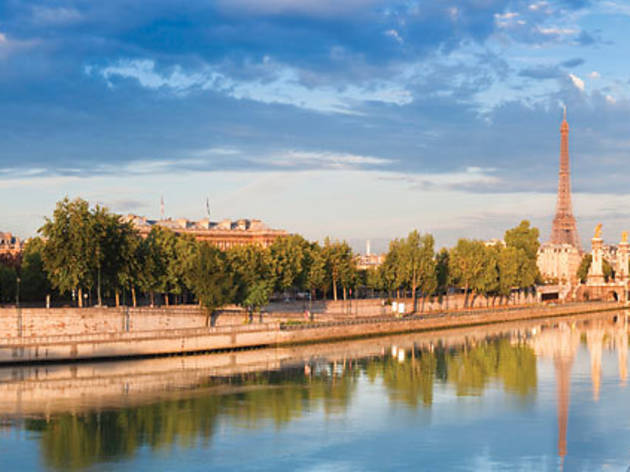 1/5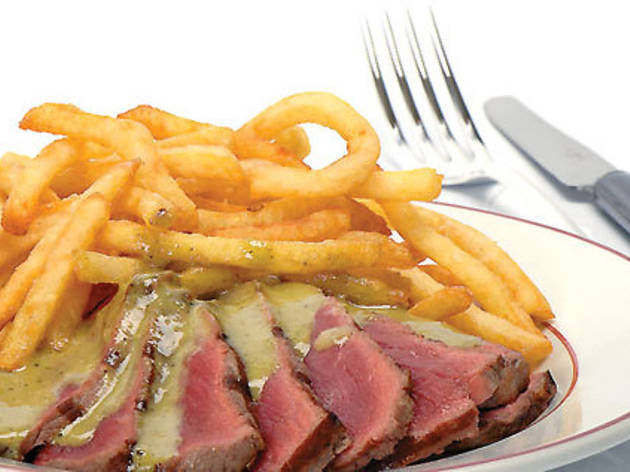 2/5
Le Relais de l'Entrecte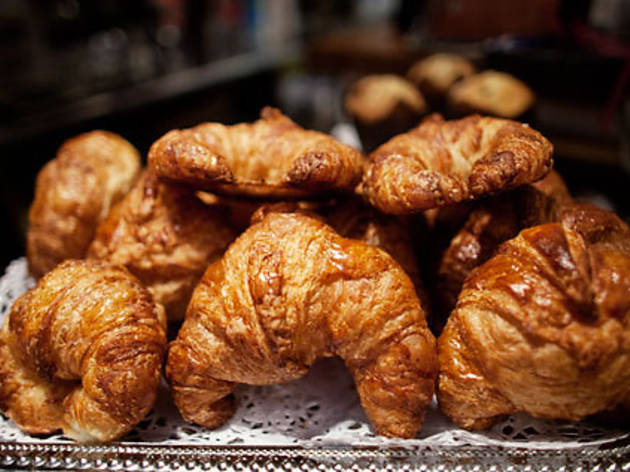 3/5
Ceci Cela Patisserie
4/5
French Culture Nights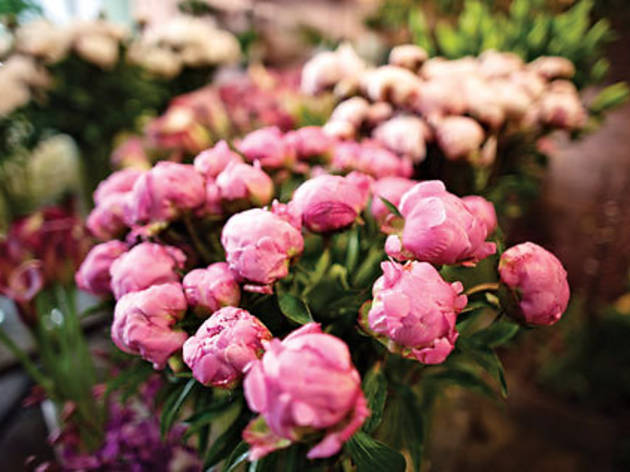 5/5
Ariston Florist
Any Francophile worth her weight in fleur de sel has surely hit Saks for a pair of Repettos, the ballet flats that French actor Brigitte Bardot made famous. But you'll need more than footwear to truly look the part. Take cues from the impossibly stylish sales reps (they've even nailed the Parisian pout) at the first U.S. outpost of Gallic It designer Isabel Marant(469 Broome St at Greene St; 212-219-2284, isabelmarant.tm.fr). The French don't splurge, they invest. Try not to feel bad about shelling out for elegant staples like a beige ruffled spaghetti strap dress ($610) and simple gold earrings, bracelets and necklaces embellished with colorful stones ($105--$270); you'll be rocking such timeless items for years to come.
RECOMMENDED: Our most recent Staycation Guide
Next door, Marant's husband Jrme Dreyfuss(473 Broome St between Greene and Wooster Sts; 212-334-6920, jerome-dreyfuss.com) also recently set up shop, hawking his strokeworthy leather handbags ($550--$2,765) to SJP and other fabulous downtown style icons. If the leather doesn't lure you, the phrase COME MEET YOUR NEW FRENCH LOVER scrawled in giant green letters on the shop's floor will. But don't get too excited—the phrase refers to Dreyfuss's bags, which have men's names. We wouldn't mind parading around with a python-skin Max on our arm ($2,765).
For everyday staples at a lower price point (from $65), check out breezy boutique Comptoir des Cotonniers(155 Spring St between West Broadway and Wooster St; 212-274-0830, comptoirdescotonniers.com), whose French separates strike a miraculous multigenerational chord and are targeted at hip moms and their stylish daughters. At the brand's first stateside shop, you can score the Gamelan, a cotton mariner-style dress ($105), and classic trenches like the Gage ($295), for which the brand is known. "We have a lot of French clients," says store manager Goldie Zwecker. "When they shop here, it's like home to them. They're so happy to know that we're here."
You'll get the chance to peep France's flashy underpants at intimates purveyor Pull-In(252 Elizabeth St between E Houston and Prince Sts; 212-966-8914, pull-in.com), which was founded in the beach town of Hossegor on the Cte d'Argent. Pick up colorful comics-inspired boxer briefs like the Fashion Batman ($50) and quirky bras like the Strawberry ($59). Don't be surprised if you start getting stares when you put your new Isabel Marant clothes back on—it's just your je ne sais quoi.
When it comes to fashion, you'll never be la mode until you've learned to talk the talk. At FIAF's "Prt--Porter" workshop(French Institute Alliance Franaise, 22 E 60th St between Madison and Park Aves; 212-355-6100, fiaf.org; June 10 1--3pm; $50), you'll get schooled in French designers and commonly used phrases that will help you shop your way to success both here and abroad.
Inside info

The French aren't big on exercise, but ptanque is another story. From late March through early November the New York Ptanque Club (newyorkpetanque.com) holds regular outings and tournaments in Prospect Park.
In Paris, Le Relais de l'Entrecte is famous for offering just one menu option (steak frites and green salad), prepared with unparalleled precision. Midtown Manhattan's Le Relais de Venise L'Entrecte(590 Lexington Ave at 52nd St; 212-758-3989, relaisdevenise.com) boasts the same two-course prix-fixe menu ($24) as its Parisian counterpart: a Dijon-drenched salad followed by a perfectly cooked entrecte topped with an herbed butter sauce and served with crispy bistro-style fries. Once you settle into the vinyl banquettes and catch a glimpse of your black-and-white-clad server, you'll swear you've magically teleported to the City of Light.
The jet set convenes at sleek new bistro Tartinery(209 Mulberry St between Kenmare and Spring Sts; 212-300-5838, tartinery.com), which was recently opened by three Parisian transplants. The namesake open-faced sandwiches ($8--$19) are made with rustic sourdough bread shipped every few days from Paris's beloved Poilne bakery. Snag a seat at the bar to try the croque-monsieur ($10) or the decadent foie gras tartine with sea salt and fig jam ($18.50). Mercifully, carbs are still a vital food group in France (in moderation, bien sr).
Get your fix of authentic viennoiseries like clairs ($4.25) and flaky croissants ($2) at Laurent Dupal's Ceci Cela Patisserie(55 Spring St between Lafayette and Mulberry Sts; 212-274-9179, cecicelanyc.com). Dupal picked up his skills during a five-year apprenticeship with the Compagnons du Tour de France, an organization that dates back to the Middle Ages and trains today's French artisans in traditional techniques. "My products here are even better than in France," boasts Dupal. "I am always here to oversee the production, and I still use recipes that I learned during my tour." Don't forget to pick up a baguette ($3) to tuck under your arm on the stroll home.
Inside info

When NYC's French expats miss home, they patronize whimsical Mediterranean eatery L'Orange Bleue(430 Broome St at Crosby St; 212-226-4999, lorangebleue.com), where New York's many francophone cultures collide. The dizzyingly diverse crowd flocks on Saturdays to hear live world music from 11pm until 4am, and the lively crowd often spills onto the sidewalk—all the better for smoking your Gauloises.
Held every third Wednesday, French Culture Nights(frenchculturenights.com) is a roving soiree that brings art and music lovers of all cultural backgrounds to swanky lounges and rooftop settings around the city. On June 16, the party hits Hudson Terrace(621 W 46th St between Eleventh and Twelfth Aves; 212-315-9400, hudsonterracenyc.com; 7:30pm; $10, free for those who preregister online) with a musical performance and a DJ. "Our goal is to promote francophone artists living in New York and to open up French culture to others in the city," says founder Enrique Gonzalez. "At each event, we feature a different French-speaking singer, DJ, and painter or photographer, but they don't necessarily come from France." Inclusivity is the name of the game at these stylish outings, where speaking French is a plus, but a strong case of Francophilia is all you need to get in the door.
Once you've ingratiated yourself with the natives, they'll probably invite you to dinner. Plan to arrive 15 to 30 minutes late (show up early and be scorned forever), and don't bring wine—it's a serious faux pas. Instead, offer flowers from Ariston Florist(110 W 17th St between Sixth and Seventh Aves; 212-929-4226, aristonflowers.com), which imports colorful blooms like long-stemmed tulips (a bunch of ten $45--$75) and peonies ($5--$15 per stem) directly from high-quality growers in Nice. "Generally, the French buy more flowers," says owner Thanasis Barbagianis. "There's an old saying in France: A gentleman does not go home on a Friday without bringing flowers to his wife or girlfriend or lover."
If you're ever invited by an ami for a weekend stay, head to Diptyque(377 Bleecker St between Charles and Perry Sts; 212-242-2333, diptyqueparis.com) for elegant imported candles ($60 each) in exotic, travel-inspired scents like Baies, a fresh blend of roses and black currant leaves. Since 1963, when its first candle was sold from the store's original location on Paris's chic Boulevard St. Germain, the brand has been a fail-safe source of home goods and gifts.
We've all heard about the health benefits of drinking wine, but die-hard oenophiles take it a step further by indulging in winecentric beauty treatments from Caudalie Vinothrapie Spa at the Plaza(1 W 58th St between Fifth and Sixth Aves; 212-265-3182, caudalie-usa.com). The spa's founders, French power couple Mathilde and Bertrand Thomas, founded the Caudalie brand after discovering that the discarded grape seeds that littered the property of Chteau Smith Haut Lafitte (Mathilde's family's vineyard in Bordeaux) had the power to fight free radicals when applied to the skin. If you can pony up for the Grape Marc Barrel Bath ($75), you'll be hydromassaged by finely crushed grapes that exfoliate and rejuvenate the epidermis. Once you've bathed in wine, you might as well drink some: Head to the spa's French Paradox Wine Lounge, where you can sip a glass of Chteau Smith Haut Lafitte ($10).
Inside info

The free online social network New York in French (newyorkinfrench.net) posts French-themed events and connects Francophones throughout the city. Anyone can join, but some of the online content is in French, so you might want to break out your old Muzzy tapes to brush up.