Holiday tours in New York City
What you'll see, and whether you'll need to bundle up.
By Mallory Gelert Tue Nov 1 2011
In the Spirit of the Season: A Holiday Church Tour
What you'll see: Climb seven flights to the parapet of Brooklyn's oldest German Catholic church, then descend to the crypt to see what ghosts of Christmas past might have come to stay since the French Gothic structure was completed in 1885. In between, learn about the German roots of the Santa Claus story and other holiday traditions. Afterward, you'll get something heavenly: dessert and coffee.
Bundle-ometer: 1/10 Indoor Tour! Jack Frost be damned!
Urban Oyster Walking Tours (347-618-8687, urbanoyster.com). Meet at Most Holy Trinity--St. Mary, 138 Montrose Ave between Graham and Manhattan Aves, Williamsburg, Brooklyn. Dec 17, Jan 7 at 1pm; $20, reservations required.
Holiday Open House at the Queens County Farm Museum
What you'll see: Spend an afternoon drinking mulled cider and touring the grounds of the city's oldest working historical farm. The house will be decked out in period decorations from its Victorian Era roots, and you can join the young'uns to in making winter-themed crafts.
Bundle-ometer: 2/10 Mitigating factor: Indoor tour! And there's cider!
73-50 Little Neck Pkwy, Floral Park, Queens (718-347-3276, queensfarm.org). Dec 26--28 noon--4pm; free.
Lights in the Heights bicycle ride
What you'll see: Join nearly 100 fellow cyclists as you speed by glowing angels perched on rooftops and speakers blasting "Jingle Bells" (past revelers have played along with their bikes' chimes). Stick around till the final stop of the 25-mile trip, to sip hot cocoa at Nathan's on 86th Street.
Bundle-ometer: 4/10 Mitigating factor: exercise
Time's Up (212-802-8222, times-up.org). Manhattan: Meet across from the bicycle entrance to the Manhattan Bridge (northeast corner of Canal and Forsyth Sts), 4:30pm. Brooklyn: Meet at 3rd St and Prospect Park West, 5:15pm. Dec 18 (rain date TBA); free.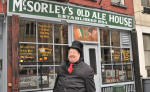 Ghost Walk into the New Year
What you'll see: Seek out spirits of both the alcoholic and supernatural varieties on this walking tour, stopping first at McSorley's for a drink, then hitting up other East Village haunts until the clock strikes midnight. You'll hear ghostly tales of the old Astor Library (now the Public Theater) and Merchant's House Museum, before ending up back at the venerable alehouse for round two.
Bundle-ometer: 4/10 Mitigating factor: alcohol
Ghosts of New York Tours (718-591-4741, ghostsofny.com). Meet at McSorley's Old Ale House, 15 E 7th St between Bowery and Second Ave. Dec 31 10pm--midnight; $40, if paying by credit card $35 (includes two drinks).
Gourmet and Fusion Dessert Tasting & Culture Tour
What you'll see: The holidays are about eating, not just peace on earth, not love, not shopping—just stuffing your piehole. Indulge the harsh reality as you stroll around tasting international treats from various East Village, Flatiron and Union Square purveyors and markets. Hot chocolate? Check. Asian-inspired desserts? Check. Italian pastries? Check. Motivation to walk around in the cold for two and a half hours? Check, check, check.
Bundle-ometer: 6/10 Mitigating factor: Food
New York Food Tours (347-559-0111, foodtoursofny.com). Meet outside of City Bakery, 3 W 18th St between Fifth and Sixth Aves. Mon, Wed, Sun 11am--1:30pm; $55 per person. End date TBD.
21st Annual Jewish Lower East Side Tour
What you'll see: The walking tour that started as a tongue-in-cheek solution to the age-old question—what's a Jew to do on Christmas?—is now in its 21st year. On your stroll, you'll see key spots from the past 150 years of this neighborhood's storied history, such as the old Jewish Daily Forward building and the Eldridge Street Synagogue.
Bundle-ometer: 7/10 Out in the cold!
Big Onion Walking Tours (888-606-9255, bigonion.com). Meet in front of the Olympic Diner, 115 Delancey St at Essex St. Dec 25 at 10:30am, 1pm; $15--$18.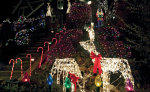 Dyker Heights holiday lights walking tours
What you'll see: The Levys are a family of native New Yorker tour guides (dad was born in the Bronx, his three sons in Brooklyn). Their tours are private, so you don't have to deal with a big group, and you'll get some good color commentary on Brooklyn and the Dyker Heights Christmas lights. NoshWalks' entry in this popular tour category focuses on the food aspect of the area, filling you up with stuffed eggplant and pignoli cookies along with the Dyker lights show.
Bundle-ometer: 10/10 Out in the cold at night!
Levys' Unique New York (877-692-5869, levysuniqueny.com). Private tours only, prices and meeting locations vary. * NoshWalks (212-222-2243, noshwalks.com). Meet at Caffe Mona Lisa, 1476 86th St between Bay 8th St and 15th Ave, Dyker Heights, Brooklyn. Dec 23 at 6:30pm; $49, children 6--12 $16.