Heads up! We're working hard to be accurate – but these are unusual times, so please always check before heading out.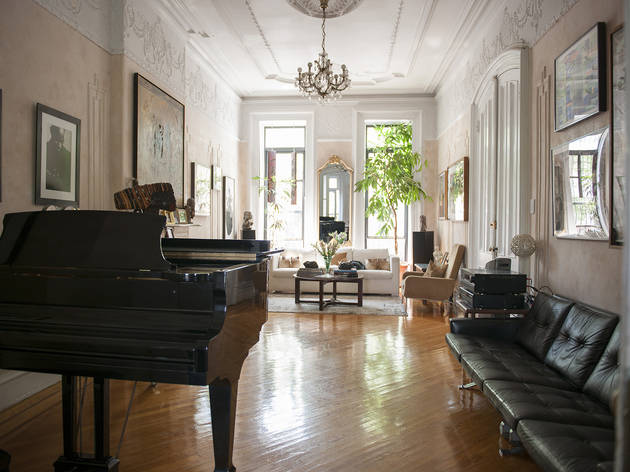 1/10
Photograph: Rayon Richards
Grammy winner Gordon Chambers has written songs for over 75 recording artists, including Patti LaBelle and Aretha Franklin. Chambers bought his 3,512-square-foot Fort Greene, Brooklyn, brownstone in 2000. "I was lucky to have found the house before prices in Fort Greene got ridiculously sky-high," said Chambers. The house was built in 1903, and was sold to Chambers with the original structure and decorative detailing intact. "I wanted it to be a place where creative people would come and be inspired," he said.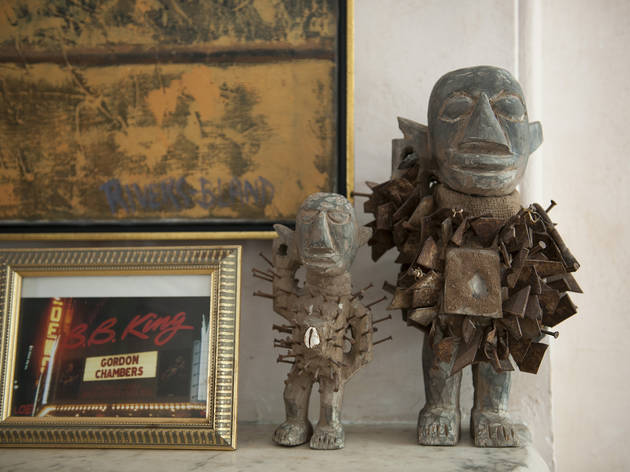 2/10
Photograph: Rayon Richards
"At my [solo] album release party, that was the marquee," Chambers says of the photo on his mantel. "It was one of the happiest nights of my life." He adds that the figures next to it came from Ghana and have protective energy.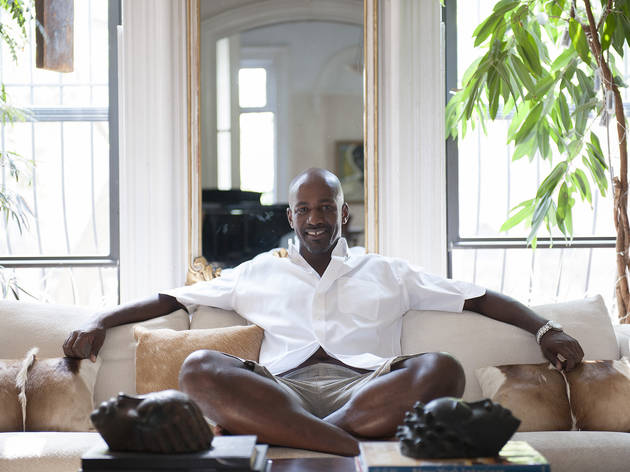 3/10
Photograph: Rayon Richards
"I wanted to be a part of that tradition of black arts and cultural expression that was here in the '80s and '90s," said Chambers of his decision to move to Fort Greene. He estimates the three-bedroom house has quadroupled in value since he moved in. "I don't have any intension of moving," he says. "This is home for me. I'm not trying to cash out and flip."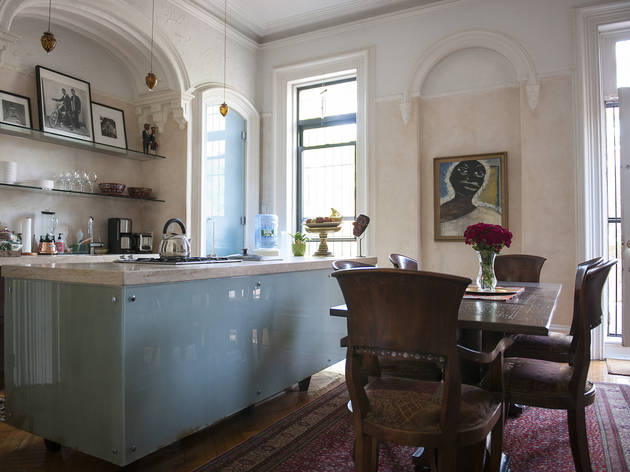 4/10
Photograph: Rayon Richards
"That's my favorite thing in the house: that dining room table, because when friends and family come over, we actually sit and chat," Chambers says. "Jamaicans, we like to sit and chat for hours and hours." Chambers got the table on vacation in Bali, and the rug it sits on in Turkey. The centerpiece includes coasters made from old records. Once when Whitney Houston's mother, Cissy, was visiting, Chambers noticed her staring hard at the coasters. "She had sung background on some of those records," said Chambers.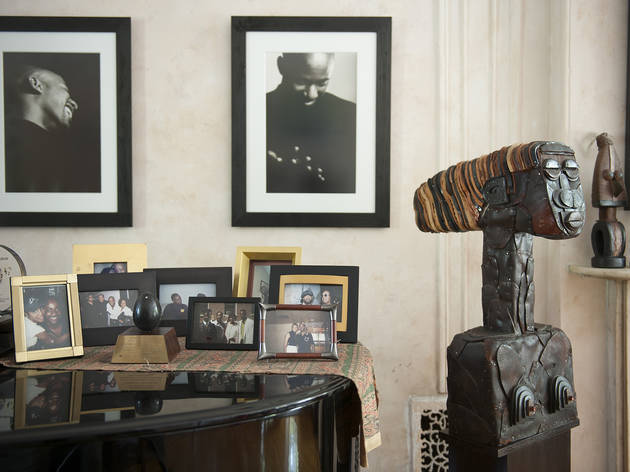 5/10
Rayon Richards
Photos of Chambers with famous recording artists, including Stevie Wonder and Whitney Houston, decorate the baby grand piano in his living room, which he uses for teaching voice lessons. The sculpture next to it, by artist Lloyd Toone, is made of shoe heels.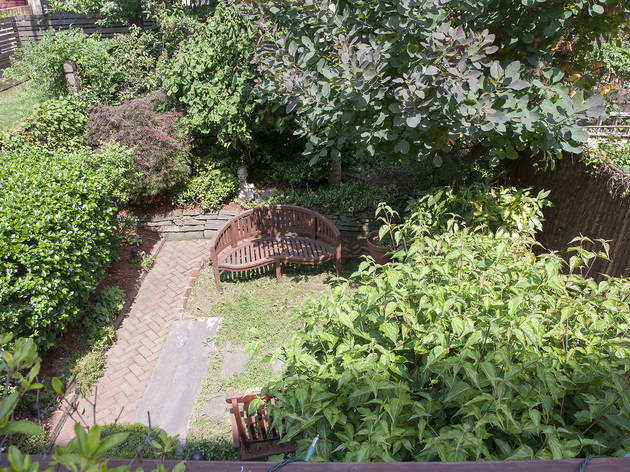 6/10
Rayon Richards
Chambers prides himself on being a fantastic host, and uses his large backyard to host parties. He says he's had up to 150 people in his home on various occasions.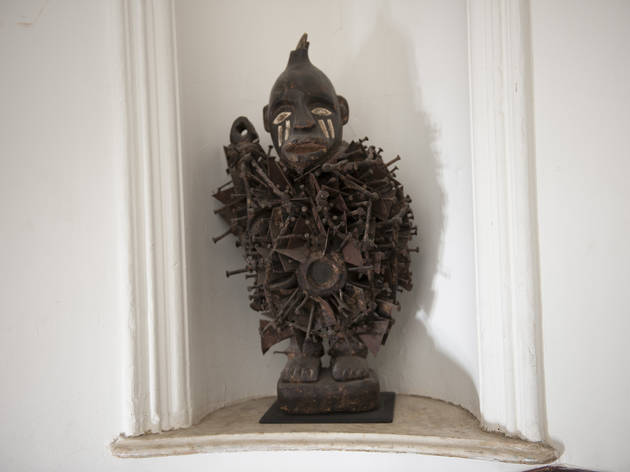 7/10
Rayon Richards
To promote clarity for creative thinking, Chambers hired a feng shui practitioner to arrange objects from his travels throughout his home. There were a few objects the practitioner told Chambers to remove immediately, including this African sculpture made with nails. "She said that that energy is not harmonious for the home, but it is good for protecting and keeping the bad spirits out. So I put that piece in the hallway upstairs [where guests stay] to make sure that I'm protected from them," joked Chambers.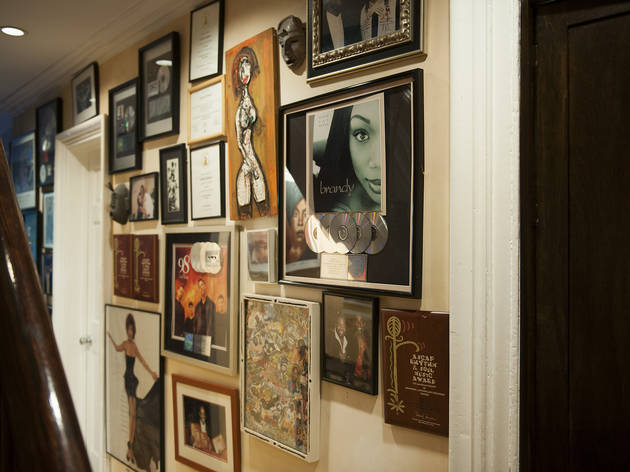 8/10
Rayon Richards
Despite the alluring grandeur of the elegantly designed main level, Chambers can usually be found in his sub-level office space. "I'm in this room 80 percent of the time, usually by myself. It's my hang space, it makes me happy." The office is decorated with Chambers's numerous music awards.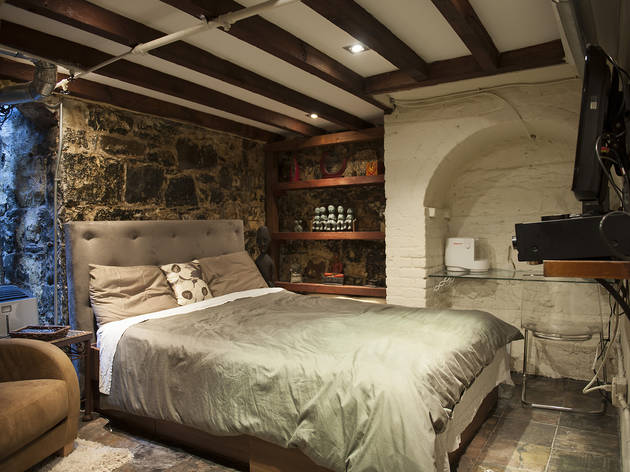 9/10
Rayon Richards
The bedroom wall shows the original stone foundation of the house. "I designed this myself. It's literally a man cave," said Chambers with a grin.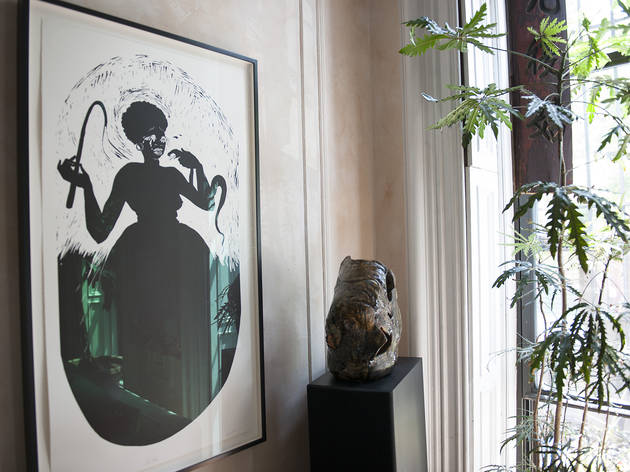 10/10
Rayon Richards
In 2006, Chambers was seated next to Kara Walker at a dinner party. "We had a fascinating conversation about art and life," said Chambers. They remained friends, and over dinner one day, Chambers asked Walker about the inspiration behind the print Boo-hoo, which he owns. According to Chambers, Walker replied: "I don't know, Gordon, I did it one day when I was feeling sorry for myself." In Chambers's basement is a framed photo of Walker's recently closed exhibition at the Domino Sugar Factory.
Inside a Grammy-winner's Brooklyn brownstone
Take a tour of Gordon Chambers' historic Fort Greene townhouse