Heads up! We're working hard to be accurate – but these are unusual times, so please always check before heading out.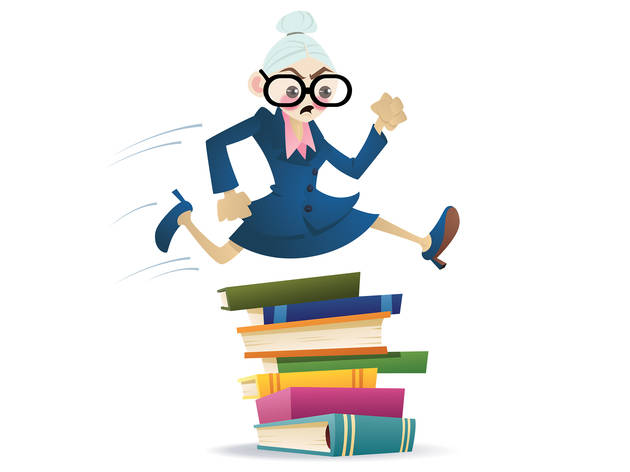 Librarian Olympics
Studious types show off their skills in this bookish battle, part of the Brooklyn Book Festival's Bookends series.
Professional shushers will test their brainy mettle on Thursday 20 at the inaugural Librarian Olympics. The event is part of the first Bookends series, held in conjunction with the Brooklyn Book Festival (September 23) and featuring lit-themed events that are a bit zanier than the average author talk. The competition is hosted by author, cartoonist and pencil-sharpening guru David Rees, who has a personal connection to the titular vocation. "My dad was a librarian, so I'm totally into the idea," he explains. "I know all the things librarians do, and all the values and skill sets they bring to their profession. I think this type of event is good to remind people of all the amazing powers librarians have." Participants will compete in trials of knowledge (Name That Novel) as well as skill (Sharpest Pencil), but don't assume that the games will be quiet. "I want to see people get really emotionally involved in these challenges—I want to see all of the agony and ecstasy that are involved in the real Olympics," says Rees. "Even if the events are not athletic per se, I do want to see that type of dedication and emotional wreckage." We asked the three judges for their tips on how to win each event.
The event: Name That Novel
The judge: Dan Wilbur, author of How Not to Read: Harnessing the Power of a Literature-Free Life (betterbooktitles.com)
His advice: "My event is 'guess that book based on its fake better book title' [e.g., Drink Responsibly for The Great Gatsby]. There's only one way to win: by reading every book ever written and knowing the content of each by heart. There is no other way to win."
The event: Sharpest Pencil
The judge: David Rees, author of How to Sharpen Pencils and proprietor of Artisanal Pencil Sharpening (artisanalpencilsharpening.com)
His advice: "This is what I tell everybody: You've gotta make sure you're starting off with a good pencil. You've gotta make sure that whatever device you're using is sharp enough—that the blades are really sharp and clean, and that there's no debris on the blades. You need a steady hand, and you need to stay focused. A box cutter is good; then you have the most control over the shape of the pencil point."
The event: Guess the Pseudonym
The judge: Carmela Ciuraru, author of Nom de Plume: A (Secret) History of Pseudonyms (carmelaciuraru.com)
Her advice: "Familiarize yourself with iconic pseudonymous writers such as George Eliot, but be prepared for more obscure pen names, too. Above all, it is crucial that the participants' literary knowledge meets, but in no way exceeds, the knowledge of judges such as myself. In other words, try to do your best—unless your best is better than mine."
SHHH! Librarian Olympics, Union Hall, 702 Union St between Fifth and Sixth Aves, Park Slope, Brooklyn (718-638-4400, unionhallny.com). Thu 20 at 7pm; $5.

You might also like
The Brooklyn Book Festival 2012
How to Sharpen Pencils
The fall's biggest book events
See more in Things to Do